Walk-in booster Covid-19 vaccination clinics for healthcare workers and people aged 60 to 69 have been opened by the Health Service Executive.
People in these groups can attend one of the dedicated walk-in clinics at participating vaccination centres around the country without an appointment.
However, they must adhere to the designated time slots for walk-ins. Attendees must also have completed their primary course of the vaccine and have photo ID.
Healthcare workers must also bring evidence of their place of work.
The booster dose should be given at a minimum of a five month interval from a person's last dose of a primary Covid-19 vaccine (Pfizer BioNTech, Moderna or AstraZeneca).
It is a minimum of three months if they received a Janssen one-shot vaccine.
Healthcare workers aged 30 years or older will be offered a single dose of an mRNA vaccine (Pfizer BioNTech or Moderna).
If they are 29 years or younger, they will be offered a single dose of Pfizer BioNTech vaccine. They can get these vaccines even if they got a different type vaccine for their primary course.
If a person had Covid-19 since being vaccinated, they should get their booster dose at least six months after their positive test result.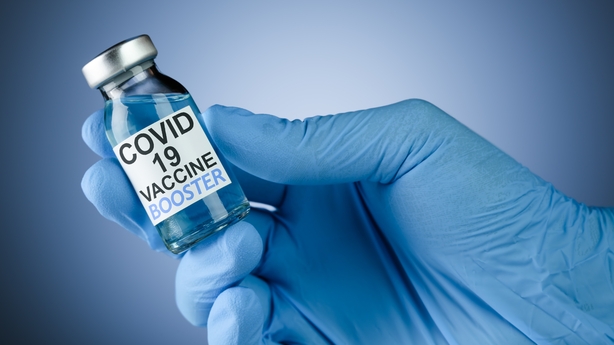 What about other groups of people?
GPs continue to offer booster dose appointments to people 70 years and over. Some GPs may refer patients to a vaccination centre and they should receive an appointment shortly.
People with high-risk health conditions and those aged 50-59 will be the next cohort invited for a booster jab.
When it is time for your vaccination, you will get a text message from the HSE with a vaccination centre appointment.
Why are booster vaccines necessary?
Booster doses of vaccines are being offered following evidence that the protection offered by vaccination against Covid-19 wanes over time.
Experts who have been tracking the effectiveness of the Pfizer/BioNTech vaccine, for example, have found that the risk of Covid infection increases the longer it is since people had a second dose.
Professor Kingston Mills of Trinity College Dublin has said the whole population of adults, right down to age 19, needs to receive a booster shot.
European Union residents will need to have Covid-19 vaccine booster jabs if they want to travel to another country in the bloc next summer free of tests or quarantines, the European Commission has proposed.
The European Centre for Disease Prevention and Control has recommended vaccine boosters for all adults, with priority for those over 40.