The HSE has expressed "big concern" over the number of health staff who are now absent from work due to Covid-related issues, with over 5,100 staff now out due to either testing positive for the virus or being a close contact.
Speaking at the weekly HSE briefing, Chief Operations Officer Anne O'Connor said the figure of 5,106 staff did not include those who are cocooning, a number she added had also risen.
As a result of this, she said, the overall number absent is "more up to 5,800".
"We haven't been this high in relation to our staff absence since the 26th of January, so this is the highest number.
"It is a big concern for our system, our ability to continue to deliver services.
"We expect and we hope that this will turn with the booster shots etc, but as it stands today, we have a lot of people out of work. And that is a risk for us as we head into what will be the busiest or certainly a very, very busy time of our year".
She said there are absences for other reasons as well, "so remember, this absence number is on top of our regular absence rate of approximately 4%".
Ms O'Connor added that this is something that they are "watching and tracking", with some sites particularly impacted by the level of staff out.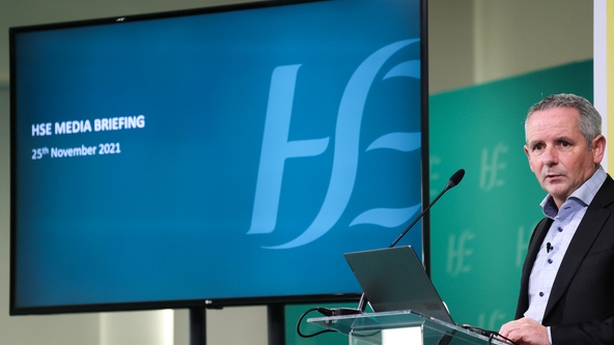 HSE Chief Executive Paul Reid told the briefing there has been a "serious and continued escalation" of Covid transmission in the community, and that the actions taken by the public will need to be kept up for a "sustained period of time".
He welcomed the fact that there has been a "very strong response from the public" to the situation over the past week to ten days, saying that many people have moved to work from home and have curtailed their social activities.
Many people are "making many sacrifices and giving plenty of support at this time," he said, adding too that such actions would need to continue for "a sustained period of time", as transmission levels were "still far too high".
HSE CEO Paul Reid says that following a serious escalation of Covid transmission levels in the community, there has been a strong response from the public over the last ten days. He says it will be needed for a "sustained period of time" | https://t.co/QdEz4DL26k pic.twitter.com/zL6RGM5QaQ

— RTÉ News (@rtenews) November 25, 2021
"Many people will remember when we were talking in previous waves of pandemic if it gets to 3% or if it gets to 4% positivity ... we're seeing high teens, we're seeing between 16% and 19% positivity at the moment."
He added: "All of those actions from the public are key for us and we do see them providing benefit over time for the health system in general.
"The healthcare system and many aspects of it are not elastic, or it's not infinite, in terms of that we can meet every single demand that comes at us in the context of a very significant wave and a very significant pandemic."
Mr Reid said it would be misleading to say that the system can keep scaling up and keep "surging up", adding that there does come a point where he has to set out that there will be some delays in people receiving their tests.
Paul Reid says that the testing and tracing system has been scaled up. He says that over the last week, 210,000 PCR lab tests were completed and resources have been redeployed "where possible" | https://t.co/QdEz4DL26k pic.twitter.com/DUiZJemB1w

— RTÉ News (@rtenews) November 25, 2021
"Thankfully those who have been clinically prioritised are receiving their tests in a very timely manner, on either the same day or next day," he added.
HSE CEO Paul Reid has issued an "urgent call" to unvaccinated people to come forward for their Covid-19 vaccine jabs. He says there are now "many people coming in" for their first vaccines, "which is very encouraging" | https://t.co/QdEz4E2CXS pic.twitter.com/bzajd5GleY

— RTÉ News (@rtenews) November 25, 2021
Mr Reid said he realises that many people are frustrated at hearing repeated warnings about public health guidelines, but warned of the need to continue wearing masks and social distancing, with hospital figures remaining high at 598.
He described this as a "slight come down, which is welcomed, but still extremely high".
Over the past seven days, there have been 395 Covid-positive patients admitted to hospital, which is an increase of 29% from the previous week.
In the 14 days up to 24 November, of the 61,315 new cases notified, 640 have been hospitalised and 34 have been admitted to ICU.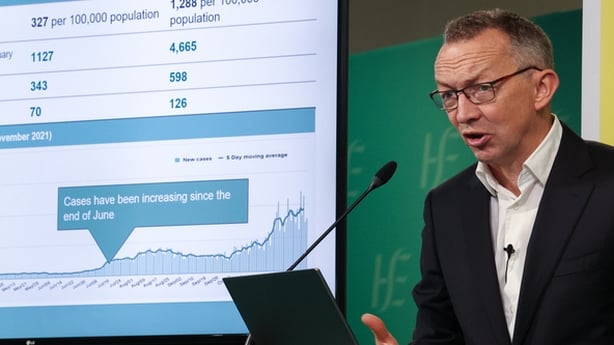 HSE Chief Clinical Officer Dr Colm Henry told the briefing that the virus has mounted a "ferocious onslaught" on the healthcare systems and populations of Europe, but with vaccination many people have protection.
Vaccination rates in Ireland are the highest in Europe, he said, with the protection from vaccines giving people "a great floodwall of defence" against the virus.
"As difficult as things might be at the moment, that gives us reason to be hopeful," he told the briefing.
He also said that Austria, which has introduced a new lockdown, has a "much lower proportion of the population vaccinated" and that lockdown is somewhere "nobody wants to go" in this country, adding it was "something surely we can avoid if we all adhere to the advice of the last couple of weeks".
Meanwhile, testing centres and health staff are working at maximum capacity at the moment, according to the HSE's National Director for the vaccine roll-out Damien McCallion.
"The labs are continuing to get the results out to people within the standards we've come to expect," he said. "Contact tracing has also managed to keep pace with the positivity rate."
Meanwhile, in terms of vaccinations, work is ongoing with various communities and groups, such as migrant communities, to increase the uptake of vaccines.
"We're continuing to see 1,000 to 1,500 a day coming through and that's really good. And we're seeing it across the age groups."
---
Read more:
NPHET expected to consider increased mask wearing proposals
Restrictions may be needed but should be 'avoided' - Tánaiste
EMA approves first Covid shot for 5 to 11 year-olds
Latest Covid-19 headlines