For a while, antigen tests were seen as less useful and less reliable than the more time-consuming - and expensive - PCR test, even being branded as "snake oil" by NPHET's Professor Philip Nolan earlier this year.
But today, over a year and a half into the pandemic, the Government has announced that they will play a greater role in future.
So what is rapid antigen testing, and what - if anything - has changed in the minds of decision makers to implement their use?
What is antigen testing?
Rapid antigen testing involves taking a sample from a person's nose with a swab. The process of a nose swab would not be unfamiliar to those who have had a Covid PCR test, but for an antigen test, there is no swab taken from the throat.
The result can become available as quickly as five minutes post-swab. The test comes in a kit that would include a swab, a liquid and a plastic test card that indicates a reading.
Is it accurate?
While antigen testing can be much quicker than PCR testing, it is less accurate.
Despite this, no test is 100% accurate and all types of tests have limitations.
A PCR test is able to detect a Covid-19 infection even before the person becomes infectious. PCR testing can detect very small amounts of virus - and so can be effective over a longer period of a person's infection.
A rapid antigen test, on the other hand, reveals patients at the peak of the infection, when the body has the highest concentration of viral proteins. The test will find the virus in most people who have symptoms but, in some cases, it may not pick up the virus at all, particularly in people who have no symptoms.
In addition, PCR tests have a lower chance of false-negative results, while a drawback of antigen testing is that it has a higher rate of false-negatives.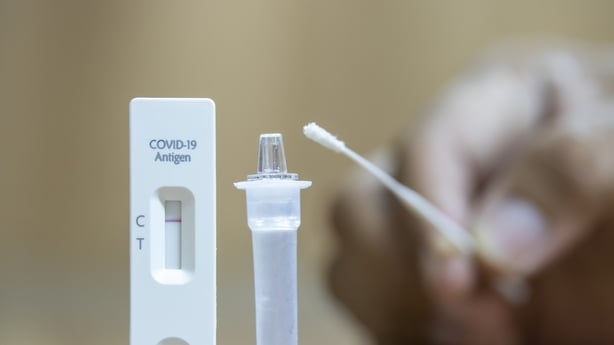 What are the benefits?
Antigen testing can be used much more widely than PCR tests, thanks to its speed and the fact that it can be used at home or in public settings, without the need for a swabber, a lab, or a 24-hour lead-in time.
As more of our society opens up, these tests could become a key tool in empowering people to regularly check themselves for Covid, particularly before attending a gathering or visiting a vulnerable relative.
But as with any home test, it will be vital that people know how to correctly use them to reduce the risk of a false negative reading.
When used in public settings, like at nightclubs, concerts or pubs, it could provide an extra layer of protection for patrons and staff, helping to curb the potential for outbreaks in these higher-risk settings.
Why the change of heart?
Key members of NPHET have spent the last year telling people not to get too excited about antigen tests.
When the Lidl supermarket chain advertised that it would be introducing the test kits for sale, Prof Philip Nolan branded it "snake oil" on Twitter, later clarifying that "it has its place".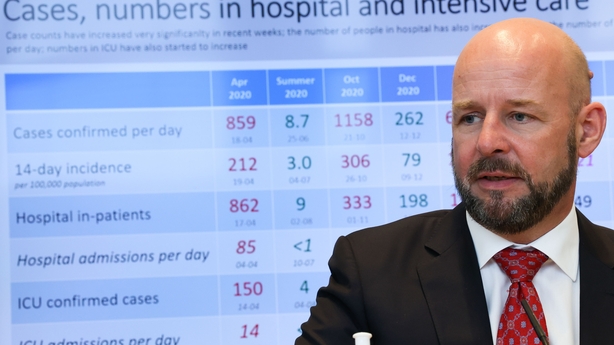 Chief Medical Officer Dr Tony Holohan told an Oireachtas Committee focused on reopening the aviation sector that the use of these tests to "green light" activities could pose a risk, adding at the time that vaccination and other public health measures were the best ways to safely resume travel.
But antigen tests have been used by Irish public health teams during the pandemic in outbreak situations, such as in meat plants, to give an early indication of infections.
Now that we have reached the current vaccination levels and are still faced with high numbers of cases each day, there is a feeling that adding an additional tool to the kit may help with the reopening.
What has been recommended?
Dr Holohan, in his letter last night to Minister for Health Stephen Donnelly, said that "the epidemiological situation in Ireland indicates a worsening disease profile with the future trajectory very uncertain".
A delay of four weeks to any further reopening was considered, Dr Holohan said, but at the end of that period we would likely not be in a better place.
"The NPHET today considered recommending a full pause on the easing of remaining economic restrictions, with a further review in 3-4 weeks' time (a 'pause'). However, the NPHET considered that there is unlikely to be a sufficient improvement in the disease profile over the short term and, therefore, did not believe it tenable that any pause now would result in a further easing of measures in November," he wrote.
As a result, recommendations were made that "on balance" might help to ease the risk of reopening, such as the continued use of the Covid cert, and an examination on "the potential role and feasibility of rapid testing as a component of the Covid pass" for those who have not been able to get vaccinated on medical grounds.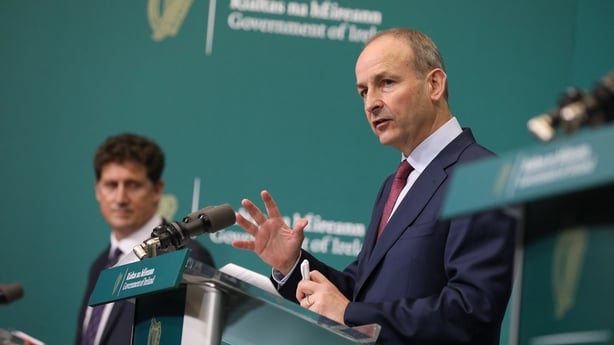 So what happens next?
The Taoiseach has confirmed that there will now be an enhanced role for antigen testing throughout society.
It is one of the main changes in today's Government announcement and follows new advice from NPHET on the use of the tests.
Currently, if a person is fully vaccinated and deemed a close contact of a confirmed case, there is no advice to get a test if there are no symptoms.
But in future, if people are deemed to be a close contact and are fully vaccinated, they will be sent a rapid antigen test.
More information will be made available online for people on the use of antigen testing.
The Taoiseach said: "We will work with the sectors to develop a role for antigen tests to further improve the safety of certain events and activities".
He said they will "also work with the expert group on antigen testing in terms of the wider use of such tests amongst the general population".
The Government said it will now be encouraging people who are attending events where they will be in crowds to self-test before they go using antigen kits.