It is said that a week is a long time in politics. Well, the same can be said about coronavirus too.
Around 10 days ago, things were looking quite positive with the Covid-19 trends and then something happened to cause a rise in the key metrics.
It has prompted experts and Government to consider 'a go, no go' decision on lifting most of the remaining restrictions from 22 October. It has been billed as something like a 'freedom day'. However, full freedom may have to wait just a bit longer.
After RTÉ News broke the story on Wednesday, that the Senior Officials Group on Covid-19 had met and heard significant concerns about the turn of events, the reality of what was coming began to be absorbed over the following hours by various ministers.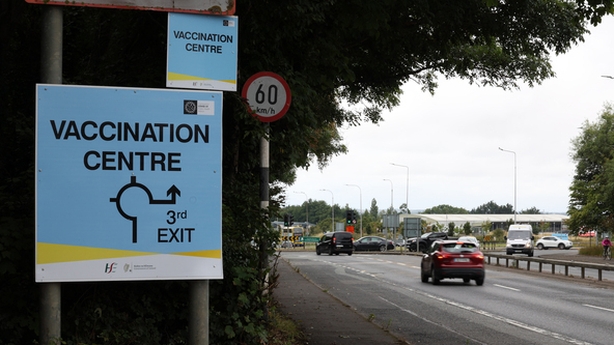 First, Minister for Foreign Affairs Simon Coveney said we were on track to move ahead with the 22 October reopening, unless compelling evidence suggested otherwise. Then the Tánaiste Leo Varadkar said he could not rule out the possibility Ireland would re-open, but still retain some restrictions and it would depend on the cases over the coming days and the NPHET advice.
By tea time last Wednesday, Taoiseach Micheál Martin said definitively that going ahead as planned with 22 October could not be guaranteed.
The National Public Health Emergency Team (NPHET) will meet, most likely on Monday, to consider all the latest data.
This meeting was expected to be its last. That seems unlikely now.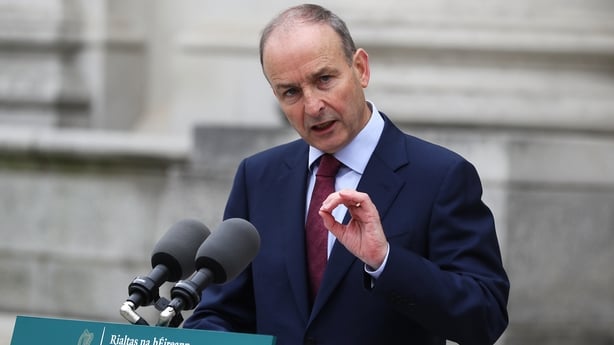 The question facing NPHET is whether the latest figures represent a transient event, or a genuine rising trend. Paul Reid, the HSE chief, has said he does not think the recent rise in cases means hitting a panic button. Vaccination here has changed the battleground with coronavirus.
At its meeting next week, NPHET will also have an unpublished report from the Health Information and Quality Authority, on how long immunity lasts after Covid-19 infection. I understand the report says that immunity can last for nine months for those people. That is interesting, given that over 409,000 people have been infected with Covid-19 here during the pandemic so far.
The Minister for Higher and Further Education Simon Harris said yesterday that it is not a binary choice whether to continue to re-open or not, but asked is there a way to proceed with openings, while retaining vaccine certs, or face masks for a bit longer.
For the hospitality industry, this is another time of worry; horror even. A question mark hangs over the opening of nightclubs and late-night bars beyond 11.30pm. This is an important time of year for the hospitality sector, with the midterm break coming up and Halloween. It will also feed into fears about what will November and December be like.
---
---
NPHET member Professor Philip Nolan said that if this was October 2020, and we had the current Covid-19 figures, it would lead to a Level 5 lockdown. But things are very different now. Over 90% of the adult population is vaccinated. But he described the situation as being on a knife edge and the main concern is the 300,000 people who have not opted to be vaccinated, plus the 70,000 who have availed of just one dose from a two-dose schedule.
For a sense of perspective however, we are largely doing better than the optimistic modelling, which suggested by the end of last month, we would have 1,530 hospital admissions and 195 ICU admissions. We have around 413 patients in hospital with Covid-19 and around 73 of these in ICU.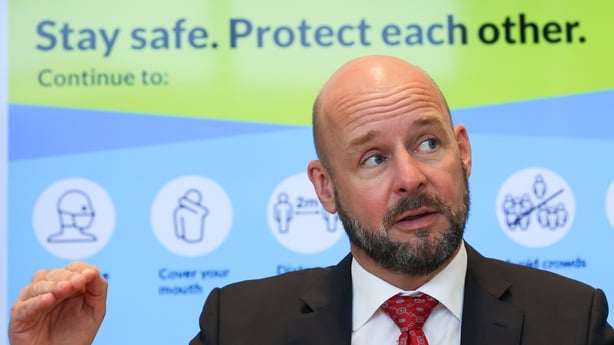 Various explanations have been given for the current 'blip', if that is what it is. The Minister for Health Stephen Donnelly said Ireland's proximity to Britain was a factor, with a lot of commuting back and forth. The problem with that factor is that we can do nothing about our proximity with Britain, unless some new measures were introduced, which were not pursued, even in the height of the pandemic.
Minister Donnelly also said the Delta variant hit Ireland a bit early in the vaccination campaign, and the after-effects of that are being seen now too. A bit like the aftershocks from an earthquake.
The events of last week will have unnerved some people, quite understandably. Is Christmas in doubt? On balance, the answer should be no, bar any big surprises between now and then. Covid-19 has always caused uncertainty and some unpredictability. However, the view from NPHET is that it does not believe the virus is going rapidly out of control.
So far this month, there have been 35 Covid-19 deaths. We are halfway through October. September was a bad month, where sadly 136 Covid-19 deaths were reported by the Health Protection Surveillance Centre. That was the highest monthly figure since March.
The number of outbreaks around the country reduced last week, compared with the previous week. So, it is a mixed bag of statistics. The fresh cases are being seen mostly in those aged 19-40 years and those aged 0-18 years.
We have come a long way since the start of the pandemic. For some time now, schools have been back open, universities too and there has been a phased return to the workplace for some people. The traffic on the roads tells its own story. Big cities and towns are buzzing again.
The weather has also become colder, making outside dining or drinking impractical. So there are signals there that explain why case numbers have risen. Health experts also believe that some complacency on social distancing, hand washing and mask wearing may have crept in.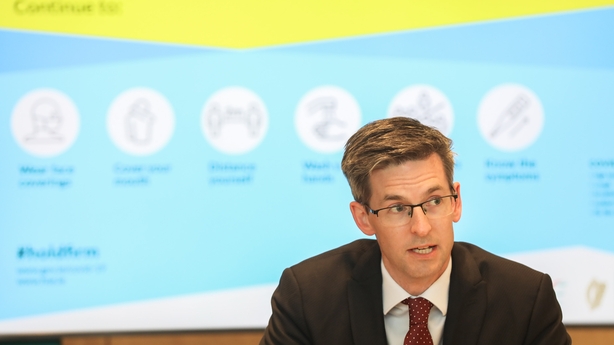 It was notable that yesterday, in a video posted on Twitter, the Deputy Chief Medical Officer Dr Ronan Glynn urged people to work from home, where possible, this autumn and winter.
The recent Government roadmap said that attendance at work for specific business requirements may commence, on a phased and staggered attendance basis, from 20 September. The message from Dr Glynn is somewhat different and might be a signal of a more nuanced view next week from NPHET on the return to the workplace.
In reality, there are not a lot of restrictions left to pull away. Next Friday is due to see an end to the requirement for physical distancing, or mask wearing outdoors, or indoor, in private settings.
There is to be an end to limits on indoor and outdoor events and activities. Night clubs are due to operate again. There is also to be an end to the need for certificates of vaccination, or immunity or proof of having contracted Covid-19, for access to or engagement with any events.
While no decision has yet been made, it seems likely that some of these measures may remain for a some more weeks.
The decision on all this will be made by Cabinet, probably on Tuesday.
---
Read more: Why are Ireland's Covid numbers on the rise again?
---
There has been some frustration in Government over the delay in getting a clear recommendation from the National Immunisation Advisory Committee (NIAC) on the wider use of booster jabs. Currently people are getting a third dose if they are immunocompromised, if they are aged 65 or older in long-term residential care, or if they are over 80 years in the community.
NIAC has been considering for some time the benefit, or otherwise, of booster jabs. NIAC experts will not be pushed into quick decisions under political pressure. One senior official this week said to me that getting information out of NIAC, was like trying to secure the Third Secret of Fatima. They guard their work closely.
The expectation is that NIAC will likely recommend booster jabs for people over 60 or 65 years first. The committee is looking again at whether health staff should get booster jabs, but its previous view was that the evidence did not currently support this.
The latest data - as well as concerns about waning immunity among some people who got vaccinated earlier in the national campaign - has changed the picture somewhat. In the end, it is the science that NIAC will be guided by. Significant funding was provided in Budget 2022 for a booster jab campaign next year, so it will be coming in some shape or form.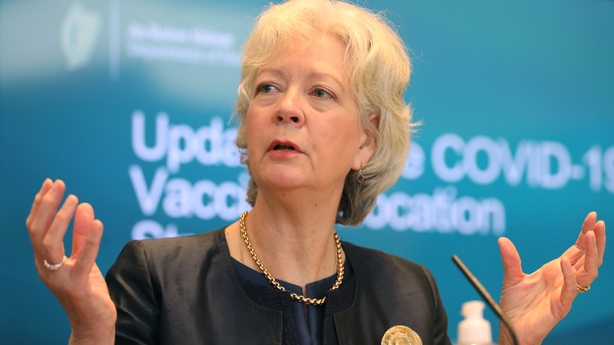 Yesterday, Professor Karina Butler, the Chairperson of NIAC, said there is no specific date that it will be giving advice to the Government on a booster programme. She said they are working hard to collate the evidence to give the best advice to the Department of Health, which will guide them on this.
Prof Butler said it will happen when "it's ready to go" with advice that is robust and complete and added that considering boosters involve looking at the benefits and harms.
It is about looking at the evidence, to decide if they should be progressing the rollout of a booster campaign. Prof Butler said that for the bulk of the population, now might not be the right time to give boosters.
We are entering a potentially very difficult period over the winter months. The annual flu vaccination campaign has begun. People will start wondering if they have a cold or the flu or Covid-19. The public health advice is that in all cases stay at home, get medical advice and tested if advised.
Hospitals are trying to get normal care going, as well as managing the Covid-19 risk. Overcrowding in hospital emergency departments and on wards is rising. This colder season brings with it lots of other bugs and infections. So, for families, adults and children, and employers, October to February in particular, will be an anxious time.
Bank holidays, Halloween and Christmas bring more mixing and socialising. If there is reduced mask wearing, that will bring its own risks. Of course, some people will be happy to continue wearing masks for some time, as a protection they have become used to.
Whatever happens from 22 October, there will still be a requirement to wear masks on public transport, in retail outlets and in healthcare settings. That will likely continue into early next year.
We are heading into the dark time of the year now but there is no reason to be despondent. We have come thorough much gloomier times with Covid-19 and made it through. Hopefully, Ireland is on the better side of this battle with the virus.
While this week has been a bit of a fright, the goosebumps should pass.