Health Service Executive CEO Paul Reid has urged the public to "stick with" public health guidelines following controversy and confusion surrounding Covid-19 regulations in regards to outdoor gatherings.
Confusion arose around the regulations after the Attorney General issued advice to the Government that regulations allowed for outdoor events and gatherings of up to 200 people.
The advice was issued after questions were raised when it emerged that former Minister for Children Katherine Zappone had organised an outdoor gathering of 50 friends and former colleagues at a Dublin hotel, several days prior to her appointment as UN Special Envoy on Freedom of Opinion and Expression.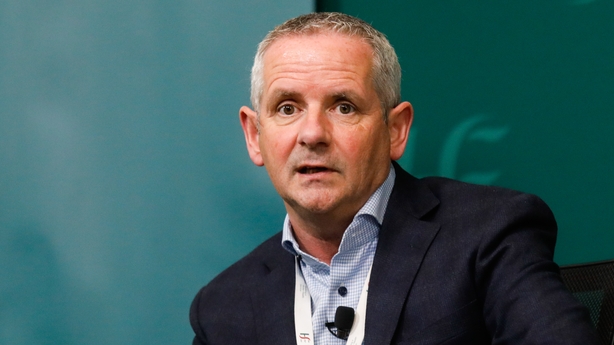 When asked about the confusion at the weekly HSE Covid-19 briefing, Mr Reid said "the only concern we have is people just drop their guard over the next few weeks, whether it's over frustration or confusion.
"People drop their guard. So the message from the HSE ... people stick with us, in a few weeks' time we will be on a much better side of this pandemic.
"My call is to the public: don't get confused, don't get frustrated, just stick with what we're doing, it's working and allow us to get on with the vaccination programme," he said.
Officials from the Department of Tourism met Fáilte Ireland today to review tourism and hospitality sector guidelines, following yesterday's advice.
Discussions are expected to continue tomorrow.
Last night, Fáilte Ireland said it noted the Government statement on the event.
It added the guidelines are drafted in conjunction with Government departments and industry as they reflect public health advice and announcements on restrictions and decisions taken by Government.
The Chief Executive of the Restaurants Association of Ireland said it is important that businesses and the public understand what is required in terms of the rules and limits.
In a post on Twitter, Adrian Cummins said the hospitality sector has "lost a huge amount of revenue due to confusion over the guidelines".
---
Read more: Govt accused of throwing Covid guidelines 'out window'
---
Meanwhile, Minister of State Colm Brophy said he welcomes that "additional clarity will be brought to the guidelines" in the operation of outdoor events but added that he did not want to "prejudge" the outcome of the discussions.
Speaking on RTÉ's News at One, Mr Brophy said he could not answer whether the Attorney General "checked" the guidelines before they were published by Fáilte Ireland.
But he acknowledged that they were drawn up by Fáilte Ireland after consultation with industry groups as well as government officials.
Hoping to get updated @Failte_Ireland guidelines this afternoon regarding Outdoor Hospitality

It's important businesses & society understand what is required in terms of rules / limits.

Hospitality businesses have lost huge amount of revenue due to confusion over guidelines

— Adrian Cummins ???????? (@adriancummins) August 5, 2021
"When you have a changing situation of regulations and guidelines, you will always have, I believe, individual venues or people interpreting the guideline. So, we now need to bring clarity to that."
Earlier, Sinn Féin's health spokesperson David Cullinane described the situation around the gathering at the Merrion Hotel as chaotic and entirely of the Government's own making.
Speaking on RTÉ's Morning Ireland, he said no one in the Government could seriously suggest they believed that people could have an organised social event outdoors for up to 200 people, and Fáilte Ireland guidelines make it clear that multiple tables cannot be booked.
The fact that Fáilte Ireland are now revising its guidelines smacks of an attempt to retrospectively to get the Tánaiste off the hook, he said.
The industry itself is now seeking clarity, he said, adding "is it any wonder that people are confused?"
Social Democrats co-leader Róisín Shortall said it was news to her that a social event could be held for 50 or more people outdoors.
Speaking on RTÉ's Today with Philip Boucher-Hayes, she said the danger is that people will disregard the guidelines because "this is what happens when there isn't example from the top".
Ms Shortall said the Government should have been clear about what is permissible and had people known they could host an outdoor event for 200 people, many people and venues could have planned outdoor weddings.
Speaking on the same programme, Minister of State Niall Collins said the gathering at the Merrion Hotel complied with the Covid-19 regulations and the law and the Attorney General clarified that yesterday.
He said the issue that arose from the gathering was the Fáilte Ireland guidelines and there was a difference between the regulations and the law and the guidelines drafted and published.
"It was down to the interpretation of that which led to confusion," the Fianna Fáil TD said, adding that it was right and helpful that it was clarified by the AG.