The Government has been accused of throwing public health guidelines "out the window" and changing Covid guidelines to "retrospectively approve the attendance of Tánaiste at an event".
The claim was made by Sinn Féin's Matt Carthy after the Government issued a statement saying that the Covid regulations "provide for organised outdoor events and gatherings of up to 200 people".
It follows a report in the Irish Independent that former minister for children Katherine Zappone organised an outdoor gathering of 50 friends and former colleagues, including Tánaiste Leo Varadkar, at the Merrion Hotel six days prior to her appointment as UN special envoy.
Mr Varadkar has confirmed that he attended the event,
About 50 friends and former colleagues of Ms Zappone gathered at the Merrion Hotel in Dublin on 21 July.
In a statement, Mr Varadkar said he attended the event "at the invitation" of Ms Zappone and "was present for about 45 minutes."
He said: "I confirmed in advance directly with her, and with the hotel management on arrival, that the event was compliant with Covid regulations.
"I was present for about 45 minutes, spoke to Dr Zappone briefly and listened to her speech before returning to work. The event took place entirely outdoors."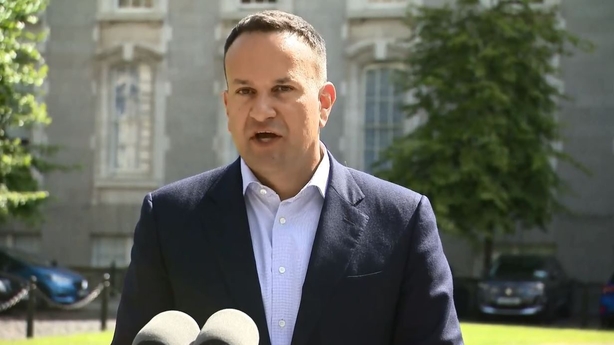 Mr Varadkar said that Government regulations permit organised outdoor gatherings and events of up to 200 people and "there were about 50 people present".
"The definition in the regulations includes social events as well as recreational, exercise, cultural, entertainment or community events. I am confident these regulations were not breached. This matter has been checked with the Attorney General," he added.
---
---
The chief executive of the Restaurants Association of Ireland has said he will be seeking clarification on whether outdoor gatherings of 50 people are now permitted at restaurants and hotels.
Adrian Cummins said that if gatherings such as the one that took place at the Merrion Hotel are permitted, it raises questions as to whether people can book outdoor parties for communions, confirmations, birthdays and other events.
He added: "In light of the Attorney General's advice this afternoon regarding 200 attendees at social gatherings (most welcome) - it's important that the AG's guidance is utilised for all guidelines/ restrictions on hospitality businesses."
Mr Cummins and other members of the hospitality sector met Government officials today to press for a further easing of Covid-19 guidelines for the sector.
Extending closing hours and increasing the pool of people allowed to dine indoors is top of the agenda for representatives of the RAI.
The association wants the current closing time of 11.30pm to be extended from September, along with the introduction of antigen and PCR testing that would allow unvaccinated people, with a negative test, to avail of indoor dining.
In a post on Twitter tonight Mr Cummins asked: "If the event for 50 people didn't happen, when would the hospitality industry have known the maximum capacity for an outdoor event was 200, and verified by the Attorney General?
"Hospitality businesses have missed out on a substantial amount of revenue due to lack of clarification regarding maximum 200 attendees at outdoor hospitality events.
"Normal trading hours must be reinstated as a matter of urgency to balance the loss of income for businesses."