A group representing workers in the nightlife sector has criticised the Government's response to its reopening, warning that a continued shutdown will result in an upsurge of unregulated events.
In a letter to the Taoiseach, Tánaiste and Minister for Arts, the 'Give Us the Night' campaign said its industry is the only remaining one without any date for return.
It described the Government's handling as inadequate, inflexible and lacking a basic understanding of how the industry works
It is also calling on the Government to allow for non-socially distanced trial events to be held in September, regardless of Covid case numbers.
The group urged that a resumption for all live events, including in nightclubs, should happen no later than the beginning of October.
It said a reopening plan for the sector is now "long overdue" and that Ireland is the only European country that has made no concrete plans for the return of its events industry.
---
---
The campaign said its industry has been shut for 17 months, and many venues and nightclubs have had to permanently close.
It said that despite bars and restaurants reopening, no meaningful consideration has been given to nightclubs or music events nor has any clear update been given.
It is also calling for a greater use of free Covid-19 testing at events.
Meanwhile, Fianna Fáil Senator Malcolm Byrne has written to the Taoiseach and to Arts and Culture Minister Catherine Martin calling for the minister and senior Government officials to meet representatives of the arts, live events and entertainment sector before the end of next week to agree a clear roadmap for reopening.
He again expressed frustration that "arts and entertainment are not being given sufficient priority, in spite of the fact that those involved have been among the worst impacted by Covid over the last eighteen months".
Senator Byrne stated that it was "welcome and appropriate that there was high level engagement with the tourism and hospitality sector, as well as with sporting bodies to ensure safe reopening," but added:
"Like so many involved in the arts, I am tired of constantly having to seek clarity on cultural and music events after government announcements and worse, not having any sense of priority being given to the safe reopening of these activities.
"Theatres and arts venues are controlled environments. They are happy to work within clearly defined safety guidelines; they do it all the time. Arts professionals be they involved in production or dance or drama classes or event management have a constant awareness of health and safety."
"I do not accept an aspiration toward having some kind of roadmap at the end of August represents any sort of coherent government policy. There should be the same level of engagement now as we have seen with the tourism and hospitality sector," he added.
Separately, Danny O'Reilly, lead singer from the band The Coronas, has spoken of his frustration that there is no plan to reopen live events.
Speaking on RTÉ's Morning Ireland, he said that 40,000 people will be allowed to attend the All-Ireland final in Croke Park, but only 200 people can attend an outdoor show.
Mr O'Reilly said there did not appear to be any rush to help the industry and the GAA appeared to be getting preferential treatment.
He said there is no difference between a concert and a match and it would be simplistic to think that spectators would not be drinking before and after the game.
He pointed out that indoor pubs are already open and said there are many venues that could accommodate 5,000 people safely.
Our industry is the most highly legislated and the people who work in it are highly skilled and know how to put on safe events, he said.
Mr O'Reilly said 100,000 people will be attending events in Northern Ireland over the next two months but that the Government in the Republic is not even making a roadmap or plan for the industry.
'Incredibly frustrating' for nightlife industry
Jo Mangan, director of theatre company Performance Corporation, said they are concerned the arts sector is being left behind in the reopening of society and the economy.
Also speaking on Morning Ireland, she said while it is "brilliant" they are going to be putting on a performance at The Gaiety Theatre for the first time in over 500 days this Saturday, she said only 50 people are allowed to attend.
She wants to know how plans will evolve to further reopen the arts sector.
She described how so much has been reported on the hospitality sector and the impact of closure on it, while recent CSO figures show that the arts sector has suffered a 54% decrease.
She wants to highlight the plight of those in the arts sector describing how people are losing their homes, having to move to London and moving away from the arts industry.
Speaking on the same programme, Robbie Kitt, DJ and spokesperson for 'Give Us the Night', said the big question is "when will they be able to get back to work?"
He said it is incredibly frustrating for people in their industry as they were the first one to close because of Covid and they are "looking to be the last one in".
He said they have been directly engaged with the Government and relevant people, groups and authorities and it has been an extensively drawn out process with "still no certainty".
Mr Kitt said while they welcome trial nights they want a guarantee of when they will return in full.
He said trial nights that were announced for clubbing in Ireland were put back and in contrast "events are happening across Europe right now" and systems being put in place to run them safely.
"Now they are being pushed back we are calling for a guarantee that we will have trial events in September."
He said lessons have been learned and Covid is not going away so it is about living with it and opening with the relevant protocols in place.
"It doesn't have to be all or nothing," he added.
Owner of the Dublin nightclub, Tramline, Ian Redmond said the last 18 months have been tough.
Mr Redmond said: 'We closed on the 12th of March, 2020...we haven't even attempted to open because we're a nightclub and a live music venue.
"We don't have any outdoor space. We're a venue that people come to dance and enjoy themselves."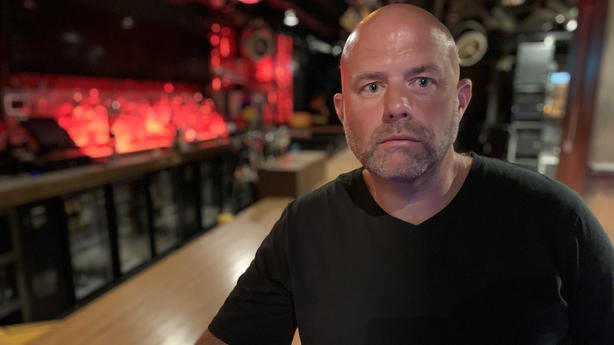 He added that on a typical Saturday night, pre-Covid, 1,000 people would pass through the doors.
"We've responsibility to our staff, to our creditors. We just want to open back up and get people dancing."
Mr Redmond wants to be able to open up again next month.
He said: "I think with the vaccine programme, we're ready to open and we're calling on the government to let us open this September."
In a statement the Minister for Arts, Catherine Martin said she was working with Cabinet colleagues to provide certainty for the sector around a reopening plan at the earliest possible date.
The statement said the report of a taskforce will be published shortly to help address some the challenges facing sector.