The Taoiseach Micheál Martin has said a greater percentage of adults are now fully vaccinated in Ireland than in the UK.
There are 72.4% of adults in Ireland fully vaccinated compared to 72.1% in the UK.
In a post on Twitter this afternoon, Mr Martin said: "The vaccine rollout is continuing at great pace. Today we edged ahead of our nearest neighbours - a brilliant effort by everyone involved."
The vaccine rollout is continuing at great pace.
Today we edged ahead of our nearest neighbours - a brilliant effort by everyone involved.

➡️Ireland: 72.4% of adults fully vaccinated
➡️UK: 72.1% of adults fully vaccinated

— Micheál Martin (@MichealMartinTD) July 31, 2021
Britain took an early lead worldwide in its vaccine programme with half of all adults having received a first dose by April this year.
However its approach to prioritise first doses has allowed Ireland to move ahead on the percentage of people who have now received two doses.
Mr Martin's comments come as dozens of walk-in Covid-19 vaccination clinics are operating throughout the country across the bank holiday weekend.
The clinics have been established to encourage further uptake of vaccines and are open to those aged 16 and over who have yet to receive a first dose.
Those attending the centres, which are being operated by the Health Service Executive, will receive a first dose of the Pfizer-BioNTech vaccine.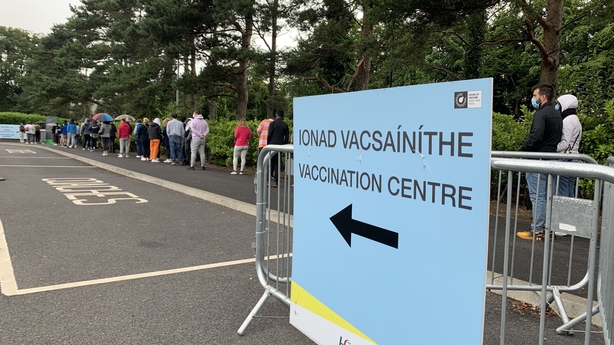 Meanwhile, the Department of Health confirmed 1,427 new cases of Covid-19.
There are 164 patients in hospital with Covid, which is down five on yesterday's figures. There are 26 people being treated in ICU, up three on yesterday.
Chief Medical Officer Dr Tony Holohan said: "Today we have reached the milestone of 300,000 cases reported in Ireland since the beginning of the pandemic.
"However, today we have also seen how solidarity continues to be the hallmark of our response with young people across the country lining up to get vaccinated, both to protect themselves and to play their part in protecting the community.
"I strongly urge anyone eligible for a vaccine to come forward and avail of the opportunity as soon as possible."
Eight further deaths have been reported in Northern Ireland in the last 24 hours. The Department of Health also reported 1,177 positive cases of Covid-19 in the region.
Almost 2,000 vaccines were administered to people who attended the walk-in clinic at the Citywest vaccination centre in Dublin today.
The service opened at 8am, but amid high demand, people began queuing from around 6am, with large queues throughout the morning.
The walk-in clinic was open until midday, where 1,850 people aged 16 and over received a first dose of the Pfizer mRNA vaccine.
Large numbers of people aged 16 and over have been queuing since early this morning at the City West Covid-19 Vaccination Centre to avail of the walk-in vaccine service. 1,000 walk-ins by 11am alone @RTENews pic.twitter.com/zAwfTtLSlC

— Fergal O'Brien (@FergalOBrien_) July 31, 2021
The Group Lead for Vaccination at the Dublin Midlands Hospital Group said the number of people who availed of the service today "exceeded expectations".
Karn Cliffe said most of those in attendance were in the younger age categories.
She said they "really didn't know what to expect, whether it was going to be incredibly busy, or incredibly quiet".
However, Dr Cliffe said "it has been absolutely brilliant, so we're thrilled, absolutely thrilled with the outcome".
There is no need for people to register online before visiting one of the walk-in clinics, but people will need to supply a PPS number (if they have one), phone number, email, eircode, and photo ID.
---
No appointment needed: Find a walk-in vaccine centre near you
---
In west Cork, there were around 200 people waiting to be vaccinated at a centre at Clonakilty GAA Club, half an hour after it opened this morning.
The centre, along with a second location at Bantry Primary Care Centre, has been operational since May. Between them they have vaccinated almost 40,000 people.
Today was Clonakilty's first day operating as a walk-in centre.
Many of those who were waiting to be vaccinated are on holiday in west Cork. They will receive their second vaccine at the vaccination centre closest to their home in a number of weeks.
The Chief Executive of the HSE has said that following seven months of the vaccination programme, "we're on the final countdown to protect ourselves and rebuild".
In a post on Twitter, Paul Reid said: "This weekend we can further strengthen our defence lines against #Delta. 'Walk In Vaccination Centres' for all adults to receive a dose 1 are now available.
"After just 7 months of the vaccination programme we're on the final countdown to protect ourselves & to rebuild."
Georgia and Malaysia added to hotel quarantine list
Georgia and Malaysia are to be added to the Mandatory Hotel Quarantine list.
People arriving into Ireland from these countries, who are not yet fully vaccinated, will have to quarantine for 14 days.
In a statement released this afternoon, Minister for Health Stephen Donnelly said these countries will be included on the booking system for Mandatory Hotel Quarantine from 4am on Wednesday.
Meanwhile, Kuwait has been removed from the hotel quarantine list from today.
Additional reporting Fergal O'Brien