More than half of the UK's total population has received a first dose of a coronavirus vaccine, figures show.
NHS England data up to 23 April shows that of the 38,189,536 total doses given in England so far, 28,102,852 were first doses - a rise of 107,656 on the previous day.
It means the UK first dose total so far is now 33,496,293, with more recent figures still to be reported by Wales, Scotland and Northern Ireland.
The UK population is estimated to be 66,796,807, so the latest figures show that more than half the population have now had a first dose of a coronavirus vaccine.
Anyone aged 45 and over can still arrange their jab in England, as well as people who are clinically vulnerable or health and care workers.
Further restrictions are to be lifted on 30 April in Northern Ireland, when pubs and restaurants can serve customers in outdoor settings, in groups of six, from no more than two households
Cafes, pubs and restaurants will reopen in Scotland on Monday, with alcohol served outside. Indoor hospitality and all tourist accommodation in Wales is expected to reopen on 17 May.
England also plans to allow indoor dining from 17 May. At present, customers must order, eat and drink while seated at a table outside.
One billion vaccine doses administered worldwide
Meanwhile more than one billion doses of coronavirus vaccines have been administered worldwide, less than five months after the first mass inoculation programmes began to be rolled out, according to an AFP tally.
At least 1,002,938,540 doses have been administered in 207 countries and territories, according to the tally compiled from official sources.
More than half, or 58%, have been given in three countries: the United States with 225.6 million doses, China with 216.1 million doses and India with 138.4 million.
However, in terms of the proportion of the population who have been vaccinated, Israel is in the lead, with nearly six out of every 10 Israelis fully inoculated.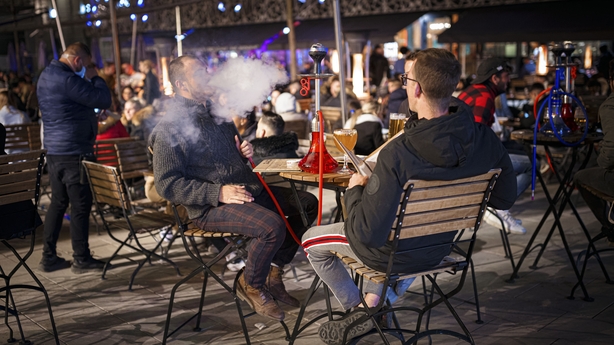 Indian variant found in Switzerland
A first case of the Covid-19 variant contributing to the exploding outbreak in India has been detected in Switzerland, the public health authority said.
"The first case of the Indian variant of Covid-19 has been discovered in Switzerland," Switzerland's Federal Office of Public Health said in a tweet.
The virus variant was found in "a passenger who was transiting through an airport," it said, without providing more details about the case.
It comes after Switzerland eased Covid restrictions on 19 April, allowing dining and drinking on outdoor terraces.
The news comes after Belgian authorities said a group of 20 Indian nursing students who arrived from Paris had tested positive for the variant in the country.
India's healthcare system is meanwhile buckling under a new wave of infections blamed in part on the new "double mutant" variant, known as B.1.617.
Countries have been on high alert for the variant, with several suspending flights from India.
---
---
The Swiss are meanwhile discussing whether adding India to its "red list" of high risk countries, the health authority said.
People arriving from countries placed on Switzerland's red list are required to quarantine for 10 days.
It puts countries and regions on the list once Covid-19 infection rates remain significantly higher than Switzerland's for a period of 14 days.
Germany pulls virus 'emergency brake' but not all on board
German Chancellor Angela Merkel has defended a fiercely-opposed new law imposing tough coronavirus restrictions across Germany including night curfews and school closures.
With many of its neighbours lifting restrictions despite higher virus rates, Europe's biggest economy is bucking the trend with the new national law dubbed the "emergency brake".
Passed amid huge protests in Berlin this week, the law prescribes uniform national restrictions and is designed to end a tug of war between the federal government and Germany's 16 states.
The law "is something new in our fight against the pandemic. And I'm convinced that we need it urgently," Ms Merkel said in her weekly video podcast.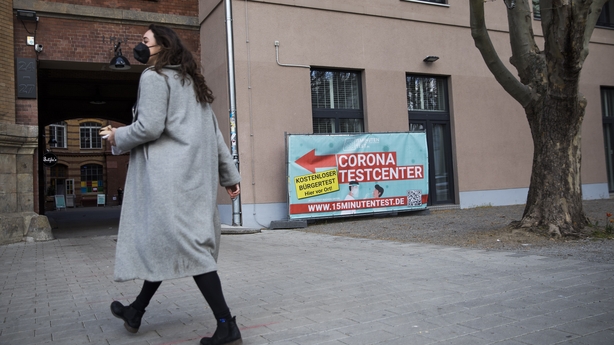 "If we manage to significantly and quickly reduce infections, gradual opening-up will be possible in the near future," she added.
Tough measures will apply from today in all regions with incidence rates of more than 100 new infections per 100,000 people over the last seven days, including sweeping shutdowns and overnight curfews.
Schools must also revert to virtual teaching in areas where the incidence rate exceeds 165.
Eight German states had an incidence rate above 165 yesterday, with the national average hovering at 164.

Conservative daily Die Welt called the new law "an authoritarian fig leaf designed to conceal failures of strategy, vaccination and testing".
The liberal, pro-business FDP party has vowed to take legal action to have it overturned, with party chief Christian Lindner calling it "unconstitutional".
Virus restrictions in Germany had previously been decided in consultations between Chancellor Merkel and the leaders of the 16 states, with the regions ultimately responsible for implementing them.
But in many cases, regional leaders have failed to put in place shutdown measures which they agreed with Ms Merkel, with many choosing broad interpretations of the rules.
Germany's Robert Koch Institute health agency reported 23,392 new Covid-19 cases in the past 24 hours today and 286 deaths, a day after the agency's Lars Schaade warned the numbers were "still too high".