The number of people permitted to attend weddings will rise to 100 after 5 August, according to Minister for Foreign Affairs Simon Coveney.
Minister Coveney said the decision was made at Cabinet "in principle" and that Minister for Health Stephen Donnelly will now look at the detail.
Speaking to RTÉ's News at One, he said: "Minister Donnelly will now work to produce clarity around everything from indoor, outdoor, music or not, receptions numbers and so on, so that there's clarity before the 5th, and that will be in a regulation to ensure that it's law.
Minister Coveney said the Government had made "an exception" for weddings, but that Government's message remains one of "caution".
However, he said, that "there is cause for optimism" given that the number of cases related to the Delta variant is dropping in other countries such as Scotland, England and the Netherlands.
He added: "We want to make sure that Delta doesn't have a nasty tail still in it. And that's why people need to be cautious but at the same time, there is I think cause for optimism," he said.
Mr Coveney added that the religious aspect of baptisms can "go ahead" in August.
We need your consent to load this rte-player contentWe use rte-player to manage extra content that can set cookies on your device and collect data about your activity. Please review their details and accept them to load the content.Manage Preferences
---
---
"We don't want to see post-baptism receptions, when lots of family members meet," he said. "We're trying to avoid that because we are still dealing with a very aggressive and unpredictable variant of Covid."
Anna and Dave from Dublin are due to get married on the 21st of Aug. They started planning in October and thought they would have a clear idea of numbers 3 weeks out from the wedding "it's been tough". Earlier @DonnellyStephen said there would be good news on weddings @rtenews pic.twitter.com/iz7s7PaAQB

— Gail Conway (@gailconwaymedia) July 27, 2021
'Good news'
Earlier today, Minister Donnelly said there would be "good news" in store for those waiting to be married.
The minister refused to be drawn on whether an increase in wedding guest numbers would only include those who are fully vaccinated.
He said no decision is ever black and white, saying it is about applying judgement and considering the associated risks.
Under current public health guidelines, the number of guests who can attend a wedding is limited to 50.
A group of brides-to-be were today marching to Government Buildings to present their health and safety guidelines to the Government in a bid to allow their weddings go ahead this year, with up to 100 guests.
Brides to be have gathered at the Dept of Health to present their wedding guidelines on how to safely raise guest numbers from 50 to 100 in August…they're frustrated at the lack of clarity after cancelling their weddings multiple times already @rtenews pic.twitter.com/bsaYMXdaML

— Gail Conway (@gailconwaymedia) July 27, 2021
The President of the Irish Hotels Federation earlier said wedding venues can offer safe environments for social distancing.
Speaking on RTÉ's Today with Claire Byrne, hotelier Elaina Fitzgerald Kane said a requirement for Digital Covid Certificates for wedding guests "would not be any more difficult" than what is already being implemented.
Uncertainty around the issue has caused great stress for couples, she said. "I have couples who are on their sixth [wedding] date. This has added significantly to their anxiety and stress levels."
Dr Ray Walley, a member of the National GP Advisory team to the HSE and UCD Associate Clinical Professor, said he would have "concern" for unvaccinated children attending a wedding or a restaurant indoors.
Speaking on the same programme, he said: "We all have a part to play in this. And obviously, the downside can be people can drink too much, and they can become disinhibited and that is a concern."
Dr Walley welcomed the invitation of 16 and 17-year-olds to register for vaccination, saying it will assist Ireland in achieving herd immunity which will require 85-90% of people to be vaccinated.
'It's very difficult to hear such high levels of uncertainty'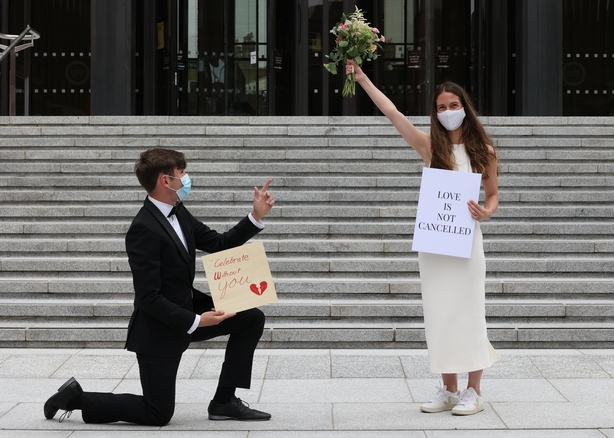 Brides-to-be dressed in white and carrying bouquets gathered outside Government Buildings today to call for clarity on the numbers allowed at their impending weddings.
They joined representatives from the wedding industry to call for the limit to be increased from 50 to 100, as had been indicated by the Government earlier this summer.
Despite some doubt cast in recent days because of the threat of the Delta variant, at a Cabinet meeting earlier ministers decided that this rise in guest numbers to 100 would take effect from 5 August.
Wedding couples have welcomed the decision with one Dublin woman describing it as a "win" after a year of a lot of "no's".
Orla O hUadaigh who has already postponed her wedding three times due to the pandemic said everything over the last year has been hard and this decision to increase the number of wedding guests to 100 is one positive after so much bad news.
She said a lot of their wedding guests will be travelling from the UK which added to the pressure amid the uncertainty around the numbers that would be allowed.
Ali O'Mara who is due to get married next week said they had already dropped their wedding guest list from 200 to 100 and had feared they may have to decrease the list again when there was a suggestion that the current numbers might remain at 50.
She described the last week as challenging. "It is very difficult to hear such high levels of uncertainty."
She said her family and friends' safety has always been a priority and with 90% of her guest list fully vaccinated, now is the right time to hold their wedding.
She also said today's announcement allows her to enjoy the lead up to her wedding day.
"To know we have 10 days now to build up to the day is brilliant."
Hoteliers have also welcomed today's decision to extend guest numbers to 100.
Mark Scott Lennon, Managing Director of Fitzpatrick Castle Hotel in Killiney, County Dublin said it is not a positive just from a planning and financial perspective for weddings but that it will make such a difference to wedding couples.
"It has moved past the commerciality of a wedding. The last week has been incredibly anxious for them just awaiting updates to see if they had to uninvite 50 or so guests so it is fantastic news for them and us."
While wedding industry representatives have also welcomed this move to increase numbers, it is seeking more engagement from Government.
Tara Fay of Wedding International Professionals Association said while this may be a stopgap measure, they would like more recognition and guidance.
She said they have created their own guidelines for the wedding sector which they handed into Leinster House today.
She also highlighted the industry's worth to the economy, stating it is valued at €2.3 billion with nearly 21,000 weddings taking place every year in Ireland.