The Tánaiste has said the Government will consider giving spare AstraZeneca vaccines to over 18s if advised to do so by the National Immunisation Advisory Committee.
Leo Varadkar said Ireland will have more AstraZeneca vaccines than it needs in the coming weeks and that NIAC is currently considering if it could offer them to younger people who are awaiting vaccination.
He said it would be a shame not to use the hundreds of thousands of excess doses that Ireland will have and while the issue of what to do with them does not arise yet, it will in the coming weeks.
Mr Varadkar said if that is what is advised by NIAC, the Government would consider giving AstraZeneca to over 18s because of the concern of a fourth wave driven by the Delta variant.
"Giving people vaccines that we have, to give them some protection, might be a better option than saying, you've no protection now, you'll have to wait 'til later," he said.
Currently, NIAC advises that AstraZeneca is not recommended for people aged under 50, including those with medical conditions with very high or high-risk of severe Covid-19 disease.
The Tánaiste also added that any questions over the 600,000 Janssen (J&J) vaccines that are due to arrive in Ireland are academic, because there is no delivery date for these vaccines.
---
---
In relation to the next stage of the easing of restrictions, Mr Varadkar said a final call will not be made until a few days before 5 July.
Under the Government's easing of restrictions, indoor services are due to resume in bars and restaurants from that date.
Among the other measures planned for that date are an increase in the number of guests at wedding receptions to 50. First communions, confirmations and baptisms can also take place.
Organised indoor events are set to resume, with a maximum of 50 people in most venues, but up to 100 people are allowed where social distancing of two metres can be implemented.
Children's play centres, bowling alleys, snooker halls, amusement arcades and indoor waterpark are also set to reopen from that date.
However, Mr Varadkar said the Delta variant is the dark cloud on the horizon and said he was sorry if people were confused by what the Government was saying about reopening.
He said information coming from the UK about the spread of the variant was a cause for concern and that throughout the pandemic, the Government has only ever been able to give indications rather than clarity on when restrictions can be eased.
Mr Varadkar said a final decision on the next phase of reopening cannot be made until next Thursday or Friday when the Government has up to date public health advice.
"I totally get how horrible this uncertainty is, but it's an uncertain environment and that's the truth of it," he said.
Earlier, the Minister for Health also said it is too early to say if the easing of restrictions set for 5 July will go ahead as planned.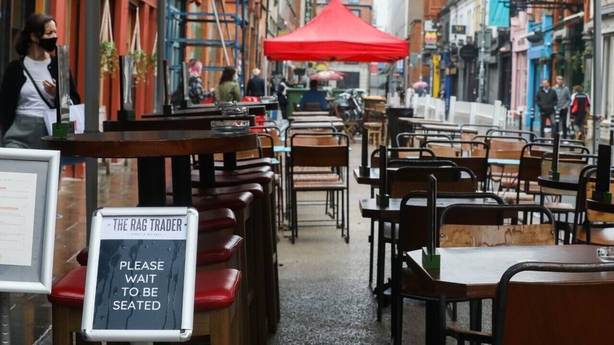 Speaking on RTÉ's Morning Ireland, Stephen Donnelly said: "We know Covid tears up the best laid plans and it's a rapidly evolving situation with Delta."
He said the National Public Health Emergency Team will do a very detailed analysis and, combined with an economic and social analysis, the Cabinet will make an informed decision next week.
He said the Government will make decisions on the further easing of restrictions in the best interests of a sustainable reopening.
"We don't want to go backwards and the hospitality industry do not want us to push too far" for the Delta variant to then "put everything at risk and people have to close down," he said.
The minister said he is concerned that despite falling Covid-19 cases numbers overall, "we are now surrounded by the Delta variant" and in the last few days the situation in Ireland in relation to the variant has changed.
Minister for Health Stephen Donnelly says he is concerned about the Delta variant, but otherwise the situation is positive. NPHET will make a recommendation, and there will also be an economic and social analysis before a decision on further reopening is made. pic.twitter.com/y8xi0DNoHP

— RTÉ News (@rtenews) June 23, 2021
He said the data now indicates that one-in-five new cases in the last seven days are the Delta variant, however outside of that the epidemiological situation is very positive and cases continue to fall as the vaccine programme delivers "phenomenal" results.
Mr Donnelly said cases are falling in all age categories, except the 19 to 24-year-olds, whether vaccinated or not.
The minister also said that right now the Government intends to go ahead with reopening international travel from 19 July, but if there was strong public health advice to the contrary, the Government would consider that.
Restaurants Association of Ireland says any delay in reopening indoor hospitality on 5th July will have a catastrophic economic effect on Restaurants, Cafes & Pubs. It said businesses are currently in the planning stage with regards to restocking.

— Mícheál Lehane (@MichealLehane) June 23, 2021
Meanwhile, Chief Medical Officer Dr Tony Holohan and Health Service Executive CEO Paul Reid will attend a meeting of senior Government officials amid growing concern about the Delta variant.
Asked if there was greater level of concern about the variant and the possibility that it might delay reopening plans for 5 July, one senior source said: "Concerns are greater. Yes. No doubt about that."
An assistant professor of virology at University College Dublin said the Delta variant is substantially more transmissible than the Alpha (Kent) variant and is more transmissible outdoors.
The Delta variant was first detected in India.
Speaking on RTÉ's Morning Ireland, Dr Gerald Barry said it is likely that Ireland will see a rise in cases, but this is unlikely to convert into a dramatic increase in hospitalisations and death, given the pace of the vaccination programme.
Dr Barry said that those who are not vaccinated are twice as likely to end up in hospital, if they are infected with the new variant.
Meanwhile, registration for a Covid-19 vaccine is open to 36-year-olds from today.
Additional reporting Micheál Lehane