Restrictions around international travel are to be eased from 19 July, the Government has confirmed, allowing more people to make non-essential trips once again.
The date won't mark a complete return to normality, however, as there are a number of rules and limitations that you will have to follow when making an overseas journey.
What will the rules be from 19 July?
From 19 July the Government will begin what it is calling a "phased return" to non-essential, international travel.
That means it will be easier to take a trip to some countries - without the need for quarantine - though strict restrictions will remain in place for others.
Where non-essential travel is allowed, passengers will have to show they have been vaccinated against Covid-19, have a negative PCR test result or have recently recovered from the virus.
The need for a negative test result will apply to children aged 7 or older.
Travellers will also have to pay close attention once again to the European Union's Covid traffic light system – with travellers from high risk (or 'red') countries still potentially facing additional testing and quarantines.
An 'emergency brake' mechanism will be coordinated at EU level to react to the emergence of a variant of concern or variant of interest.
Initially at least, the most notable change from the loosening of restrictions will be within Europe, with all EU countries set to be removed from the Mandatory Hotel Quarantine list.
Trips to other EU countries should also be made easier through the new EU Digital Covid Certificate.
---
What is the EU's Digital Covid Cert?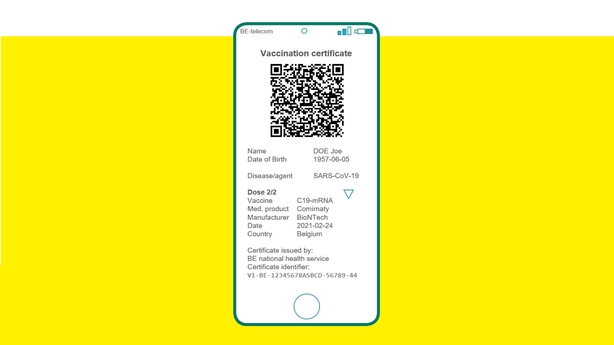 The EU's Digital Covid Certificate is a standard that has been agreed by all EU countries to allow people to easily display their Covid status.
It can be added to a phone - or printed out - and, when scanned, displays whether the owner is vaccinated, has received a negative Covid test, or has recently recovered from Covid.
Having a cert does not give users an automatic right to travel freely, as each country is still allowed to decide what status a passenger has to have in order to enter.
So, for example, one member state may simply ask for proof of a negative Covid test, while another may want passengers to be fully vaccinated before arriving.
However the European Commission has encouraged member states to be as open as possible to citizens. Any country that sets a high entry bar for cert-holders will be asked to justify their reasons for doing so.
There have been suggestions that the US could eventually link in with the EU's Digital Covid Certificate, however that is a decision that would have to be made at EU level.
---
What about UK trips?
The Common Travel Area - which traditionally allows free movement between Ireland and the UK - will remain curtailed for the time being, largely due to concerns around the spread of the variant first seen in India.
However, people can continue to travel freely across the island, while restriction-free trips between Northern Ireland and Britain are still possible.
As it stands, while passengers arriving into Britain from Ireland don't have to quarantine, those arriving into Ireland from Britain do.
The Department of Health says people travelling from Britain "are strongly advised to avail of free testing five days after arrival in Ireland, and to strictly adhere to the legal requirements for home quarantine".
---
Will Mandatory Hotel Quarantine will end?
No. The Mandatory Hotel Quarantine system will continue for months to come, according to Transport Minister Eamon Ryan.
However, from 19 July, it will only apply to people travelling from red-list or 'emergency brake' countries who do not have proof of vaccination.
If they have proof of vaccination, even if they are travelling from an 'emergency brake' country, then they are allowed to self-quarantine.
All arrivals must have a negative result from a PCR test taken no more than 72 hours before arrival.
Today, Belgium, France, Luxembourg and the United States were removed from the Mandatory Hotel Quarantine list.