Parents and medical professionals have expressed concern that thousands of children have missed vital developmental checks in the past year.
More than half of all babies did not receive one of their main development health checks due to the pandemic.
The HSE has said that last year just over 28,000 infants reaching ten months had the check on time before reaching the age of one.
An average of 60,000 babies are born in Ireland every year.
The HSE said these checks were delayed because of the redeployment of Public Health Nursing Staff due to Covid-19.
It said as more staff are recruited for Covid-related services, public health nursing staff are returning to their core duties and child development checks will be considered one of the priority areas.
Mothers say they are missing the reassurance provided by these appointments.
Dairíne McCafferty, from Glasnevin in North Dublin, is mother to 18-month-old Riadh.
As her daughter darts around the back garden smelling flowers, kicking a football and shouting words and sounds, Dairíne says she has no concerns about her development so far.
But she says an in-person check with a public health nurse would offer her more reassurance.
"I've had to get a lot of reassurance from the internet because I don't have much experience of what a child should do. So hopefully she is meeting everything," she said.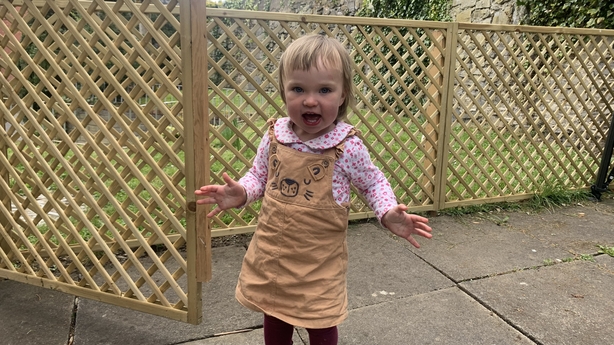 "But I know that early intervention is very important. And if there was something there so it would be a big shame if she missed out on that.
"I think because you're more on your own during the pandemic, you don't see other children, other mothers so it is hard to know what to expect as a first time mother. And so I think you miss that reassurance that everything is going well."
Sarah Elsaid and Jay Abushhiwa live in Stillorgan in south Dublin and are parents to eight-month-old baby Eirin.
"We are basically winging it as parents and it's been challenging," Sarah said.
"Everything that you would need to reassure how Eirin's doing, in regards to developmental cognitively and even language, we haven't had that reassurance.
"We've just had to Google things, research things and just refer back to a book that we were given at the very start by our public health nurse.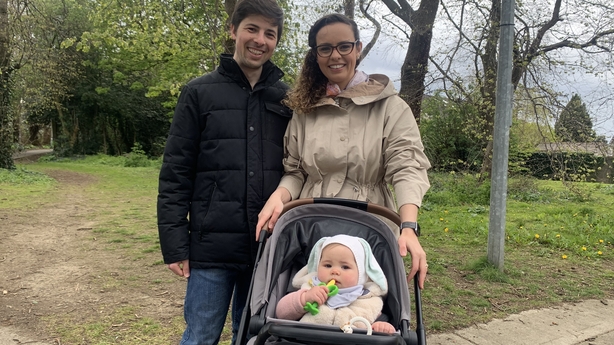 "It's been quite difficult to not having those checks because we do need that type of reassurance as parents. We don't have our physical support network because of the lockdowns.
"Everything's kind of virtual and it's better than nothing, but at the same time having a physical check is what you really need. What I need as a mother."
Medical professionals say it is impossible to catch up on the checks that have been missed and there may be long-term consequences from these delays.
Catherine Rotte Murray, a public health nurse in Waterford who retired from the HSE service last month, said that her colleagues are frustrated and concerned about the impact the pandemic has had on children's health checks.
She said: "You have a very narrow window of opportunity to pick up on developmental delays at the various stages.
"Public health nurses are the experts in picking up on the appropriate milestones that a child or an infant should reach at each age stage and if this is missed it's impossible to catch up on that particular age.
"You can't do an 18-month-old's check and look for what would have been there three months, or vice versa. It's very frustrating and it's causing a lot of frustration to parents."
We need your consent to load this rte-player contentWe use rte-player to manage extra content that can set cookies on your device and collect data about your activity. Please review their details and accept them to load the content.Manage Preferences
Dublin GP Dr Nina Byrne said that General Practice does not have the capacity or the experience of carrying out these checks, which she describes as vital.
She said: "Public health nurses are really good at picking up subtle concerns that a parent might have, there's often a lot of reassurance that goes on. It's picking up things like post-natal depression, you can see if the child is being well looked after.
"It's always good to have a second pair of eyes on this. So I think they're really important and we shouldn't underestimate how important they are".
As services get back up and running, the HSE said any parents with concerns about their child should contact their local Public Health Nursing Office or GP.
It said all new parents should receive a copy of the My Child: 0 to 2 years book from their public health nurse, which includes information on child safety, vaccinations and overall health and well-being.