Almost 1,000 people have been fined for being outside their homes without a reasonable excuse since last Monday week.
Gardaí say that 771 penalties have been issued for non-essential travel and around 200 fines are being processed.
The vast majority of fines were issued to those who travelled more than 5km from their home for exercise, with people going to mountains, beaches, parks and woods.
Most were handed out in counties with scenic locations, such as Wicklow, Cork, Laois and Longford.
Motorists, cyclists and pedestrians have all been fined, with passengers along with the driver of a car found to be more than 5km from home also being penalised.
Gardaí are appealing to people not to leave their homes without a reasonable excuse this weekend to prevent the spread of coronavirus
They are warning they will be out in numbers and issuing fines for non-compliance with the regulations.
Last weekend, more than 300 fines were issued for suspected breaches of the regulations related to non-essential travel.
A regional breakdown of the figures shows that 144 fines were issued in the Dublin Metropolitan Region, 315 in the east, 213 in the south, and 99 in the north-west.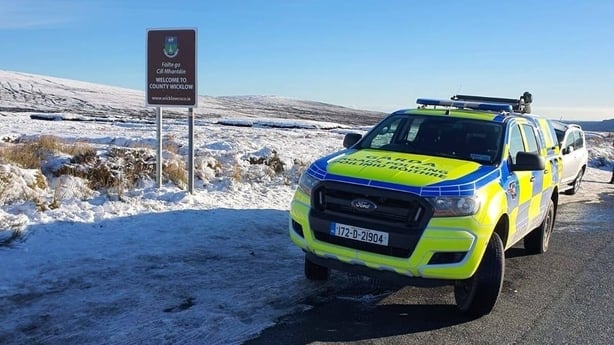 Of those receiving the fines, 77% are male and 23% female and almost half (40%) are aged between 18 and 25.
Of the remaining age groups, 26% are between 26 and 35, 21% are 36-45, 8% are 46-55 and 3% are 56-65, and 2% are 66 and over.
Gardaí have issued 30 fines for the non-wearing of face coverings in certain locations, with the vast majority (26) being in retail premises.
People stopped outside their homes without a reasonable excuse can be fined €100 while organising an unlawful gathering at home carries a €500 penalty.
Ignoring a request to wear a face covering carries a penalty of €80. The fines must be paid within 28 days or face a court summons.
Close to 1,000 fines have been issued for non-essential travel by An Garda Síochána.

Since their introduction 11/01/21 , An Garda Síochána has of close of business 21/01/21 issued 771 fines for non-essential travel.

More info: https://t.co/NTgmzZHJoa pic.twitter.com/4BO2oc0pRg

— Garda Info (@gardainfo) January 22, 2021
Deputy Commissioner for Policing and Security John Twomey said: "The vast majority of people are complying with the non-essential travel regulations. This is very welcome.
"However, there are still some people who are not compliant. These regulations are in place to protect public health.
"At a time when significant numbers of people are dying or seriously ill we all need to do all we can to reduce the spread of Covid-19.
"If people want to protect our health service and support our doctors, nurses and other frontline workers who are putting themselves in harm's way every day to tackle Covid-19 then they should stay home.
"They should only make essential journeys, reduce their contacts, practice social distancing, and wash their hands. Please stay safe and keep others safe by staying home."