Ireland is now placed second in European Union rankings for the number of Covid-19 vaccines administered per 100,000 of the population.
The latest "Our World in Data" report states Ireland has now vaccinated 1.57% of the population, putting it second only to Denmark, where 2.23% of the population has been innoculated. 
A total of 77,303 Covid-19 vaccines have been administered up to yesterday, according to the Heath Service Executive.
At a briefing this afternoon, HSE Chief Executive Paul Reid said 69,378 of them were received by frontline healthcare workers and 7,925 were received by people in long-term care facilities. 
He said Ireland has received 152,100 doses of the Pfizer/BioNTech vaccine to date, along with 3,600 doses of the Moderna vaccine.
The rankings place Ireland ahead of Italy, Spain, Germany, Poland, Romania, Greece, Czech Republic, Belgium, France and the Netherlands.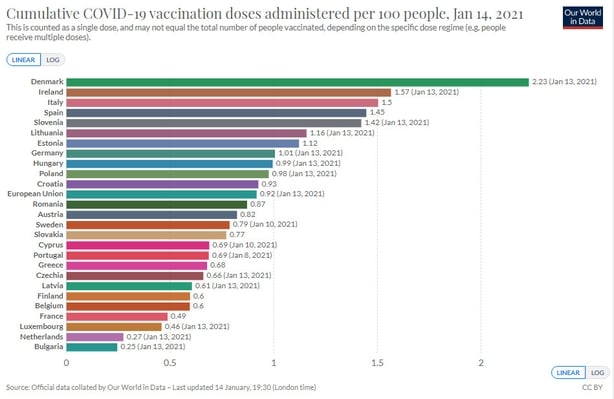 Mr Reid said the number of people who are being admitted to hospitals and ICU is rising at a "very concerning pace", describing the situation in hospitals as "grim".
He said "it is continuing to get worse from where we are today" and said staff are reporting that "it is continuing to heat up".
He confirmed that there are 1,792 people with Covid-19 being treated in hospital.
Paul Reid said that equated to over 100% more than at the first peak.
The number of people in intensive care units is now 169, which has exceeded the first peak of 160.
100 of those in ICU are receiving ventilator support.
He said general beds available across the system are 532 and ICU beds are 31 adults and six paediatric beds.
He said the number currently in hospital is up 80% within the week.
The HSE's Clinical Lead for Covid-19, Dr Colm Henry said the HSE is seeing over 100 people being admitted to hospital for Covid-19 daily. 
He said they are seeing a "high level of pre-intensive care" for Covid patients in hospitals.
Dr Henry said "secondary outbreaks" are also taking place in hospitals and said the proportion of people who are acquiring Covid-19 in some of those hospitals is half of the total number of patients.
In relation to the vaccine, Dr Henry confirmed that six doses can be taken from one multi-dose vial of the Pfizer/BioNtech vaccine, "sometimes seven" he said, up from five doses. 
We need your consent to load this rte-player contentWe use rte-player to manage extra content that can set cookies on your device and collect data about your activity. Please review their details and accept them to load the content.Manage Preferences
---
A total of 77,303 #Covid19 vaccines had been administered in Ireland up to yesterday, according to the Heath Service Executive | https://t.co/0UGEHa8tcF pic.twitter.com/AM8niIIZHe

— RTÉ News (@rtenews) January 14, 2021
In relation to PPE, Mr Reid said that they are in a much stronger position on PPE to protect frontline healthcare workers.
They have had a three-month stock across all warehouses which has been distributed at an increasing rate to frontline teams.
Mr Reid said that they have a strong supply and distribution of ventilators across the system and that hospitals were confident they had strong levels of oxygen supplies.
He said the decision to suspend or pause non-urgent care was the right decision but not an easy one, adding that it was aimed at reducing the footfall and reduce the risk and increase capacity.
He said more ICU beds have been opened and staffed and said they are now at a total number of 302 in the system as of today.
Mr Reid said there had been a significant redeployment of staff to support ICU critical care.
He said while things are bad, he is confident that with the action of the public, the HSE and Government have taken "that we can slowly pull this back".
Using a sporting analogy, he said we have the wind behind us and we do have a key striker to come on which is the vaccine. But he said that will be for much later.
There are 384 open outbreaks of Covid-19 in hospitals and long-term residential care facilities. 
Dr Colm Henry said the 14-day-incidence rate, at 1,449, is 20 times what it was in early December, adding that Ireland is the second worst in Europe. 
He said the R number is "well in excess of 1".
The Chief Operations Officer with the HSE, Anne O'Connor, said they have opened new Covid-19 assessment hubs in Waterford, Kilkenny and Slane this week. 
She said more are planned to be opened next week in Cavan, Galway and Clonskeagh in Dublin.
Ms O'Connor also said 126 acute beds are being used in private hospitals. 
The COO also said that there are a high level of staff absences in nursing homes.
There are currently over 1,200 staff unavailable for work in nursing homes across the 103 facilities with outbreaks.
Ms O'Connor said that is a very real concern for them.
Reporting by Helen Donohue, Carla O'Brien