The Department of Health has reported nine further deaths of people with Covid-19, while 4,842 new cases of the disease have also been identified.
There has now been a total of 2,336 Covid-19 related deaths in Ireland, and 140,727 confirmed cases of the disease.
It brings the national 14-day incidence rate of the virus to 1,162.
1,049 of cases reported today were in Dublin, 530 in Cork, 514 in Waterford, 405 in Wexford, 247 in Louth and the remaining 2,097 cases are spread across all other counties.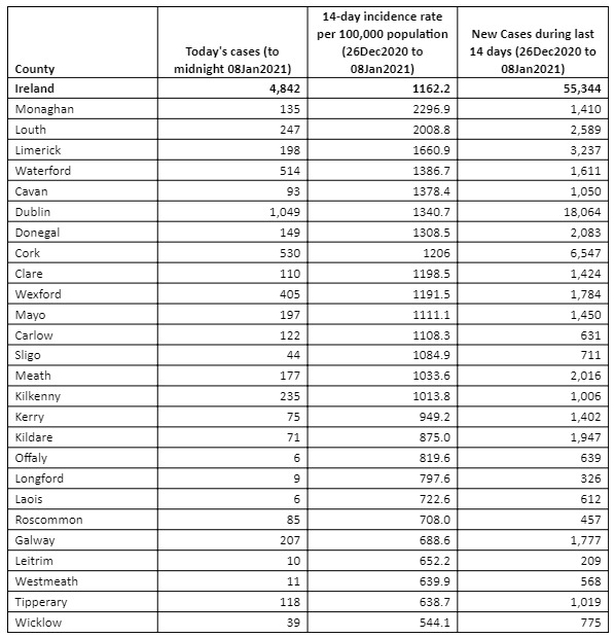 The median age is 38 years old.
The Department of Health said 1,293 Covid-19 patients are now being treated in hospital, of which 121 are in ICU. 
102 additional hospitalisations occurred in the past 24 hours.
Figures released earlier showed the number of people with Covid-19 in hospital is now four times higher than a fortnight ago, when there were 321 people with the virus in hospital. 
Admissions to ICU have been increasing every day since St Stephen's Day, when there were just 23 people with the virus in ICU. 
Yesterday, a record number of new cases were reported on one day. 
In the last two weeks, more than 50,000 cases have been reported in Ireland, accounting for nearly 40% of all cases reported in this country to date since the pandemic began.
---
---
In Northern Ireland, the Department of Health has confirmed nine further coronavirus deaths today. Another 1,442 positive cases have also been identified.  
Meanwhile, a leading consultant in infectious disease has said that the current trend of thousands of new cases per day will translate into more and more people ending up in hospital in the next week to ten days.
Paddy Mallon, who is a professor in microbial diseases at UCD and a consultant at St Vincent's University Hospital in Dublin, said this is a "very bleak outlook for our health services at the moment".
Prof Mallon said he is seeing a big increase in the number of people presenting to the Emergency Department with Covid-19 and being admitted within the hospital and that a surge plan has been enacted.
He warned that while extra capacity is available, space in the health system is not endless.
He said: "Most of the ICU's in the country work near full capacity day to day. 
"The fact that we have additional large numbers presenting means they will be exceeding normal day to day bed space and capacity. 
"There is a surge capacity. There are ventilators available. There is space but it is not endless."
Prof Mallon said the virus needs to be controlled in the community, otherwise "we will see some very unfortunate events".
"We don't need to flatten the curve, we need to crush the curve. We need to get numbers in the community down into the hundreds and preferably into double figures. We cannot continue to operate with thousands of cases per day".
He said that this might take a few weeks to achieve but it can happen if everyone stays away from each other and stays at home.
While GPs reported being exceptionally busy referring patients to be tested over the Christmas and New Years period, this appears to have slowed down slightly.
Travellers from South Africa advised to identify themselves
Chief Medical Officer Dr Tony Holohan has said that anyone who has travelled to Ireland from South Africa is advised to identify themselves through a GP for Covid-19 testing as soon as possible and to self-isolate for 14 days.
It comes after the National Virus Reference Laboratory confirmed that cases of the more highly transmissible variant of Covid-19 recently identified in South Africa is also present in Ireland.
The European Centre for Disease Prevention and Control (ECDC) has warned that the new variant would have a high impact if it becomes established, and place greater pressure on our health system.
The new variant, which has already become the dominant strain of Covid-19 in South Africa, is designated as 501.v2. 
It carries genetic mutations that improve its ability to attach to and infect human cells resulting in an increased viral load, and making it significantly more transmissible between people.
The ECDC said there is no evidence that it makes those infected more severely ill.
But it said that if it becomes established, its impact in terms of increased infections, hospitalisations and deaths would be high, particularly for those in older age groups, or with co-morbidities, even if the disease severity is similar.
The National Virus Reference Laboratory sequenced the viral genome from a sample of positive swabs taken from people who had travelled here from South Africa and identified three cases of the new variant in that sample.
The ECDC said there is currently not enough information to determine whether this new variant poses a possible risk to vaccine match and effectiveness.
Minister for Health Stephen Donnelly has said that the vaccination programme for nursing home residents and staff will be accelerated.
He said that the original plan was to have all 75,000 residents and staff given the first dose by the end of the month. But he said this will now be accelerated to have the first dose given by the 24 January. 
Additional reporting George Lee