There have been 20 further coronavirus-related deaths and a record 8,248 new cases of the disease notified to the Department of Health.
Three cases of the new Covid-19 variant that originated in South Africa have also been found in Ireland.
The number of patients with Covid-19 in ICU is 109, an increase of 13 since yesterday.
There are 1,180 people in hospital with the disease with 116 additional hospitalisations in the past 24 hours.
A total of 2,237 people have died with coronavirus, with the cumulative number of infections reaching 135,884 - this includes the denotification of 21 previously confirmed cases.
Chief Medical Officer Dr Tony Holohan said: "Three cases of a new variant of Covid-19 recently identified in South Africa have been confirmed in Ireland today by whole genome sequencing.
"All of the cases identified are directly associated with recent travel from South Africa.
"Anyone who has travelled from South Africa recently is advised to self-isolate for 14 days and identify themselves through a GP for testing as soon as possible.
"We are particularly advising healthcare workers travelling from South Africa, that it is essential that they self-isolate for 14 days before entering/re-entering the workplace.
"While this variant has not yet been identified in many European countries we believe the identification here reflects the extent of genome sequencing surveillance in Ireland."
Dr Cillian De Gascun, Director of the National Virus Reference Laboratory, told RTÉ that the three cases with the variant from South Africa were detected through targeted whole genome sequencing.
This sequencing was carried out on samples from people who had recently arrived into Ireland from South Africa and tested positive for coronavirus. 
He said that the NVRL received samples over from colleagues in hospitals and public health and that whole genome sequencing on them was completed this week.
"All the cases have self-isolated and we haven't identified any onward transmission at this point," he revealed.
"It is certainly a concern that it's on island .. but certainly there doesn't appear to be any level of the virus circulating in the community here, and we are a long way off that."
Dr De Gascun said there are concerns that this variant is more transmissible but there is no suggestion that it causes more severe disease. 
He said that anyone who has recently travelled here from South Africa should self-isolate for 14 days and contact their GP to arrange a test. The HSE will also be contacting people directly. 
Three cases of the new Covid-19 variant that originated in South Africa have now been found in Ireland, on a day when over 8,000 new cases of #Covid19 were announced here | https://t.co/n5mlViZrUR pic.twitter.com/Xvhse9JRS4

— RTÉ News (@rtenews) January 8, 2021
Of the cases notified today, 3,834 are men, 4,375 are women and 61% are under 45 years of age.
There were 3,013 cases in Dublin, 1,374 in Cork, 538 in Limerick, 314 in Kildare, 310 in Donegal and the remaining 2,699 cases are spread across all other counties. 
There have been 20 further coronavirus-related deaths recorded in Northern Ireland during the past 24 hours, taking the official death toll to 1,434.
---
---
The 14-day incidence rate per 100,000 population nationally is now 1,087. One month ago, this rate was just 80.2 per 100,000.
Counties with the worst infection rates include Monaghan (1,087.7), Louth (1,839.6) and Limerick (1,609.6). Counties with the fewest Covid cases include Wicklow (533.6), Tipperary (577.9) and Roscommon (601.1).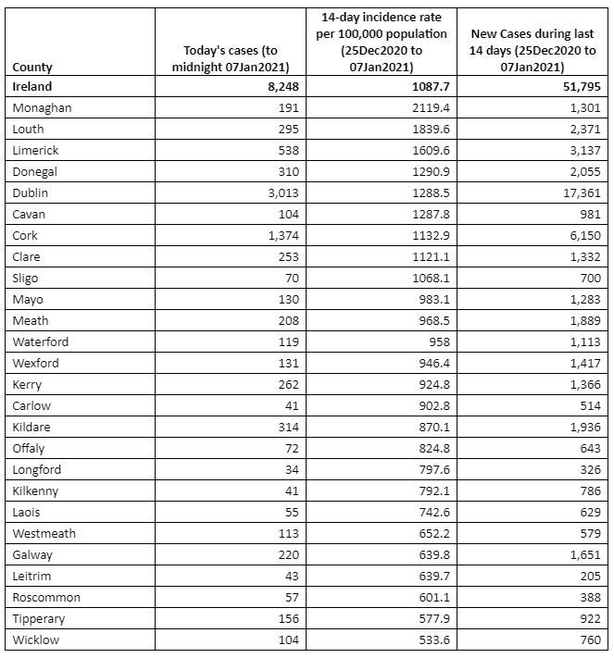 Also today, the Chief Operating Officer of the Health Service Executive revealed there are 2,700 HSE staff unavailable for work, due to being Covid positive, or being a close contact of a positive case.
This is a "significant concern" for the healthcare service, said Anne O'Connor.
This is resulting in fewer HSE staff being able to be redeployed to assist with staffing issues in nursing homes, she told RTÉ's Today with Claire Byrne.
"If we're all losing staff, it's very difficult to move staff around, because we have to be able to care for the sickest people," she said.
SIPTU representatives today urged Minister for Health Stephen Donnelly to immediately intervene and remove any roadblocks to health service recruitment. 
The union's Kevin Figgis said: "The current stress on our health services is completely unsustainable. Patient numbers are rising while staffing levels are falling.
"The Minister must act now and make sure recruitment is fast tracked to ensure health workers are supported in this hour of national emergency." 
The General Secretary of the Irish Nurses and Midwives' Organisation has said urgent engagement is needed with the HSE to ensure all is being done to keep staff at work safely. 
Speaking on RTÉ's Drivetime, Phil Ni Sheaghdha said the number of healthcare staff who are unavailable for work due to being infected with Covid-19 or being close contacts "is affecting the ability to have ICU beds available".
She said the rate of infection among healthcare workers is "still too high" as she cited evidence from the World Health Organization that exhaustion due to lack of adequate breaks can make healthcare workers more susceptible to contracting the virus. 
Meanwhile, the INMO's Executive Council has said that new "critical emergency" protocols are needed in the HSE to deal with this phase of the pandemic.
It is seeking new measures such as drastic reductions in footfall throughout hospitals, additional PPE provision and requirements, 24/7 senior management presence across the health service and improved daily communications with staff.
The union's Executive Council spoke of the "severe pressure" under-staffing and increased Covid cases were putting on the health service.
It also repeated its call for the provision of childcare for all healthcare workers, to ensure that school closures do not further deplete rosters.
We need your consent to load this rte-player contentWe use rte-player to manage extra content that can set cookies on your device and collect data about your activity. Please review their details and accept them to load the content.Manage Preferences
HSE seals deal with private hospitals
The HSE has secured agreement with 16 private hospitals to provide additional hospital capacity, it was confirmed this evening.
This will allow the service "to deal with the surge in Covid-19 cases and any further surges in the pandemic, if they arise within the next 12 months". 
Minister for Health Stephen Donnelly said: "I am delighted that this agreement has been reached and note that the HSE was still in ongoing constructive engagement with the one remaining private hospital, which is already providing service to the public system."
Under the deal, the hospitals have agreed to supply - depending on the incidence of the disease - up to 30% of their capacity.
The agreement also provides for additional capacity to be made available by mutual agreement and a number of hospitals have already indicated that they might be willing to offer such capacity if required. 
Minister Donnelly said: "The additional capacity created by this agreement is critical to enabling the public health system cope with large scale surges in the incidences of the disease." 
However Labour Party leader Alan Kelly has described it as a "bad deal with only 30% of hospital beds, fewer ICU beds and fewer hospitals being made available than the country had during the first wave and at a time now when more people are sick and more people are in need of access".
He added: "It's the greatest national emergency we have ever seen. We should have demanded access to every single bed they have and every single ICU bed if the need arises."
Concerns over lack of ICU spaces
Doctors at St James's Hospital in Dublin say they are worried about running out of ICU beds and may have to begin making decisions about which patients get a ventilator. 
Consultant in infectious diseases Professor Cliona Ní Cheallaigh said a lot of planned surgeries at the hospital are being deferred as Covid-19 cast numbers rise. 
She said doctors are very worried about what next few weeks are going to bring in terms of the numbers of very sick people with Covid-19, as well as other people with non-Covid health issues. 
Prof Ni Cheallaigh said for those patients in ICU, recovery can be a long and difficult road in order to rehabilitate and get back to where they were. 
We need your consent to load this rte-player contentWe use rte-player to manage extra content that can set cookies on your device and collect data about your activity. Please review their details and accept them to load the content.Manage Preferences
(Listen as Prof Ní Cheallaigh describes the experience for patients who spend time in ICU)
She said that only about half of people with Covid-19 that are admitted to ICU recover, so decisions have to be made on whether admitting patients to intensive care will be of benefit to them.
Separately, non-essential construction is to cease this evening until at least the end of the month, as part of restrictions introduced on Wednesday to slow the spread of the third wave.
Additional reporting Laura Hogan and George Lee