The current ban on travel from Britain to Ireland is "unlikely" to be lifted before Christmas, the Minister for Transport has said.
The travel ban was brought in at midnight as part of measures aimed at reducing the spread of a new strain of Covid-19 detected in the UK.
The Director of the National Virus Reference Laboratory Dr Cillian de Gascun this evening said they cannot exclude the possibility that the new variant of the virus is in the country, even though there is no evidence to date.
On the recently identified #Covid19 strain, @CillianDeGascun says "based on the rate of spread they have seen in the UK ... I think it's prudent for European governments and our own to operate on the precautionary principle until we have more information" https://t.co/bMeJ5iAIlc pic.twitter.com/PSl8fUqXU0

— RTÉ News (@rtenews) December 21, 2020
Green Party leader Eamon Ryan earlier said the 48-hour travel ban to and from the UK is appropriate to assess the new strain and to work with the UK government and European colleagues to decide what comes next.
"It's immediate for the next 48 hours, but it's unlikely that that's going to be opened before Christmas", he said.
He said that any decisions must be taken on the basis of science and good medical evidence of what is needed.
Thirty-three flights from Britain to Dublin today and a further 30 scheduled for tomorrow have been cancelled.
Eamon Ryan said that unfortunately Irish people based in Britain are not going to be able to come home for Christmas.
He said they have to follow the advice being given there at the moment, and that the Irish Government is saying "there won't be flights, there won't be passenger ferry travel".
Minister Ryan and Minister for Foreign Affairs Simon Coveney met this afternoon to finalise plans to repatriate people who live in Ireland from Britain.
This morning, Mr Coveney said he suspects that new Covid-19 restrictions will be introduced before 6 January - the day they were due to be reimposed.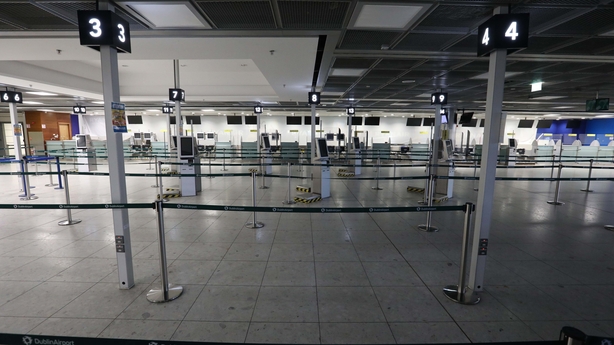 Mr Coveney said there will be a long Cabinet meeting tomorrow and decisions will be made based on the data available and the Government will give assurances once that meeting has concluded.
The minister said the Government was acutely aware of the challenges facing people and businesses, particularly the hospitality sector, and is working night and day to make the right decisions to protect people and their health.
Mr Coveney said an extension of the school holidays was unlikely and the Government had made a point of trying to create as much normality and certainty as possible for children throughout this period.
He added that teachers have risen "heroically" to the challenge and there is no strong evidence to suggest the virus spreads more in schools.
Speaking in RTÉ's Today with Claire Byrne, he reassured residents of Ireland who were in the UK temporarily or transitioning through UK airports that they will be facilitated in getting home.
Mr Coveney said that an emergency assistance line is in operation for people who need to travel home to Ireland: 01-6131700.
We need your consent to load this rte-player contentWe use rte-player to manage extra content that can set cookies on your device and collect data about your activity. Please review their details and accept them to load the content.Manage Preferences
Minister for Transport @EamonRyan tells RTÉ @morningireland further restrictions beyond the Government's initial plan for the Christmas period are likely.

He said Cabinet will make informed decisions when it meets tomorrow | Follow live updates: https://t.co/kgDewaSX6b pic.twitter.com/FuZLU6I6nR

— RTÉ News (@rtenews) December 21, 2020
Northern Ireland's Health Minister, Robin Swann, criticised the Government's decision on imposing the travel bans without giving the Northern Executive prior knowledge.
Mr Swann said he is concerned about the residents of the Republic of Ireland using Belfast or Derry airports as a point of entry to the island.
Robin Swann said: "I think it was unfortunate the Irish Government made the decision they did without any interaction or heads up to ourselves that that's what they were going to do.
"We've been very clear that if we want to act together and coordinate a response, it's better that we actually talk together before making decisions like that because it allows us to express or just concerns but also how we could possibly look towards common approaches rather than just one moving before the other."
Meanwhile, Stormont's Health Minister has said he is to consult with Northern Ireland's Attorney General about the legality of a ban on travel from Britain.
---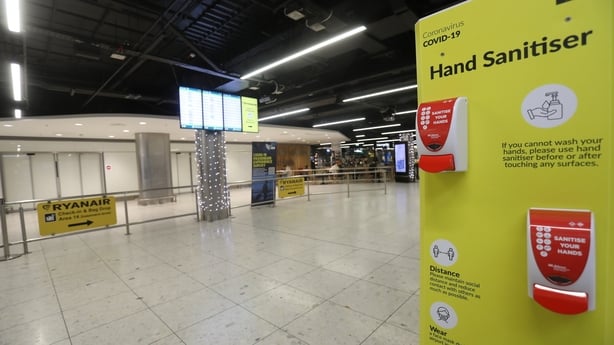 Additional reporting Laura Fletcher and Sinéad Crowley