Northern Ireland will enter a six-week lockdown on 26 December, according to Deputy First Minister Michelle O'Neill.
Under the agreement, reached by the Northern Ireland Executive, all non-essential retail will be closed.
An overnight curfew will be put in place, with people being told not to visit other households after 8pm.
Health Minister Robin Swann said: "From 8pm to 6am from 26 December ... we don't see mixing in households except for the households themselves.
"For the essential businesses that are open for the rest of the six weeks - they will actually close over that time.
"That's really to send a signal this is how serious this has to be taken, this is how much we're asking of the people of Northern Ireland  - when we're curtailing people's ability to meet in each other's homes after 8pm."
Ms O'Neill described the situation as "quite dire".
"It's very clear from the positive cases we're seeing every day that an urgent intervention was required."
Stormont ministers agreed to close non-essential retail and contact services, as well as restricting the hospitality sector to takeaway only, from 26 December.
No sporting events will be permitted, with an overarching message to the public to stay at home.
However, the festive bubbling arrangements will be permitted.
The first week of the intervention will include an 8pm curfew for essential shops.
The measures are set to be reviewed after four weeks.
"There will also be financial supports put in place, so the current measures which we have had over previous restrictions will be rolled over to support businesses through this very challenging time," Ms O'Neill said.
For those who had chosen to form a family bubble over the Christmas period, she said they would be allowed to go ahead.
Ms O'Neill said Northern Ireland is in a "worse position" that it has been throughout the pandemic.
"I think the health service would be completely crushed in January if we didn't intervene now," she added.
"Whilst this is draconian in many ways, it's necessary, and this is about saving lives, this is about saving the health service and this is about taking some pressure off the health care staff," she added.
Ms O'Neill described what ministers have agreed as a "longer and deeper intervention".
"That's been a collective position from the executive that has been arrived at this evening," she said.
Dog grooming will also be open, but car washes will be closed.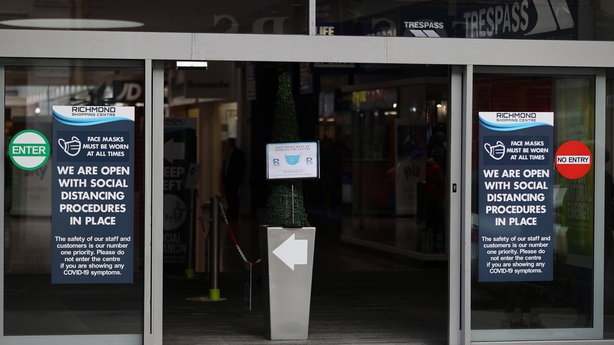 It comes as a further 12 deaths linked to Covid-19 were recorded in Northern Ireland, taking the toll to 1,154.
The number of positive cases has passed the 60,000 milestone.
A further 656 cases today took the cumulative total number of infections to 60,287.
There are 460 confirmed coronavirus patients in hospitals in Northern Ireland, 32 of whom are in intensive care, 26 of whom are on ventilators.
Health authorities have warned that hospitals are at risk of being overwhelmed as all are operating above capacity.
Eight of Northern Ireland's 12 major hospitals had no available beds yesterday.
National Ambulance Service paramedics to assist in Northern Ireland this weekend
Paramedics from the National Ambulance Service will be working in Northern Ireland this weekend to help ease pressure on the health service there.
Members of NAS staff have received an email asking if they are available to work in Belfast, Craigavon and Lisburn tomorrow, Saturday, Sunday and Monday.
At this stage it is understood that three crews have agreed to work on Saturday, and others are expected.
It is believed at least 1 will be deployed on Friday, 2-3 crews on Saturday and between 1 and 2 on Sunday night.
The paramedics will use their NAS vehicles.
The NAS has confirmed it will provide assistance, saying its plan is to support the Northern Ireland Ambulance Service (NIAS) to "maintain service delivery and pre-hospital care during a particularly challenging time".
It said that providing this support "will not impact in any way on the Northern Ireland Ambulance Service's normal operations and care delivery".
The request for help was made by the NIAS due to "continuing operational challenges" providing full levels of cover.
It has already redeployed all non-emergency crews as well as available voluntary and private ambulance services.
---
---
The NAS assistance is being provided under a mutual aid agreement between ambulance services on both sides of the border.
A Memorandum of Understanding has been in place for a number of years and there is regular co-operation, particularly in border counties.
The NIAS said: "This additional capacity is very welcome and NIAS are extremely grateful to our colleagues in NAS and their staff for agreeing to, for the second time over the past 12 months, lend their support at a challenging time."
In a statement it said the service "continues to experience challenges in providing full levels of cover throughout Northern Ireland."
It added: "These challenges, while longstanding, have been exacerbated by the Covid-19 Pandemic resulting in a significant number of staff unavailable for work at any time as they are required to self-isolate as a result of themselves, or a member of their household, testing positive or displaying symptoms of Covid-19."
On Tuesday, queues of ambulances were witnessed at accident and emergency departments (EDs) across Northern Ireland as patients were treated in car parks due to a lack of capacity inside the hospitals.
At one point 17 ambulances containing patients were lined up outside the ED at Antrim Area Hospital.
File to be sent to NI prosecution service on Storey funeral
A police investigation into potential breaches of the coronavirus regulations at the funeral of veteran republican Bobby Storey has concluded.
Hundreds of people turned out for the send-off in west Belfast in June, despite strict limitations in place over gatherings.
It sparked a major political row in Northern Ireland, with Sinn Féin members accused of ignoring Covid rules by attending the event.
It is understood that Deputy First Minister Michelle O'Neill is among the 24 people who were interviewed by police as part of the investigation.
The probe had been led by Cumbria Police Deputy Chief Constable Mark Webster since July.
Mr Webster today confirmed in a statement that the investigation has now concluded.
"We have now interviewed 24 individuals suspected of having breached the regulations and a file will be submitted to the Public Prosecution Service (PPS) on Friday 18 December 2020," he said.
"I will not be making any further comment so as not to prejudice any future decision made by the PPS."
Mr Webster was appointed to independently examine the sequence of events surrounding the funeral on 30 June and alleged breaches of the coronavirus regulations.
Additional reporting Vincent Kearney