A further 344 new cases of Covid-19 have been confirmed this evening, bringing the total number of cases to 70,143.
Four more deaths have occurred, meaning there has been a total of 2,022 Covid-19 related deaths in Ireland.
Of the cases notified today, 156 are men and 185 are women, while 69% are under 45 years of age and the median age is 32 years old.
The breakdown of today's cases is: 127 in Dublin, 46 in Cork, 26 in Louth, 22 in Donegal, 20 in Limerick and the remaining 103 cases are spread across 20 other counties.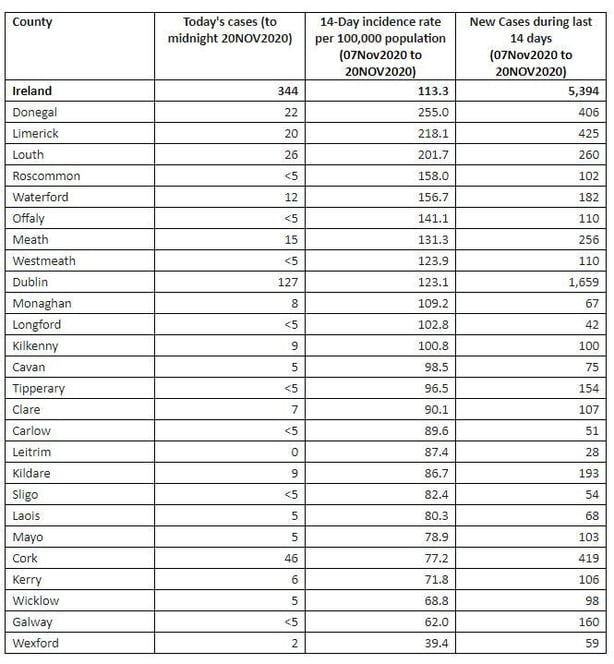 As of 2pm, 269 patients were in hospital with Covid-19. Of those in hospital, 32 patients are in ICU - down one on yesterday's ICU figures.
There has been 12 additional hospitalisations in the past 24 hours.
---
Read more: Talks taking place on Covid-19 arrangements for December
---
In Northern Ireland, ten further deaths have been confirmed today, with seven of them occurring during the past 24 hours. It takes the official Department of Health toll to 923.
There are also 357 new cases, taking the cumulative number of positive tests to 49,442.
There are 429 confirmed coronavirus patients in hospital, with 41 in ICU and 31 of them are on ventilators.
We need your consent to load this rte-player contentWe use rte-player to manage extra content that can set cookies on your device and collect data about your activity. Please review their details and accept them to load the content.Manage Preferences
Govt task force to look at all elements of Covid vaccine delivery
Earlier, the head of the Government's task force on the delivery of the Covid-19 vaccine says information will be provided to the public about the vaccine when it is available and accurate.
Prof Brian MacCraith said communication and clarity about the delivery of the vaccine will be key to giving the general public confidence in the overall process.
The former head of DCU told The Business on RTÉ Radio 1 that the vaccine is critically important for the general well-being of Irish society and the economy.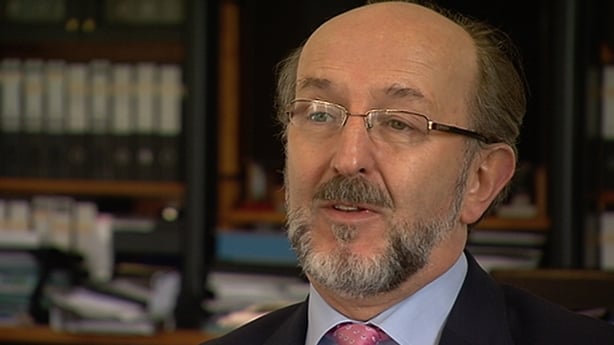 He said the task force is due to meet for the first time next week and it will look at all elements of the of the "end-to-end process" of the delivery of the vaccine, from when it leaves the pharmaceutical company right through to the vaccination of individuals and the follow-up process.
Prof MacCraith, who also heads up the future of media commission, said the issue of disinformation about vaccines will be part of its remit.
The Chief Clinical Officer of the HSE has said the more people avoid mingling with each other unnecessarily in the next ten days, either in the work place or at social occasions, the more options Ireland will have as it exits Level 5.
Speaking on Saturday with Katie Hannon, Dr Colm Henry said there had been an enormous amount achieved over the past four weeks.
He said so much had been gained already, and the more that is gained between now and the start of December in terms of lower case numbers, the more options the Government would have.
Vaccine availability in two weeks 'overly optimistic', says prof
Earlier, an infectious disease consultant said it was "overly optimistic" to say that Covid-19 vaccines could be available in Ireland in the next two weeks.
Prof Jack Lambert said Ireland currently has a "complicated and slow process" for introducing vaccines and that be believes it is going to take months, maybe even a year, before a vaccine is "totally rolled out to the country".
Speaking on the Brendan O'Connor show on RTÉ Radio 1, he said experts with a background in vaccination need to be brought together to help with the process.
Prof Lambert said that there needs to be "transparency" in every aspect of the rollout.
He also said information about who will get priority for the vaccine, where the vaccinations will be delivered and where the extra staff required to administer the vaccine will come from need to be outlined.
The Head of the ESRI's Behavioural Research Unit said he believes there has been slippage in compliance with Level 5 restrictions because of the falling Covid-19 case numbers.
Professor Pete Lunn said believes people have "relaxed too early" not because of fatigue, but because the decrease in case numbers caused people's perception of risk to go down.
Speaking on the same programme, he said it is "almost certain" that the majority of the population expects some degree of "licence" or "trade off" for the Christmas period.
However, he said if that is going to be done, the nature of the trade off needs to be made "very explicit" and the rules around it as simple as possible.
Responding to pictures that emerged of RTÉ News and Current Affairs staff and managers not adhering to social distancing, Prof Lunn said he believes incidents such as this probably damage compliance.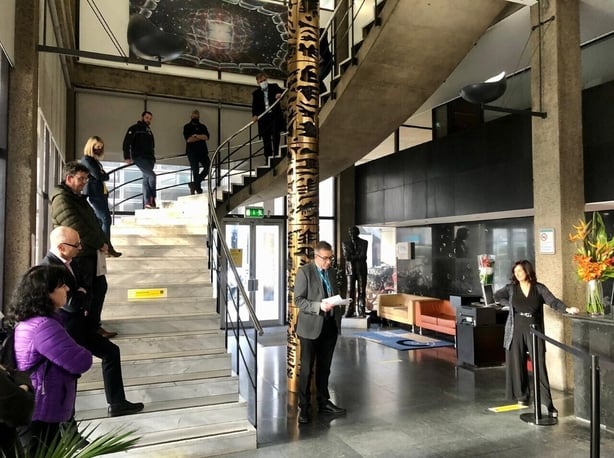 He said it could be "de-motivating" as people are "conditional cooperators".
However, he said the response to such incidents was also important and it helps if people accept that it is wrong, apologise and do not come up with excuses for their behaviour.
In a statement released this evening, An Garda Síochána said it "is carrying out enquiries focused on the organisers into an alleged event as described and the advices of the Director of Public Prosecutions will be sought in respect of any further actions to be taken.
"Personal responsibility in attendance, social distancing, wearing of masks (other than on public transport and in commercial premises) and other such public health guidelines are not penal regulations."
Meanwhile, the Chief Executive of the HSE has said that it is "key to recognise the commitment given by many" in the battle against Covid-19.
In a post on Twitter, Paul Reid said: "There's been so much hurt so far. But it's also key to recognise the commitment given by many.
"Healthcare workers, employers, employees, media, individuals, families, sporting bodies, gardaí, Defence Forces, & many more. Let's recognise and not blame."
There's been so much hurt so far. But it's also key to recognise the commitment given by many. Healthcare workers, employers, employees, media, individuals, families, sporting bodies, Gardai, Defence Forces, & many more. Lets recognise and not blame. @HSELive #COVID19

— Paul Reid (@paulreiddublin) November 21, 2020
Additional reporting: Samantha Libreri, Vincent Kearney