RTÉ's top news presenters have apologised after they were photographed at a gathering where social distancing was not fully observed.
The statement comes after a number of images appeared in the media, which showed some RTÉ personnel posing for photographs with a long-serving colleague on her last day at work.
Among those present were Bryan Dobson, David McCullagh and Miriam O'Callaghan, who have all apologised for what they described as an error in judgement.
Taoiseach Micheál Martin has described photographs as "very disappointing".
He told Virgin Media News that it was a general reminder that people should avoid that type of behaviour.
Mr Martin said people in public life in the broadest sense needed to be leading by example.
RTÉ has confirmed that a meeting of its Covid-19 Group has taken place, at which the images were discussed, and a review will take place.
"RTÉ is of course reviewing all the circumstances which led to the gathering in question, our public health measures and the communications with our staff to ensure an incident like this does not happen again.  This review will be led by the RTÉ Health and Safety Manager," it said.
"RTÉ treats public health advice with the utmost seriousness and has implemented detailed workplace protocols which have been in place since the beginning of the pandemic. These have been essential in keeping staff and visitors/programme guests safe whilst on site."
A follow-up meeting of the Covid-19 Group, including representatives of unions, will take place next week.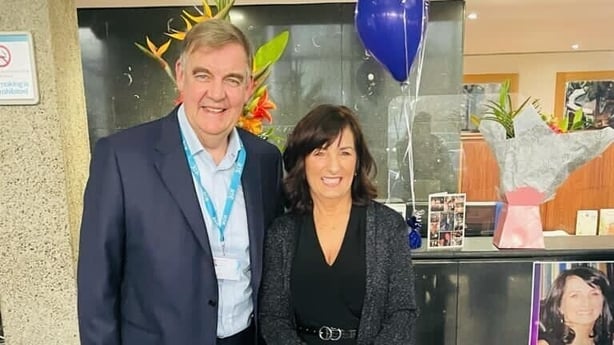 Mr Dobson addressed the controversy on RTÉ's News at One and said he unreservedly apologised for his "lapse of judgement" in posing for the photograph.
He said the responsibility was his alone, adding that he was "sorry to everyone who has sacrificed so much in recent months, to those who have lost loved ones, who are living with the after-effects of the infection, to those who have lost their jobs, livelihoods, their businesses, those who've been isolated from family and friends".
Mr Dobson said: "On this programme, we have vigorously debated Covid measures, but what is not disputed is that each of us should make every effort to observe the restrictions in place at any given time.
"I'd be very concerned if any action of mine undermined that vital life-saving public health advice."
David McCullagh also apologised during this evening's Six One News bulletin on RTÉ One.
.@mcculld apologises for failing to observe social distancing during a gathering last week | More: https://t.co/KVOohMD86s pic.twitter.com/KaBPPjAzpz

— RTÉ News (@rtenews) November 20, 2020
Also photographed at the gathering was Managing Director of News and Current Affairs Jon Williams, who said: "I deeply regret not thinking through the consequences of a momentary lapse of judgement. It was wrong and I'm very sorry."
RTÉ Political Correspondent Paul Cunningham also apologised for not following the Covid-19 guidelines.
"Everyone should make every effort to abide by the Covid-19 guidelines," Mr Cunningham said.
"I want to apologise unreservedly for not observing those measures fully when posing for a photograph with a colleague. It shouldn't have happened." 
The National Union of Journalists has requested an urgent review of the incident, saying that RTÉ workers have worked extremely hard since March and have held public figures to account for their actions.
Seamus Dooley, the Irish Secretary of the NUJ has described the incident as "an egregious departure from standards".
He said he has been contacted by a number of members "who believe this incident has the capacity to undermine that hard-earned trust and confidence".
"This should never have happened," Mr Dooley told RTÉ's Drivetime. 
He said he is concerned that the national broadcaster has allowed standards to slip, standards that he said "journalists have been setting for everyone else".
Mr Dooley said: "On the issue of social distancing and whether it took for a long period or a short period of time, you cannot be half pregnant on this issue. You must adhere to social distancing guidance at all times. Those are the standards that journalists have been setting for everyone else and RTÉ must meet its own standards.
"My concern is that an organisation like RTÉ which has been covering Covid since the beginning has allowed its standards to slip on this occasion and that complacency has set in."
He said many questions need to be answered about the event.
"This event should never have taken place. It took place in a very public area. It took place in a work situation where people not attending would have had to walk through that area, and the questions that need to be asked are: Who decided to have a party in the first place? Who decided on the venue? It has been described as impromptu, how impromptu is impromptu, who knew about it?"
Mr Dooley said lessons need to be learned from this event to ensure that it does not happen again.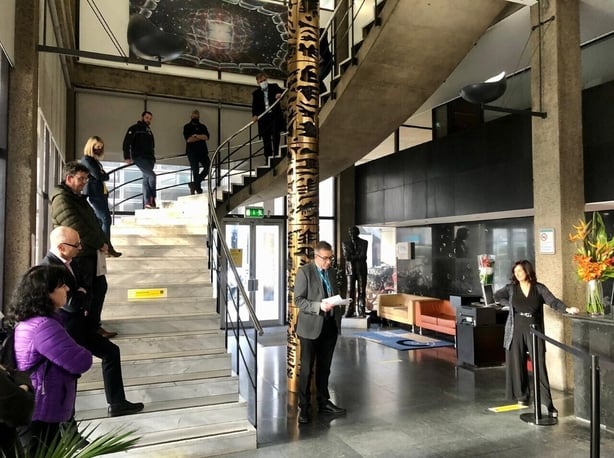 In a statement, the broadcaster said it takes public health advice "with the utmost seriousness and has implemented detailed workplace protocols which have been in place since the beginning of the pandemic".
It added: "These have been essential in keeping staff and visitors/programme guests safe whilst on site.
"Because of the measures taken by RTÉ, no cases of Covid-19 have so far been transmitted on campus."
The statement continued that while social distancing was observed at last week's gathering, "a number of those present briefly posed for a photo with their departing colleague, before returning to work.
"These contacts were not close contacts as defined by HSPC guidelines. They were brief casual contacts, which while well intentioned, were unnecessarily risky and should not have happened.
"RTÉ and those involved regret this occurred. Over the last few days we have reminded all staff of their obligations to keep both themselves and the site safe, particularly over the very busy few weeks we are heading into."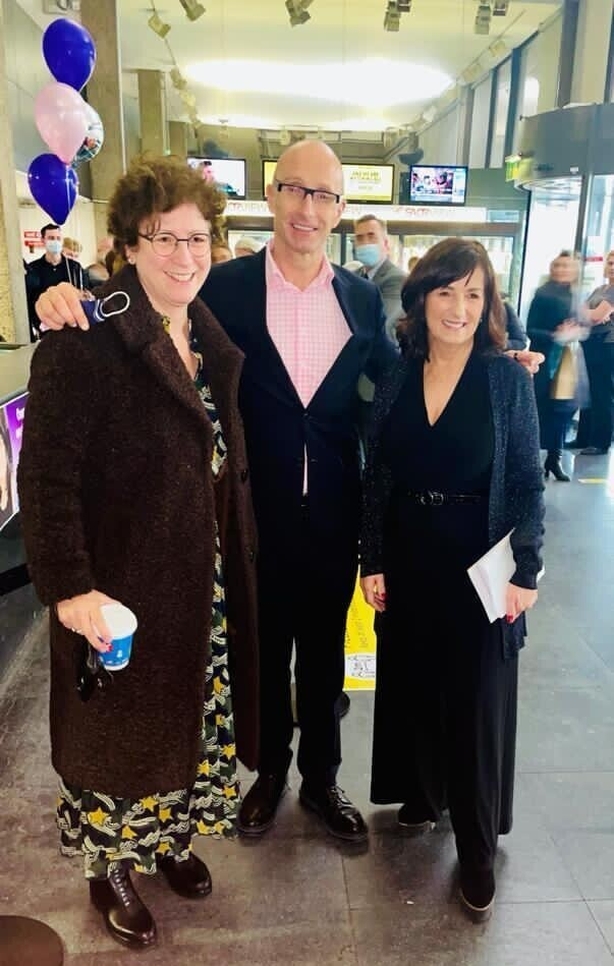 Dr Gabriel Scally has said he was speechless when he saw the photos.
Speaking on RTÉ's Today with Claire Byrne, the president of the epidemiology and public health section of Britain's Royal Society of Medicine said the photos are remarkable showing people with their arms around each other "standing on a mat which says keep at least 2m distance".
Dr Scally said it was irresponsible and a terrible lapse and welcomed the apology from Mr Williams.
He said there can be no more episodes like this or like the Oireachtas Golf Society event in August "where it looks to people that it is one rule for them but not for prominent individuals".
Dr Scally said while news of potential vaccines is welcome, the next few months will be difficult with people spending more time indoors and "we have to keep our eye on the prize".
He said that with deaths passing 2,000 in Ireland and close to 1,000 in Northern Ireland, "we do not need to add to it by being unnecessarily lax to advice".