Talks are continuing over the weekend on what Covid-19 restrictions will be in place for December, ahead of a Government announcement next week.
Taoiseach Micheál Martin has said he wants the country to exit Level 5 restrictions on 1 December.
No decisions have been made around what will replace it, but there is a growing expectation that the country will move to Level 3 from Tuesday week (1 December), with a specific set of recommendations put in place for Christmas week.
A further 344 new cases of Covid-19 were confirmed this evening, bringing the total number of cases to 70,143.
Four more deaths occurred, meaning there has been a total of 2,022 Covid-19 related deaths in Ireland.
Talks will intensify from Monday when the three coalition party leaders are due to meet.
This will be followed by a Cabinet meeting on Tuesday and a second Cabinet meeting later in the week, ahead of a public announcement on Thursday or Friday.
The National Public Health Emergency Team (NPHET) will meet before any decision is made.
That meeting is due to take place on Thursday, but it is understood that the timing of it is not set in stone and could be brought forward.
Engagement with public health officials has been taking place and is continuing throughout the weekend.
The Government is also expected to give guidance next week on people travelling home from abroad for Christmas.
It will be based on the EU traffic light system, which rates countries on the basis of risk.
Government sources have stressed that it is too early to say what decisions will be made next week and there are a number of public health, societal and economic factors that have to be weighed up.
But the question of what restrictions should be in place for bars and restaurants in the run up to and around the Christmas period is a significant part of those discussions.
There have been strong suggestions that attending mass and other religious gatherings will be permitted for the period.
It is widely accepted that people will be allowed to travel beyond county boundaries over Christmas in order to see loved ones.
Calls for indoor dining to resume in December
Meanwhile, the Restaurants Association of Ireland (RAI) has called for indoor dining to resume next month, when the Level 5 restrictions are due to expire.
The Chief Executive of the RAI, Adrian Cummins, said outdoor dining will not work for the hospitality industry.
He said "it is not viable and our customers are telling us they won't dine outside in the cold depths of December".
Mr Cummins said: "We want to get our restaurants open for indoor dining from 1 December and we are ready to do that in a safe and controlled manner."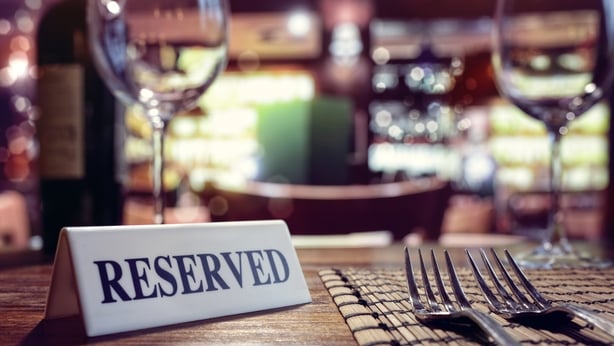 He said restaurants provided indoor dining during the summer and adhered to all the public health guidelines.
"If we don't open at the start of December, it puts our industry in a very precarious position form a viability point of view and we want to get the 150,000 workers in the sector back to work," he said.
Publicans are also calling for indoor service to resume.
To highlight their readiness to reopen and welcome customers back through their doors, pubs across the country simultaneously switched on their Christmas lights last night.
Members of the Licensed Vintners Association (LVA) and the Vintners Federation of Ireland (VFI) are taking part in the campaign.
A spokesperson said outdoor service only would be "useless" to the sector in the middle of the winter.
And the spokesperson said the LVA and VFI do not want to see a situation where a divide is created between pubs that serve food and so-called wet pubs, when it comes to reopening.
Minister appeals to people to 'double down on efforts' over next week
The Minister of State for Local Government and Planning has said the lower the number of Covid-19 cases at the start of December, the more options there will be when lifting restrictions.
Peter Burke has appealed to people "to double down on their efforts" over the next week to try to get the numbers as low as possible.
On calls from the hospitality sector to allow indoor service, he said "we know there are so many staff, patrons and customers who are all looking forward to trying to get hospitality open again but Government has to be clear, it has to take its advice and it has to look at the numbers and reflect over the coming week what way the trajectory of the virus is going".
Mr Burke said next week will be "a very significant week for the Government" and he said "it is very clear that the decisions will have to be made based on the best possible advice".
"The lower the numbers we can commence with at the start of December, will give the Government the most options to try to give people the best possible opportunity over the month of December," he said.
Sinn Féin TD Louise O'Reilly said "there is a huge decision to be made" and she said "there are hundreds of thousands of jobs on the line".
"We must be guided by public health advice, absolutely, but we also need to be cognisant of the fact that people want to get back to work and to socialise and [to] do so safely," said Ms O'Reilly.
Ms O'Reilly also called on the Government to engage with the hospitality sector "to ask how can they serve food and drink safely".