ASTI General Secretary Kieran Christie has said there is "trepidation and fear among teachers and students" this weekend with the possibility of society moving to Level 5 and schools remaining open. 
Speaking on RTÉ's Saturday with Katie Hannon, Mr Christie said the union contacted the Minister for Education over a week ago following reports the country could be  moving to Level 5, and asked for a comprehensive review of the health guidance and supports for schools to determine whether they would be adequate. 
He said they are renewing that call now. 
"Schools reopened when numbers were much lower than they are now and community transmission was a lot less than it is now. 
"We are asking the question now there is the prospect of the entirety of society moving to level 5, are the supports and arrangements in schools adequate, given the change of situation," he said.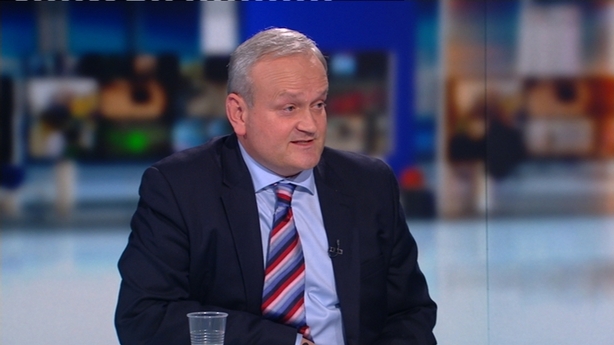 He said the balloting of members for industrial action over safety concerns during the pandemic is ongoing. 
He said they want to be in a position where they can react in an agile manner if it is necessary to do so regarding deterioration of the situation.
Speaking on the same programme, Minister of State with responsibility for Trade Promotion, Digital and Company Regulation Robert Troy said it remains a Government priority that schools stay open during the pandemic "for the welfare of children and their developmental needs". 
He said NPHET's letter that will be discussed by his cabinet colleagues today highlights the importance of ensuring schools remain open. 
"NPHET themselves are advocating to keep the schools open for the need of our children," he said.
Responding to concerns that some teachers have about working during Level 5 restrictions, Sinn Féin TD Matt Carthy said we are moving to a point where inevitably people will ask why some have to work and others do not. 
---
Read more:
CMO to brief party leaders over Level 5 recommendation
More checkpoints as gardaí focus on crime prevention, helping vulnerable
Analysis: Bamboozled public need certainty amid virus uncertainty
---
He said he believes more engagement from the Department of Education with those running the schools is needed to ensure they have all the support they require. 
"If we are serious about keeping schools open there needs to be daily engagement with the representatives who are going to keep the schools open," he said
Co-leader of the Social Democrats Róisín Shortall echoed this need for stronger communication, and said it was shocking we are at a point where we are talking about teachers possibly going on strike.  
She said it is clear there is a communication issue. 
"The fact is there is no risk free activity in the present circumstances but it is about balancing that risk and making sure efficient measures are in place to minimise that risk."
In a statement, the Department of Education said it has "ongoing engagement with the education partners including the teachers' unions on sustaining the safe opening of schools, with regular meetings, most recently last Tuesday".
"This engagement will continue as the input of all partners in education is valued and underpins the approach taken by the Dept at all times including in the Roadmap for Reopening Schools," the department said.