The Department of Health has confirmed an additional 254 cases of Covid-19, as well as three further deaths linked to the virus. 
The latest figures come as the reproductive rate of the virus in Ireland now stands at between 1.3 and 1.7.
The total number of deaths due to the virus here now stands at 1,788, while there have now been a total of 31,799 confirmed cases overall.
Of the cases reported today, 115 are men while 133 are women, with 65% under the age of 45.
The department said 136 of the cases are in Dublin, with 20 in Donegal, 13 in Louth, 12 in Wicklow, nine in Waterford, seven in Carlow, seven in Cork, six in Galway, five in Kerry, and five in Wexford.
The remaining 28 cases are located in Clare, Kildare, Kilkenny, Laois, Leitrim, Limerick, Longford, Mayo, Monaghan, Offaly, Roscommon and Westmeath.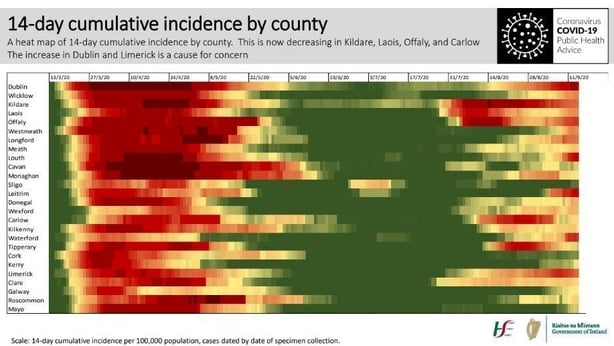 Twenty-four cases have been identified as community transmission, while 61% of the cases are confirmed to be associated with outbreaks or are close contacts of a confirmed case.
Acting Chief Medical Officer Dr Ronan Glynn said 2,679 cases have been notified over the past 14 days and there is a 14-day incidence rate of 56 cases per 100,000.
Dr Glynn said the current situation has deteriorated both in Dublin and nationally over the past week.
"Along with Dublin we have seen particularly concerning trends in Louth, Waterford and Donegal.
"It is now absolutely essential that people action public health advice and act as if they or those close to them are potentially infectious," he said.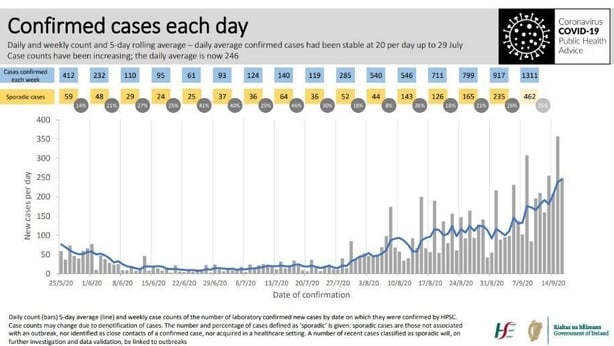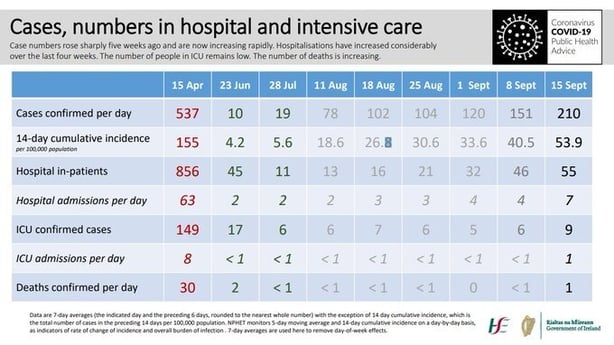 Chair of the NPHET Irish Epidemiological Modelling Advisory Group Professor Philip Nolan has said the reproduction number of the virus is now between 1.3 and 1.7 nationally.
"I am more concerned than I have been at any point since late April.
"Case numbers appear to be growing exponentially and are likely to double every ten to 14 days if every one of us does not immediately act to break chains of transmission of the virus.
Prof Philip Nolan says, "I am more concerned at this point in time, than I have been at any point in time since late April" pic.twitter.com/LtLXQ89Lwi

— RTÉ News (@rtenews) September 16, 2020
"If we do not interrupt transmission now, bring the R number back to below one, modelling shows that we could have 500-1,000 cases per day by 16 October, 50-60% of which would be in Dublin."
HSE Chief Clinical Officer Dr Colm Henry said there are currently 73 Covid-19 patients in hospital, nine of which have been admitted in the past 24 hours.
Fourteen of these patients are in ICU.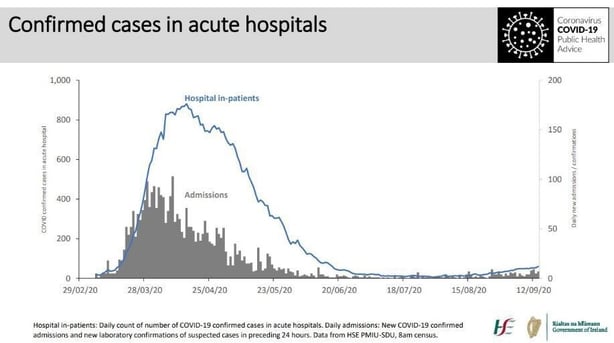 "We are seeing a sharp increase in rate of admissions of Covid-19 patients into our acute hospitals.
"We know that without a reversal of these trends, admissions can escalate rapidly to the point where our healthcare facilities will be under unsustainable pressure.
"It is more essential than ever that we all adhere to the basic measures which can weaken the virus in the community," Dr Henry said.
---
Read more:
Latest coronavirus stories
Timing of new plan 'unfortunate' given virus trajectory - Glynn
Taoiseach urges against travel from Dublin if possible
Covid-19 restrictions in Dublin: What is different?
---
Prof Nolan said the disease is concentrated in Dublin and the hospitalisations are concentrated in Dublin.
He said as cases began to rise in late July and early August, hospitalisations did not increase, but they have begun to increase "relatively rapidly" in recent weeks.
He said over 50 of the 73 people hospitalised are in the three Dublin hospital groups.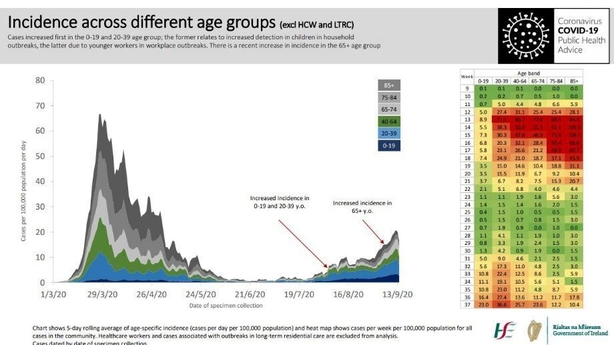 Prof Nolan said that to date, 14 people have died with Covid-19 this month, compared to four in the entire month of August.
He said the number of people in intensive care remains low at nine over the last week.
Prof Nolan said there was typically one admission per day, compared to several weeks ago when there was one admission every five days.
He said "the testing regiment remains robust" and despite an increasing number of tests, they are seeing slow increases in the number of positive tests.
Most of the deaths are outside long-term residential care, because "fortunately, the barriers to the infection getting into long-term residential care have remained effective to date", he said.
Prof Philip Nolan says, "if the reproduction rate continues at 1.4, by the 14th of October we will be looking at around 500 to 600 cases per day." pic.twitter.com/XuZhE8LYnV

— RTÉ News (@rtenews) September 16, 2020
However, he added: "That is not something can be guaranteed into the long-term."
Dr Glynn said NPHET will meet tomorrow and make recommendations to Government in relation to the regions. 
"Regardless of what we recommend, the most important measures are those we take at an individual and family level, the training session, the dance class, the small individual measures that people take in the course of the coming weeks," he said.
He added: "I am asking tonight that people heed the advice again. Do all you can to stop this disease from spreading to person to person.
"There is a clear direction of how the disease will travel if we do not take action. But that is for NPHET to consider as a group.
"I think most people understand when the trajectory of the disease is in the wrong direction."
The figures come as the latest outbreaks report on Covid-19 here says there have been 2,077 in private houses, an increase of 61 in a week.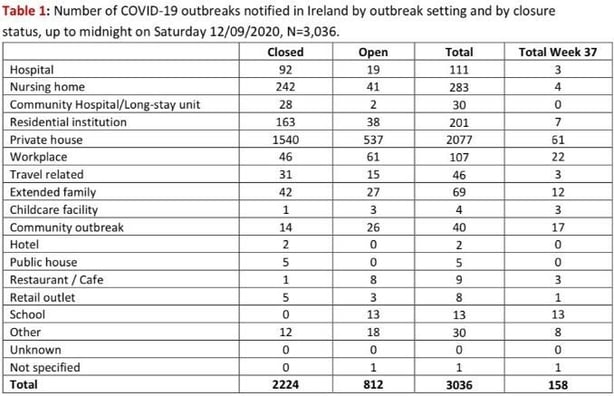 The report also shows that the number of outbreaks in schools stands at 13. Dr Henry said only "possibly two cases" out of 300 or so in educational settings were transmitted within a school.
"It is community transmission which puts schools in danger not the other way around. The more community transmission thrives, the greater the threat to schools," he said.
Dr Henry said the turnaround for tests results in schools was down to around 24 hours.
There has been no change in the number of outbreaks in pubs, which remains at five. The number of workplace outbreaks rose by 22, up to 107.
In the week up to last Saturday, four more nursing home outbreaks have been reported, bringing the total to 283. Hospital outbreaks also increased by three to 111.
The report was published today by the Health Protection Surveillance Centre.
Elsewhere, there have been two further deaths linked to Covid-19 in Northern Ireland, bringing the death toll there to 573.
An additional 129 new cases of the virus have also been confirmed there, bringing the overall number of positive cases there to 8,631.