The Cabinet has decided that gardaí will be given new powers to enforce Covid-19 related rules around social gatherings, particularly in restaurants or bars serving food, and in private homes.
The move is part of a range of new measures designed to suppress the virus in the country.
All outdoor events are to be limited to 15 people, down from 200, under strict new limits on public gatherings agreed this afternoon.
Taoiseach @MichealMartinTD is making a statement on #Covid19 following today's Cabinet meeting | Live #coronavirus blog: https://t.co/fncYQHiV8V https://t.co/ArZIUPhmXf

— RTÉ News (@rtenews) August 18, 2020
Indoor events will be limited to six people, reduced from 50, except for religious services and businesses, such as shops and restaurants, which are subject to separate rules.
All visits to homes will be limited to six people from no more than three households, whether indoors and outdoors.
The new restrictions will remain in place until 13 September at the earliest.
Weddings will be exempt from the new measures, meaning they can go ahead with 50 people.
The measures agreed by Cabinet will mean that matches and other sporting fixtures will have to take place behind closed doors.
Restaurants and cafés can remain open, with closing times of 11.30pm.
Under the measures agreed by Cabinet, people will be advised to work from home and to avoid using public transport, unless absolutely necessary.
People over 70 are being advised to limit interactions to a small network of people, avoid public transport and shop during designated hours.
Arrangements for school transport will proceed as planned.
The Government also agreed to finalise and publish a roadmap for "resilience and recovery" before 13 September, which the Taoiseach said will plan out how we will live with the virus, and how society and the economy can remain open while suppressing the virus.
Micheál Martin said we are not at a stage where we can return to normality. "We are at another critical moment," he said.
"Now as much as ever before we must remember our responsibilities to each other," he said.
The Taoiseach said legislation will be introduced to enable gardaí to immediately close down any pub or facility abusing the public health measures.
He said that Government will consider the reopening of pubs at the end of August.
Mr Martin said the issue needs to be constantly under review and the Government will engage with NPHET on the matter.
---
---
Speaking after today's Cabinet meeting, the Taoiseach said the harsh reality around the recent trends and the spread of the virus are very serious.
"We are not close to the level and pace of the spread of the virus from earlier this year, but we are at a point where we need to re-commit ourselves to key behaviours and accept additional controls," he said.
The Taoiseach said this is not just about the "appalling behaviour" seen in a Dublin bar over the weekend.
"The evidence is a large number of people are acting as if the virus is no threat to them or that it's okay to take a few more risks," Mr Martin said.
He warned that although young healthy people may experience no symptoms, the effects would be felt if the virus spreads to the more vulnerable.
Minister for Health Stephen Donnelly announced an additional 190 cases of Covid-19 today. There has been one further death.
The minister said there were multiple clusters throughout the country in homes and workplaces.
He said the 14-day cumulative cases per 100,000 of the population is now 26.
The minister said a number of measures need to be implemented to reverse the spread of the virus to protect public health, lives, health services and to get schools open.
He said the virus is relentless and does not slow down because we are tired of it.
Minister Donnelly also warned that we are at a tipping point and he said Ireland's rate of growth over the past two weeks is the fourth highest in Europe.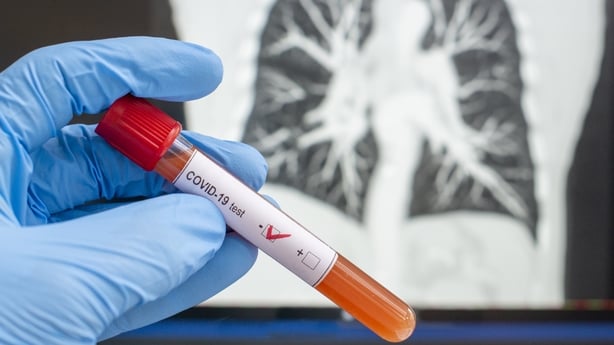 Acting Chief Medical Officer Ronan Glynn said the situation of growing cases is of significant concern.
The focus of the measures recommended by NPHET, he said, were threefold: To limit congregation and the number of people each of us meets, to enhance the application and enforcement of current measures, and to ensure the rollout of further targeted measures.
He said we must be extra vigilant when socialising with our friends and family, due to the increase in cases of coronavirus due to close contact with a confirmed case.
"We must not forget the safe behaviours that were so successful in flattening the curve through May and June - this virus is not tired even if we are," he said.
He appealed to employers and organisations across the country to "step up" once again and make sure the proper measures are in place for workers, customers and members.
Dr Glynn said today's recommendations aim to achieve a balance between enjoying life and behaving responsibly. That is why, he said, hotels, restaurants and retail remain open, while all sporting activities can continue.
He said there are two key numbers to focus on: six and 15.
"Please do not have more than six people over to your house or garden and no more than six people should meet up in any indoor setting. Outside, no more than 15 people should meet up and even then, people should physically distance," he said.
Asked about older people going to mass, the Taoiseach said he is asking people who are over 70 to use their individual judgement. He said the advice is to take care with social distancing, and that there is nothing stopping anyone going on a staycation.
He said some people he knows have left gatherings because they felt uncomfortable, and that it is up to individuals to make those decisions themselves.
Mr Martin said they are not telling people not to go to mass, that there are measures in place to safely go to mass.
Dr Glynn said people who are over 70 are being asked to "act safely".
He said at the moment they would not be recommending that someone would go to a hotel, because they are asking people to limit their contacts.
However, he said they do not want to put in a blanket recommendation for a large group of people.
Dr Glynn said that children's summer camps can continue, but should be kept to the same consistent group of 15 children. He said that there should be regular small networks of people.
The Taoiseach said schools will reopen and the Government will do everything to make sure this is done safely.
He said that work will have to be done to make school transport safer.
He said there have been too many house parties and there have been larger gatherings than there would have been six weeks ago.
Mr Martin said the essence of the household restrictions is to stop what is going on and he said there is evidence that the guard has slipped in some instances.
Dr Ronan Glynn said that NPHET will consider the local restrictions in Offaly, Laois and Kildare on Thursday.
Reporting: Mary Regan, Aisling Kenny