Minister for Health Stephen Donnelly has said a further 190 cases of Covid-19 have been confirmed today.
One further death has been notified to the Department of Health, bringing the total number of Covid-19 related deaths to 1,775 in Ireland.
Speaking at a briefing following a Cabinet meeting, the minister said: "Looking at the facts and listening to the medical experts, we are at a tipping point.
"Ireland's rate of growth in new cases over the last two weeks is the fourth highest in Europe. In the last two months, we have gone from a low of 61 cases in one particular week to 533 cases last week."
"We are at a tipping point," with #Covid19, Minister for Health @DonnellyStephen says | Live #coronavirus blog: https://t.co/fncYQHiV8V pic.twitter.com/Skk7clmNtz

— RTÉ News (@rtenews) August 18, 2020
He said there were multiple clusters throughout the country in homes and workplaces, and that the 14-day cumulative cases per 100,000 of population is now 26.
A number of measures need to be implemented to reverse the spread of the virus to protect public health, lives, health services and get schools open, he added.
Mr Donnelly added: "This virus is relentless. It doesn't slow down because we may grow tired of it. Or because we want life to return to normal as we all do. The pandemic is not over.
"We can see that many of our European neighbours are experiencing a surge in their own countries. In some cases, that surge has been dramatic, and we must stop that from happening here.
"Governments across Europe and around the world are acting and that's what we are doing today."
Earlier Minister for Health @DonnellyStephen told us how today's long Cabinet meeting progressed and said debate was "robust". pic.twitter.com/5VcO89oHRC

— RTÉ Prime Time (@RTE_PrimeTime) August 18, 2020
Minister Donnelly said the Government is acting now with new measures in order to "avoid a full, national lockdown".
He told RTÉ's Prime Time that if such measures were not taken, the situation in "two weeks or two months time would be much worse".
Among the measures announced by Government today was that indoor events will be limited to six people, reduced from 50, except for religious services and businesses, such as shops and restaurants, which are subject to separate rules.
All visits to homes will be limited to six people from no more than three households, whether indoors and outdoors.
Gardaí will be given new powers to enforce rules around social gatherings, particularly in restaurants or bars serving food, and in private homes.
On this, Mr Donnelly said it was "clearly no longer enough to ask people to follow the guidelines".
There cannot be a situation where some people are adhering to restrictions and others are not, he said.
Turnaround times for testing and trace at 2.83 days - HSE
The Health Service Executive has said the median end-to-end turnaround time for testing and tracing is 2.83 days.
This figure is for community and hospital tests combined and includes the time from referral for testing to the completion of contact tracing and is within the HSE's own target of three days for 90% of cases.
Figures from the HSE's online dashboard published yesterday, gave turnaround times for different parts of the process, when added up resulted in a 3.4 day median turnaround, or a 3.8 days average turnaround.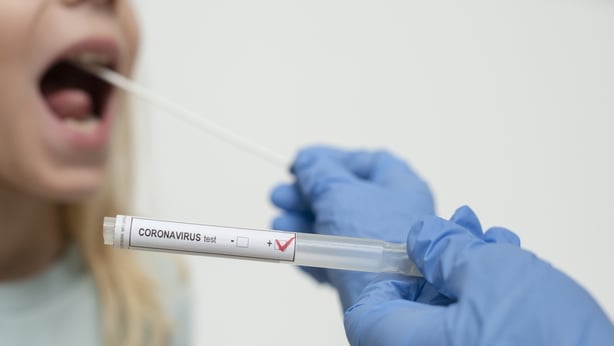 However, the HSE said the dashboard "does not currently present the the end-to-end turnaround time but rather three different component parts of the turnaround times, that when added together do not represent the overall end-to-end turnaround time".
It says that as per yesterday's data, the end-to-end turnaround time for community and acute settings is 2.83 days.
In the week from 10 to 16 August, more than 50,000 tests have been carried out with their results returned.
The HSE said it has seen a "significant rise" in community testing referrals in the last month, from 6,000 per week five weeks ago to 22,000 per week now.
---
Live: Coronavirus updates
Latest coronavirus stories
---
As a result, it said it has opened up testing in more locations and for extended hours, as well as increased staffing to meet demands.
Additional resources have also been given to the contact tracing part of the process. This week, there will be 60 staff carrying out contact tracing.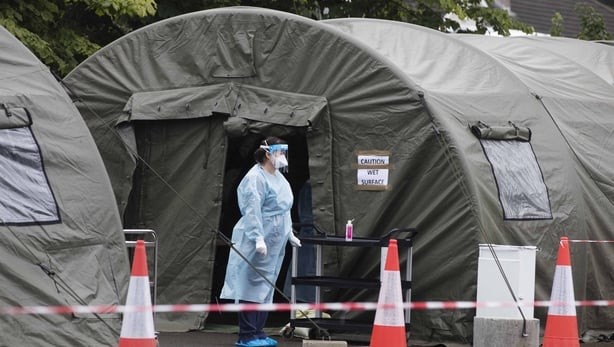 As of 8pm last night, the number of people in hospital with confirmed Covid-19 was 18, and 150 people had suspected cases of the virus.
Eight people were in intensive care units with confirmed cases of the disease and six with suspected cases.
On Friday night, there were 14 confirmed cases in hospital and 136 suspected cases. The number of people in ICU has remained at eight since Friday.
In Northern Ireland, one further death from coronavirus has been recorded, taking the official Department of Health total to 559.
There are 41 new cases, taking the cumulative total to 6,471.
There are currently four patients with confirmed cases of Covid-19 in hospital, up from two yesterday, with none in intensive care.
The World Health Organization says data to date suggests 80% of Covid-19 infections are mild or asymptomatic, 15% are severe infection, requiring oxygen and 5% are critical, requiring ventilation.
Generally, you need to be 15 minutes or more in the vicinity of an infected person and within two metres of them, to be considered at-risk, or a close contact.