Taoiseach Micheál Martin has said the number of coronavirus cases confirmed yesterday are "deeply concerning".
The 200 new cases of the virus was the highest number in a single day since the start of May.
In a tweet, he said he had discussed the "evolving situation" with Tánaiste Leo Varadkar, Green Party leader Eamon Ryan, Minister for Health Stephen Donnelly and Acting Chief Medical Officer Dr Ronan Glynn.
He said the Government and the National Public Health Emergency Team will "continue to monitor the situation closely".
In a statement, the Government said there will be a further analysis of the situation ahead of the Cabinet sub-committee on Covid-19, which will meet again on Tuesday.
The National Public Health Emergency Team will meet tomorrow to consider further recommendations to Government in light of the recent rise in Covid-19 cases nationwide, the Acting Chief Medical Officer Dr Ronan Glynn said this evening.
Dr Glynn's comments come as a further 66 cases of Covid-19 have been confirmed in the country today, bringing the total number of cases to 27,257.
Meanwhile, Ireland's 14-day average of Covid-19 cases per 100,000 people has jumped to 22.1, according to the latest guidance from the European Centre for Disease Prevention and Control.
The ECDC figures are used to decide which countries are on the Government's Green List for travel, which is due to be updated this week.
The UK is currently at 18.6. Germany is at 16.3.
When the Government first announced the Green List, Ireland was at around five cases per 100,000 people.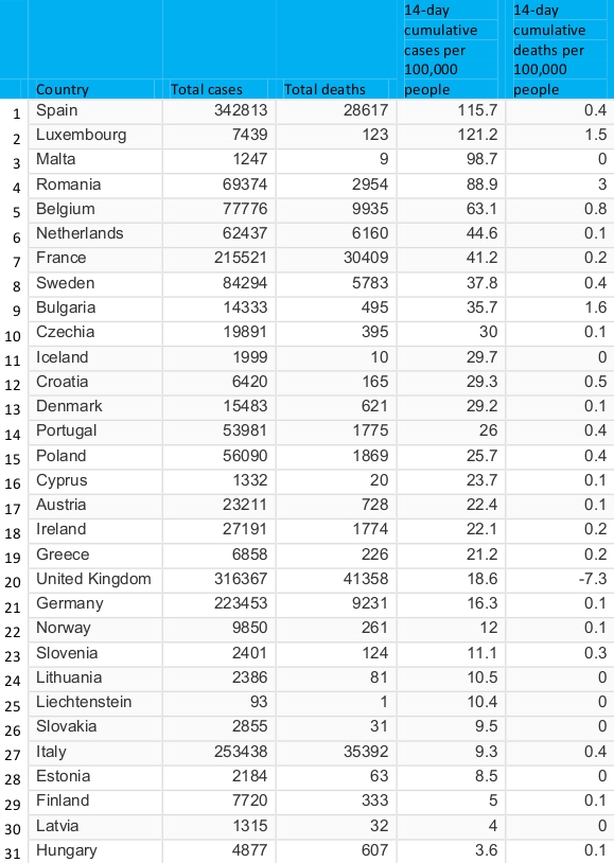 However, speaking on RTÉ's Six One News this evening, Dr Glynn said our 14-day incidence rate was now running at 23 per 100,000 of population, which he described as "a very significant increase and an escalation on where we were".
He said there have been almost 1,100 cases of Covid-19 diagnosed in the last 14 days.
There has been a small increase overnight in the number of patients in hospital with confirmed cases of Covid-19.
The number of patients is now 16, an increase of two on Friday's figure. Eight of these patients are in intensive care.
In the past two weeks, over 1,000 new cases of Covid-19 have been reported.
Sinn Féin's Health spokesperson David Cullinane if the country does not "wrestle back control" of the rising cases the economy will be badly impacted and called for more detail on the Government's strategy.
He said reopening schools must remain a priority and the reopening of pubs will be decided by medical advice and by public health officials.
He said the Health and Safety Authority needs to carry out more inspections to premises, criticising the record of just 39 inspections of the State's 140 meat plants.
The chairman of the Special Committee on Covid-19 Response, meanwhile, said Ireland is taking a more restrictive approach to international travel because of the lack of capacity in our health services.
Michael McNamara said the lack of capacity in the health service has been evident since the 1980s and as hospitals here are expecting an overrun this winter, the Government is imposing much stricter and draconian travel restrictions on our citizens than any other country in Europe.
He also said "we are entering a period of hysteria" as more cases are detected, despite the fact the same is happening in most other countries.
He said he sees "no scientific or evidential basis for what is being done" in relation to pub closures and individual county restrictions.
In Northern Ireland, 27 new cases of Covid-19 have been reported today. There have been 288 cases in the last seven days.
The World Health Organization says data to date suggests 80% of Covid-19 infections are mild or asymptomatic; 15% are severe infection, requiring oxygen and 5% are critical, requiring ventilation. 
Generally, you need to be 15 minutes or more in the vicinity of an infected person and within two metres of them, to be considered at-risk, or a close contact.