There has been one further death and 40 additional cases of Covid-19, the Department of Health has confirmed.
There have now been a total of 1,774 coronavirus-related deaths here and 26,838 cases. This includes the denotification of two previously confirmed cases.
Dr Ronan Glynn, Acting Chief Medical Officer, told a press briefing: "It is virtually inevitable there will be clusters when schools reopen – there is no zero risk so it is likely, unfortunately.
"But we have to balance the risk of infection versus their needs as children to educational attainment."
Asked if schools will have to shut once a Covid-19 case has been diagnosed, Dr Glynn said the HSE will do a risk assessment and contact tracing.
"There will not be a blanket approach. It may need to happen that a school closes, but the hope would be that in the main, it would only be children in close contacts with a case who might have to restrict their movements," he said.
Asked about some schools reportedly telling parents that uniforms need to be washed every day to help curb the spread of Covid-19, Dr Glynn said he was not aware of this being part of public health advice, but would investigate the claim further.
'There is no zero risk environment' - Acting CMO Dr Ronan Glynn says there will be a proportion of children who are diagnosed with Covid-19 when school resumes, but says that the vast majority will have very mild symptoms at most | Read more: https://t.co/bb1Mke5nkA pic.twitter.com/5xBiJhEa3r

— RTÉ News (@rtenews) August 12, 2020
He also told the news briefing that it was not the case that all of the recent cases related to meat factories were located close to these facilities.
Dr Glynn said cases were located throughout the counties affected as people live and socialise all across counties.
In relation to the new restrictions in counties Kildare, Laois and Offaly, he said NPHET "is still not completely confident that we have avoided community transmission. We simply won't know that until next week".
Over the course of this week, we are "likely to see days with numbers that are significantly higher" than the numbers reported today, but it was important to look at the trends over the 14 days.
Asked about two vintners' groups saying they were "not optimistic" about pubs reopening on 31 August, Dr Glynn said he would not speculate this far in advance about whether or not pubs will be allowed trade again.
Professor Philip Nolan, chair of the National Public Health Emergency Team (NPHET) Irish Epidemiological Modelling Advisory Group said "it is about whether the 14-day incidence is increasing or decreasing".
He added: "If your 14-day incidence is increasing, it is a much more dangerous situation because what it implies is a force of infection behind that, pushing the 14-day incidence up."
Of the cases notified today, 19 are associated with outbreaks or are close contacts of a confirmed case with 13 cases identified as community transmission.
There were 21 men and 19 women among the latest cases with 75% under 45 years of age.
There were 12 cases in Dublin, 11 in Kildare, seven in Offaly, and the rest of the cases are in Clare, Donegal, Limerick, Meath, Roscommon, Tipperary, Wicklow.
The number of people in intensive care remains low, Prof Nolan said. He told the briefing that they are currently conducting around 4,500 tests per day with the positivity rate rising from 0.5% to 1.7%.
Prof Nolan said their "best estimate" of the current reproduction number was 1.6, down from 1.8 last week which he described as "worryingly high".
'Clearly the trends have gone in the wrong direction over the past number of weeks,' Acting Chief Medical Officer Dr Ronan Glynn said, but added that this was not unexpected as restrictions were lifted | Read more: https://t.co/bb1Mke5nkA pic.twitter.com/CfylgyXEYo

— RTÉ News (@rtenews) August 12, 2020
He said NPHET has been carefully monitoring the incidence by county since the start of the pandemic and warned that the spread of smaller clusters across the country indicates the need to reinforce hygiene and physical distancing measures.
Prof Nolan said while the 14-day cumulative incidence rate remains very high in Kildare, Laois and Offaly, a number of other counties are experiencing smaller outbreaks such as Clare, Limerick, Donegal, Wexford and Carlow.
Of the cases they are looking at, 45% of all clusters are either in workplaces or outbreaks in households or extended families.
He said 70% of the cases over the past 14 days were in those large clusters. Because of that and the fact that the test and trace mechanism is so effective, the vast majority of those cases are traceable as they are close contacts of another case.
Prof Nolan said there was very little in terms of travel-rated cases and they were seeing fewer than ten cases per day as confirmed community transmission.
The current rate of 40 cases a day might seem low, he said, but it "remains two to three times higher than what NPHET was seeing on a typical day in late June or early July".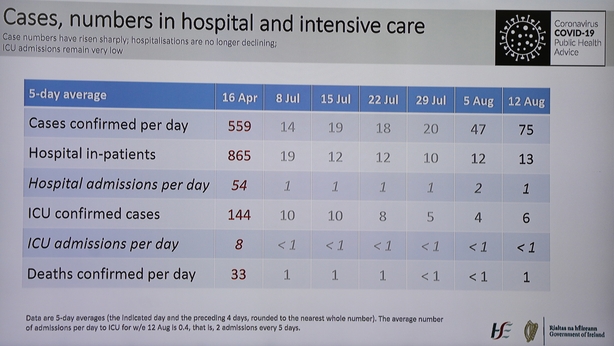 Dr Glynn said: "When NPHET tracks and analyses Covid-19's progression in Ireland, we take into account much more than daily figures.
"Although today's number is positive relative to what we saw last weekend, we remain concerned about both the number of cases that are being reported and their distribution across the country. 
"The five day average for reported cases nationally is now at 75 per day.
"Even when we exclude Kildare, Laois and Offaly from this, it remains significantly elevated for the rest of the country at 31 per day.
"It is worth recalling that in late June, the five day average for cases reported was less than ten. In light of this, I ask people to continue to hold firm and continue to closely follow public health advice."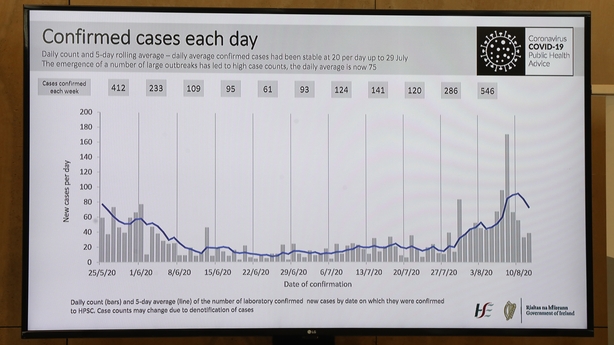 The Acting Chief Medical Officer said over the past 14 days, 898 cases have been notified giving a 14-day incidence of 18.9 per 100,000 (however the ECDC reports a lower figure, see below).
Of these 898, the median age is 33 years with 73% cases occurring in those under 45 years of age.
There were 329 cases (37%) in Kildare, 150 cases (17%) in Dublin, 105 (12%) in Offaly, 70 (8%) in Laois and 40 (4%) in Limerick with 32 (3%) in Clare. The remaining 172 cases were spread across 20 counties.
There are currently 13 confirmed cases in hospitals, six of whom are in critical care.
Prof Nolan described how, due to the nature of how the virus spreads, "there can be a delay between when it seeds and when we see it emerge in our communities.
"For this reason, we work in 14-day and five-day average periods in order to ensure that we are seeing the full picture of how the disease is behaving in Ireland.
"While today's figures are relatively low in the context of this particular week, it is important that we remember that this is a long game."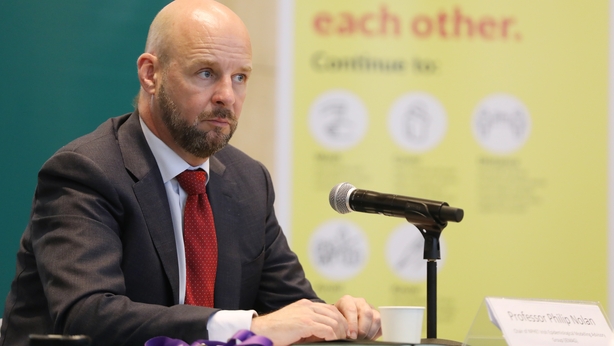 Prof Nolan explained: "We know that Covid-19 transmits when people come into close contact with one another.
"When we ask you to follow public health measures and adhere to public health advice, it is with the sole aim of limiting this disease's opportunity to spread through this close contact.
"It's important that everyone in Ireland knows the things they can do in their own communities to help.
"They are: limiting our contacts, avoiding crowded indoor settings, close attention to hand and respiratory hygiene, wearing a face covering where appropriate, using the Covid Tracker App and self-isolation at the first sign of symptoms.
"These apply countrywide, not just in the counties of Kildare, Laois and Offaly."
Dr Siobhán Ni Bhriain, consultant psychiatrist and HSE Integrated Care Lead, said: "Testing is a vital component of our national response to Covid-19.
"It enables us to find as many cases as possible and quickly isolate them, which helps prevent further spread. We would appeal to people who are referred for testing as close contacts to attend both tests.
"It is very important that if you experience any of the symptoms of Covid-19 - such as cough, fever, shortness of breath, or loss of sense of smell/taste - that you self-isolate immediately, and phone your GP straight away.
"Do not wait and see. Act quickly. This will limit the chance of this highly infectious virus transmitting further."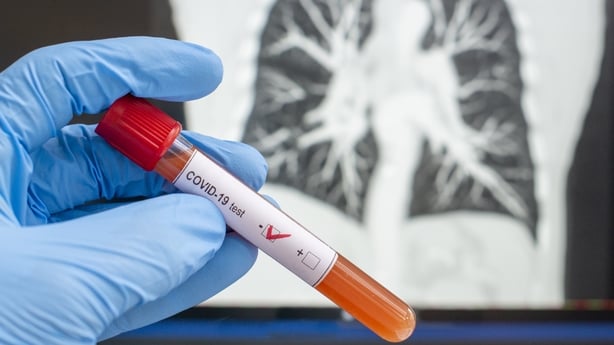 Incidence of confirmed cases here now lower than UK
The latest 14-day incidence of confirmed cases of Covid-19 published by the European Centre for Disease Control (ECDC) has Ireland on 17.8 cases for every 100,000 people here.
It means Ireland is now behind the UK, which has an incidence rate of 18.3. The figures are based on the latest total of confirmed cases in Ireland of 26,801.
Ireland is ahead of Germany, which is at 14 cases per 100,000 people. Austria has the same incidence rate as Ireland. Greece is on 15.5, while Italy is at 7.9.
Within the EU/EEA and UK, the country with the highest incidence level is Luxembourg at 141 cases per 100,000 people. Spain is on 93.7 while Malta is at 61.6.
In Northern Ireland, 29 additional cases of Covid-19 were confirmed today.
There were no new deaths. There have been a total of 6,217 cases of coronavirus there and 557 people have died. 204 people have tested positive in the last seven days.
A new colour-coded response is being considered by the National Public Health Emergency team as part of Ireland's Covid-19 pandemic plan.
Speaking about the new system, Minister for Health Stephen Donnelly said "we would all recognise and be quite familiar with from weather warnings".
There will be four colours, each representing a different level of alert, associated with the new colour-coding system; Yellow, Orange, Red and Blue.