GPs have reported a large increase in the number of patients seeking referral for Covid-19 testing since the August bank holiday weekend.
The online resource for GPs, GPbuddy.ie, has been asking doctors to monitor the number of patients seeking referral for testing for Covid-19.
They have seen a large increase in the number of patients with symptoms and an increase in the number of cases being referred per doctor since the weekend.
However, GPbuddy said they often see a "bank holiday spike" and hope results over the next few days will be lower.
The number of people in hospital with confirmed or suspected cases of Covid-19 has fallen slightly although the number of patients in intensive care has risen.
As of last night there were nine confirmed cases in eight hospitals around the country. Six of the patients were in ICU.
There were 97 suspected cases in hospital; 14 of those patients are in intensive care, up from eight yesterday.
The confirmed cases are in Tallaght, Beaumont, Cavan, Drogheda, Galway, Kilkenny, Limerick and the Mater.
There are 285 critical care beds in the country's 29 acute hospitals occupied and there are 39 available. There are 263 general beds available across the hospitals.
---
Latest coronavirus stories
Concern over virus clusters at direct provision centres
---
Decision to delay Phase 4 makes sense from the available data & reflects experience of GPs recently.We do often see a bank holiday Tuesday spike,hopefully results over next few days from https://t.co/5s2XYsBwgK will be ⬇️ Please isolate if any #COVID_19 symptoms!Contact your GP pic.twitter.com/ZrAhnVVmOl

— GPBuddy (@gpbuddy) August 5, 2020
Other data from the Health Service Executive shows that on average it is taking less than a day to get an appointment for a Covid-19 test and less than a day to get results.
The average number of close contacts a confirmed case has, has fallen to below 4. It was as high as ten at one stage in late June.
"If you're feeling unwell, if you've a high temperature, if you've a cough of any description, if you feel short of breath, of if you feel you have had a change in your sense of taste or smell" you need to self-isolate and contact your GP, Government official Liz Canavan says. pic.twitter.com/rwin4wuT9u

— RTÉ News (@rtenews) August 6, 2020
The Government has warned that Ireland is in a very "delicate position" in terms of Covid-19 and there are outbreaks in a number of workplace settings, more young people are getting the disease and there has been a shift in the location of the majority of cases from Dublin to other counties.
Assistant Secretary at the Department of the Taoiseach Liz Canavan said community transmission is the biggest risk.
With community transmission the source is difficult to find and clamp down on.
At a briefing this morning, she said people can stall the latest trend by following the public health advice, washing hands, maintaining social distancing and keeping social interactions to a minimum.
She urged people to exercise judgement about where they spend time.
"If it doesn't look safe, if it doesn't feel safe it probably isn't," she said.
The Department of Health was today notified of five additional deaths and 69 new Covid-19 cases.
Four of the deaths are late notifications, relating to April and June.
The number of Covid-19-related deaths in Ireland is now at 1,768, while the number of confirmed cases has risen to 26,372
PUP to be made available to residents of direct provision centres
The Pandemic Unemployment Payment (PUP) will be available from this week to residents of direct provision centres. It will also be made available for applicants for International Protection who live in the community outside the direct provision system.
The PUP is payable where the person meets the conditions of the scheme, that is, where they lost job prior to 13 March.
The Government says it hopes the decision will not only allow these people to prioritise the health and safety of themselves and their communities, but will provide support to those who have lost out on income due to the impact of Covid-19.
The decision has been welcomed as "good news" by the Irish Refugee Council and the Immigrant Council of Ireland.
The Movement for Asylum Seekers in Ireland (MASI) said it would write to the Government to seek to have the payment backdated. MASI said as people were "unjustly excluded from applying when they met the criteria," it is only fair that they Government would do that.
Earlier, MASI said environments such as direct provision centres would be expected to have outbreaks of Covid-19 as there is no way of avoiding close contact with others.
MASI spokesperson Bulelani Mfaco's comments come as the National Public Health Emergency Team (NPHET) said it has growing and significant concerns about the number of outbreaks in congregated settings.
Speaking on RTÉ's Morning Ireland, Mr Mfaco said he is concerned as the centres are "enclosed with a large number of people living in close quarters".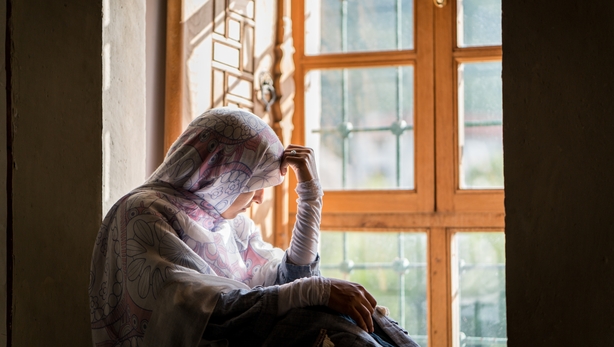 He said: "When there was an outbreak in Newbridge, there were three in one bedroom who all tested positive. None of them had any way of avoiding close contact with others living in the centre."
He said these places create an "environment where the virus thrives" as people do not have the personal space required.
Mr Mfaco said when you are told to keep two metres away, it is difficult to adhere to this as most share toilets and other facilities and there is not a two metre space, not even between beds in some cases.
He said if a person tests positive or is identified as a close contact, they are moved to a self-isolation facility.
"They did try to create them in direct provision centres but that did not work as you don't have facilities where you would not be able to self-isolate so they had to be taken to an off-site facility."
Mr Mfaco said it is hard to ascertain who is a close contact when you live in a direct provision centre.
He gave the example of the centre he is living in where there are more than 200 people, and questioned if he were to contract Covid-19 would his close contacts be the 18 men with whom he shares some facilities with or the 200 plus people he has to queue for food with in the canteen.
He said the current set up of three sharing a room is not good enough.
He also gave the example of his own situation where he said he does not know the whereabouts of his roommate, adding "we don't have as much control as you would have if you were in your own home".
The Minister for Justice said she is very conscious there have clusters in direct provision centres, but the department has worked quickly to ensure that people who test positive, and their close contacts, can self-isolate.
Helen McEntee said that 850 beds have been identified that allow people, where necessary, to self-isolate.
Speaking on the same programme, the minister said efforts have been made in recent weeks to move people from emergency accommodation, but while direct provision is not the type of system that the Government wants to remain, it will not be possible to remove it "overnight or by the end of this year".
She said if emergency contracts in areas like the HSE self-isolation facility in City West in Dublin need to be extended after October, then the Government will do so.
When asked if fortnightly testing for those in direct provision can be provided, she said they would work with the public health advice.
Meanwhile, a consultant in Infectious Diseases at Cork University Hospital, Professor Mary Horgan, has said the three Cs to watch for are big crowds, too many close contacts, and closed environments.
"And the fourth C is common sense around all the things we need to do", she said.
She added: "We have to live with the virus. It is certainly going to be around until 2021 until we have a safe vaccine available to us."