The Government has published the advice it received from the National Public Health Emergency Team, which led to its decision yesterday not to go ahead with Phase 4 of the reopening roadmap.
The advice is set out in a letter from Acting Chief Medical Officer Dr Ronan Glynn to Minister for Health Stephen Donnelly.
In it, Dr Glynn says NPHET has "significant and growing concerns".
These include the increasing number of cases being reported each day as well as increasing numbers of cases in vulnerable groups such as those living in direct provision.
He said NPHET is also concerned about multiple significant outbreaks in workplaces - particularly in construction and food production sectors; the increasing number of cases in young people, particularly those between 25 and 34 years old and the shift in the location of the majority of cases from the greater Dublin region to other counties in the last seven to ten days.
Dr Glynn said 73% of cases in the last fortnight have been in people under 45. The median age is 32 and some days have seen a median age of 30.
The majority of cases are no longer predominantly limited to the greater Dublin region.
---
---
The construction, food production and healthcare sectors have the highest number of cases. But 12 cases are noted as working in the hospitality sector.
The letter sets out that there have been 21 outbreaks in direct provision centres, involving 235 cases, with five of the outbreaks still open; 47 new cases and four new clusters have been notified in the past week in direct provision centres.
Dr Glynn also said that 21 new cases and two new clusters have been notified in the past week in the Irish Traveller Community.
In total there have been ten Covid-19 outbreaks involving members of the Travelling community, involving 89 cases. Three of the outbreaks remain open.
There are currently four outbreaks open in meat processing plants, associated with 94 cases. The results from the additional testing of employees in these settings are pending.
Almost 8% of cases in the past fortnight have been associated with travel.
Additional measures for restaurants, cafes recommended
NPHET said it was recommending a cautious but measured approach should be pursued and said the current public health measures should remain in place, with some adjustments.
It said the current level of community transmission was reasonably low, but Ireland was no different to other countries and there was a continuing and heightened risk that the increase in cases could lead to increasing levels of community transmission in the coming weeks.
NPHET has recommended a number of additional measures for the restaurant and cafe sector, including that such premises should close by 10.30pm, except for takeout and delivery and the mandatory wearing of masks by staff.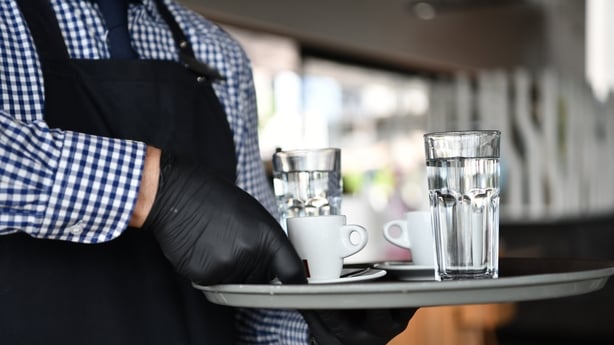 The Government has decided restaurants should close by 11pm
In the letter, Dr Glynn said that when they recommended reopening these premises it was on the basis of strict adherence to public health guidelines and on the basis that they were intended to be controlled restaurant environments.
NPHET recommended that there should be robust inspection and enforcement arrangements.
Pubs pose particular risk to spread of Covid-19
It recommended that pubs should remain closed because it says they pose a particular risk to the spread of Covid-19.
NPHET said this is because alcohol can make people less aware of social distancing and hygiene behaviours; loud atmospheres can increase particles emitted and many pubs or bars are small with poor ventilation. It said there have been a number of examples internationally of outbreaks in bars.
It said when pubs do reopen, the wearing of face coverings should be mandatory for all members of staff unless there is a partition between staff and customers or adequate social distancing.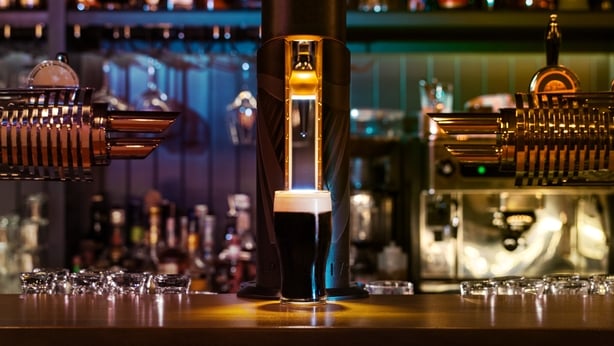 It said there should be no seating allowed at the bar, details of customers should be recorded to allow contact tracing and all premises should close at 10.30pm
NPHET said nightclubs, discos and casinos should remain close until "at least" 31 August and that by their very nature these are not intended to be seated environments where people can maintain social distancing.
NPHET recommended the continuing of restrictions on the numbers allowed to attend mass gatherings. It said the limits of 50 people indoors and 200 people outdoors include organisers, participants and attendees.
Over 70s and medically vulnerable should 'exercise judgement'
The advice states that people over 70 and those who are medically vulnerable should exercise judgement regarding the extent to which they engage with others and engage with activities outside the home and should adhere to public health guidelines.
It also states that everyone should take special care in relation to interactions with those who are over 70 or medically vulnerable.
It also recommends that residential care facilities should try to enable a return to as normal a life as possible for residents while ensuring all necessary precautions are taken to protect them from Covid-19.
NPHET also recommends that a "cross-government mechanism" should be established to coordinate support for those who are vulnerable or disproportionately impacted by the pandemic.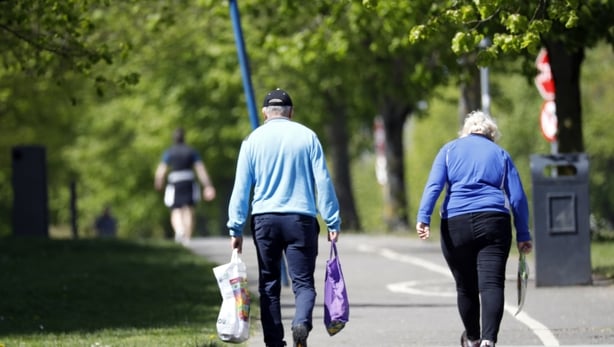 It said the Health Service Executive should implement a programme of fortnightly serial retesting for people living in direct provision centres as well as homeless people and members of the Roma community living in congregated settings.
It said relevant State bodies should take "appropriate, immediate actions" to further reduce risks associated with those living in congregated settings, in light of the recent pattern of cases in direct provision in particular.
It said the HSE should establish a national committee on Covid-19 for food processing plants, to maintain an ongoing review of the impact of Covid-19 on this industry, as well as to update guidelines and oversee establishing another outbreak control team if there are more outbreaks
It also recommends employers should keep the sharing of transport to and from work by staff under review and should communicate clear guidance to all employees.
Preference for mandatory quarantine for travel
In relation to overseas travel, NPHET said the Government should utilise all measures to discourage travel from overseas to Ireland at this time.
It said its preference is for mandatory quarantine but if this is deemed unworkable or disproportionate, it recommends consideration is given to introducing a travel ban on non-essential travel for countries with particularly high incidence rates.
NPHET also recommends intensifying Government communications with those aged under 45.
The advice says it is impossible to predict the future trajectory of Covid-19 in Ireland and therefore impossible to provide assurance that it is safe to reduce the public health measures.
It also notes the emerging evidence in relation to the longer term health impact and outcomes for some people who become infected.