There have been no further deaths from Covid-19 in Ireland, with 45 additional new cases, the Department of Health has confirmed.
There has now been a total of 1,763 Covid-19 related deaths in Ireland, with 26,109 cases - this includes the denotification of one previously confirmed case.
Acting Chief Medical Officer Dr Ronan Glynn said: "Over the last five days, we have seen an average of 44 cases a day.
"This trend is clearly concerning and now is the time to ensure you and your families are making every effort to keep each other safe.
"Ensure gatherings are kept to a minimum and invite no more than 10 others into your home. Do not organise or attend house parties.
"Restaurants must enforce a limit of 50 people (including staff) on their premises at any one time.
"All workplaces should again review their procedures and protocols.
"Avoid congregated settings or environments where safety precautions are not in place.
"Wash your hands regularly, carry hand sanitiser and wear a face covering where appropriate.
"Ensure you isolate immediately if you experience any flu like symptoms. It is our individual action that will stop the spread."
Of the cases notified today, 23 are male and 22 are female. 77% are under 45 years of age (50% aged 25 to 44 years).
There were nine cases in Limerick, eight in Kildare, seven in Mayo, six in Cavan, four in Dublin with the remainder spread across five other counties.
18 are associated with outbreaks or close contacts of a confirmed case and 12 cases have been identified as community transmission.
The Minister for Health Stephen Donnelly tweeted that "a significant proportion" of the 45 new cases announced today were associated with existing outbreaks/clusters.
"Substantial screening of contacts was done. Thankfully, there were no deaths. Our response will remain measured and cautious," he said.
Earlier, Mr Donnelly urged young people to avoid crowded gatherings and house parties. The Minister said that recent Covid-19 figures show four out of every five cases were among people aged under 45.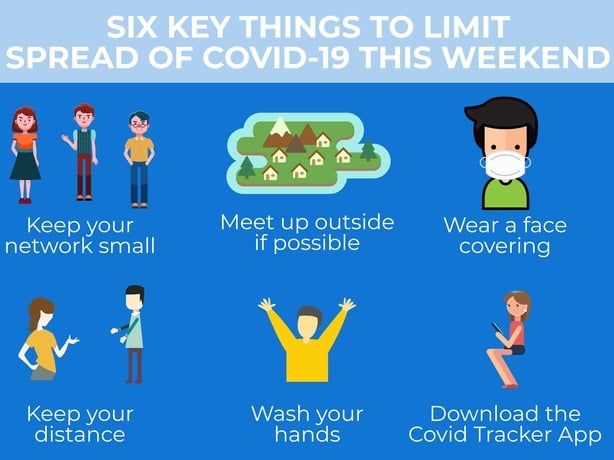 ---
We must learn to co-exist alongside our Covid-19 enemy
Read more coronavirus stories
The Director of the UCD National Virus Reference Laboratory, Cillian De Gascun, took to Twitter to remind people how to stay safe over the bank holiday weekend.
He said the six steps to help protect yourself from the virus include:
1. Follow public health advice
2. Isolate and contact your GP w/out delay if you have any cold- or 'flu-like symptoms
3. Minimise your number of social contacts
4. Maintain a distance of 2 metres
5. Meet friends outdoors in preference to indoors
6. Wear a face covering in shops and on public transport
"It's still in all of our hands to keep the virus," said Mr De Gascun.
Last night, NPHET expressed concern that Ireland might be starting to see cases of the virus that cannot be linked to known outbreaks or close contacts.
More than 130 cases were reported in the previous three days.
A total of 45 Covid cases were confirmed today (Saturday). A significant proportion were associated with existing outbreaks/clusters. Substantial screening of contacts was done. Thankfully, there were no deaths. Our response will remain measured and cautious.

— Stephen Donnelly (@DonnellyStephen) August 1, 2020
Acting Chief Medical Officer Dr Ronan Glynn strongly urged people to self-isolate at the first sign of symptoms and contact their GP.
Today, immunologist Luke O'Neill warned that young people were not invulnerable to this virus.
He said that more and more cases of people in that age group were being infected and while they might not get sick themselves, they were a risk to older people.
Prof O'Neill told RTÉ News the biggest threat was crowds gathering for a long time and that a party was a "really bad idea", especially indoors.
He said that if lots of young people gather, there was a risk that the virus might spread, so they must stop gathering and keep wearing masks.
In the UK, 74 more coronavirus related deaths have been recorded today, bringing the total there to 46,193.
Elsewhere, the Director General of the World Health Organization has described the coronavirus pandemic as a "once in a century health crisis, the effects of which would be felt for decades to come".
Dr Tedros Ghebreyesus said that most of the world's people remained susceptible to the virus and that many countries are dealing with new outbreaks.
In the US, top infectious disease specialist Dr Anthony Fauci said he was cautiously optimistic that the country would have a safe and effective vaccine by the late autumn or early winter.
For Covid-19, the World Health Organization says that data to date suggests that 80% of infections are mild or asymptomatic; 15% are severe infection, requiring oxygen and 5% are critical, requiring ventilation.
Generally, you need to be 15 minutes or more in the vicinity of an infected person and within two metres of them, to be considered at-risk, or a close contact.