People who do not self-isolate after developing Covid-19 symptoms are putting other people at risk of infection, Acting Chief Medical Officer Ronan Glynn has warned.
This comes as the Department of Health confirmed there were no further deaths and 38 new cases from coronavirus reported in the past 24 hours.
Dr Glynn also warned that the National Public Health Emergency Team "may be beginning to see more cases which we cannot link to outbreaks or close contacts".
He said NPHET "will continue to monitor this situation closely over the coming days".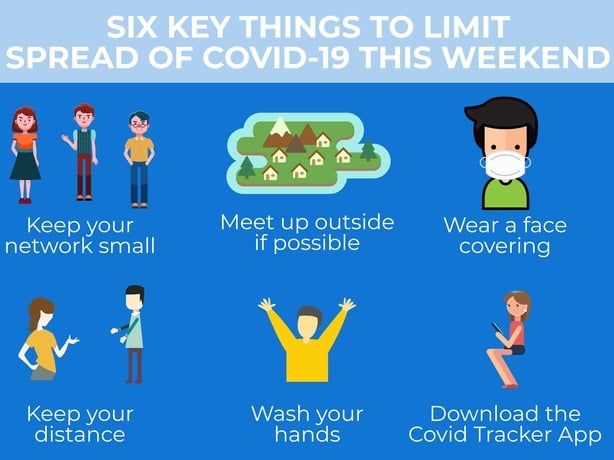 A survey of GPs has indicated that the vast majority of patients who had contacted them with Covid-like symptoms in the past week had not been self-isolating since the onset of their symptoms.
Dr Glynn said: "The importance of isolating as soon as you have any flu-like symptoms cannot be overstated.
"Without this individual action, we simply will not break the chains of transmission and we will put many people at risk of infection.
"It is important that people know there is no charge for GP or testing services relating to Covid-19. Please do not hesitate to contact your GP if you have any concerns."
The average number of close contacts of a confirmed case of Covid-19 rose as high as ten at the end of June, according to figures from the HSE.
It then dropped to nine last week before falling again to seven, and is currently above four.
At present, there are seven people in hospital with confirmed cases of Covid-19. Four of them are in intensive care in Tallaght, Beaumont, the Mater and Sligo hospitals. There are also four patients with suspected Covid-19 in ICU.
There are 47 critical care beds available for patients across all 29 acute hospitals. A total of 92 people are in hospital with suspected cases of Covid-19.
Ahead of the bank holiday weekend, Dr Glynn advised: "The six key things people need to do are - limit the size of your network and time you spend with them, keep your distance, meet up outside if possible, wash your hands, wear a face covering and download the Covid Tracker App."
We need your consent to load this rte-player contentWe use rte-player to manage extra content that can set cookies on your device and collect data about your activity. Please review their details and accept them to load the content.Manage Preferences
There has now been a total of 1,763 Covid-19 related deaths in Ireland and 26,065 confirmed cases.
From the 38 additional cases reported today, 22 are males, 16 are female. The median age is 30 years and 82% are under 45 years of age.
There are 32 cases located in Dublin or Kildare while 26 are associated with outbreaks or are close contacts of confirmed cases.
Over the past two days, a total of 123 cases have been reported. Of these:
- 84 cases are linked to known outbreaks or are close contacts of other confirmed cases.
- at least 19 cases have been identified as community transmission while 20 cases remain under investigation
- 44 cases are located in Kildare, 33 in Dublin, 11 in Clare, 10 in Laois, 8 in Limerick and the remaining 17 are located across 10 counties.
Dr Glynn confirmed: "Mass testing has now taken place in relation to a number of known outbreaks."
There has been no deaths from Covid-19 in Northern Ireland for the 18th consecutive day with the death toll remaining at 556. There were 10 new cases, taking the cumulative total to 5,948.
Earlier, the Taoiseach discussed the challenges of the pandemic at the first meeting of the North South Ministerial Council in three-and-a-half years.
Micheál Martin said afterwards: "It was extensive and constructive and we had a particularly good conversation about Covid-19."
Deputy First Minister Michelle O'Neill said cross-border co-operation is needed now more than ever "as we continue to respond to the biggest health emergency we have ever faced".
Deputy First Minister Michelle O'Neill says cooperation is more important now than ever in the context of Covid-19. She extended her sympathy to those who lost their lives to the virus. | Read more: https://t.co/q8slSLCoR6 pic.twitter.com/D1U9gu5j9Y

— RTÉ News (@rtenews) July 31, 2020
Ms O'Neill said the virus knows no borders and there needs to be a joined up approach as much as possible. "We must reflect on the fact that 2,320 people have died from Covid on this island alone."
Meanwhile, Northern Ireland is launching a coronavirus tracking and tracing app and the Department of Health has confirmed that it is compatible with the one used in the Republic.
"Ireland has achieved a world first all-island approach to contact tracing apps. Both the Irish Covid-19 tracker app and the Northern Ireland contact tracing app now interact to alert close contacts of a positive case," it said on Twitter.
Health Minister Stephen Donnelly said: "I am so proud of what Ireland has achieved here. We had one of the world's most successful app launches, with a huge uptake in the first 24 hours.
"As of today, over 1.46 million people have downloaded it. Now we have another world first, with cross-border interoperability."
Mr Donnelly added: "As we head into a bank holiday weekend and enjoy some time off, I want to ask people once again to keep your gatherings small, know who you are in contact with, and download the app from the Apple or Play stores, to stay safe and to protect each other."
As 38 further cases of #Covid19 are reported, @Orlaodo has the latest | More: https://t.co/QnGigs9NpZ pic.twitter.com/l1nRJ3sdXq

— RTÉ News (@rtenews) July 31, 2020
For Covid-19, the World Health Organization says that data to date suggests that 80% of infections are mild or asymptomatic; 15% are severe infection, requiring oxygen and 5% are critical, requiring ventilation.
Generally, you need to be 15 minutes or more in the vicinity of an infected person and within two metres of them, to be considered at-risk, or a close contact.