The Taoiseach and Northern Ireland First Minister have said the first meeting of the North South Ministerial Council in three-and-a-half years has been a very positive and open one.
The two administrations discussed ways of improving co-operation in tackling the Covid-19 pandemic and the challenges Brexit will pose for the island of Ireland.
Speaking at a press conference at Dublin Castle, Micheál Martin said: "It was a warm meeting, it was a meeting in which a wide array of views were expressed. North-South co-operation is a key priority for our Government.
"It was extensive and constructive and we had a particularly good conversation about Covid-19."
Mr Martin said the chief medical officers in the Republic and Northern Ireland are working well together and the challenge for both north and south is keeping the community transmission low.
"There is an agreed position to try and keep working together to optimum level of co-operation north and south. We noted that on the island, the level of community transmission has been brought down to low levels and we hope to keep it there.
"There was a general discussion on Brexit and our officials have promised to engage on the technical aspects of the protocol."
Asked if local lockdowns like those seen in the UK are under consideration in Ireland, Taoiseach @MichealMartinTD says a lot of lessons have been learned from the first phase of dealing with #Covid19. He says it is about living with Covid while maintaining some quality of life. pic.twitter.com/7NEenWzokK

— RTÉ News (@rtenews) July 31, 2020
Arlene Foster described the meeting as "worthwhile and productive".
She said: "We went some time speaking upon the United Kingdom withdrawal from the European Union and seeking to benefit and get the maximum benefit from that.
"It has been a very useful engagement today and it was good to meet with some old faces and some very new faces and I think we have had a very worthwhile and productive meeting and I look forward to greeting members of the Irish Government at our next plenary meeting in Armagh in December.
"Before then we will have a British Irish council meeting to discuss the Common Travel Area."
We need your consent to load this rte-player contentWe use rte-player to manage extra content that can set cookies on your device and collect data about your activity. Please review their details and accept them to load the content.Manage Preferences
Mr Martin said the Government will seek a meeting of the British Irish Council to discuss the different travel rules between Ireland and the UK.
Mrs Foster said: "Obviously we are very aware of what has been happening in England over the past few days so we do feel the need to have a conversation about the common travel areas.
"At the moment, the travel area pertains to Northern Ireland and the rest of the UK. The Republic of Ireland have decided that anyone coming from the common travel area apart from Northern Ireland will need to quarantine so we need to have discussions around that.
"In relation to international travel, there is a need for a discussion on the location of international travellers as they come through Dublin as there is good sharing of information."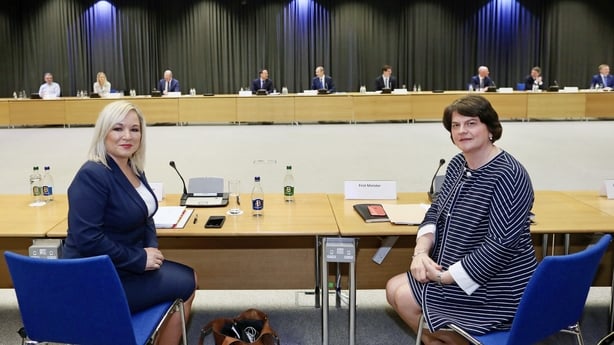 She said she would much prefer people from Northern Ireland to holiday at home this year, and people should acknowledge that they may have to quarantine if they are returning from abroad.
She said: "We had to act in relation to Spain, and Luxembourg has gone on the red list too. What we have said to people in our travel advisory is clear, we would much prefer if people stayed at home and had a 'staycation' and discover parts of Northern Ireland they have not been to in a while."
"But if they do decide to travel then they need to be aware of the risk and that they may have to quarantine when they come home and I do think we have been clear it is in relation to the risk."
Asked about her party's red lines on #Brexit, Arlene Foster says the DUP wants unfettered access for Northern Ireland's businesses "being able to trade with their largest market, which is of course Great Britain". | Read more: https://t.co/q8slSLCoR6 pic.twitter.com/p1rGierXUM

— RTÉ News (@rtenews) July 31, 2020
Asked about Brexit, she said: "We want to see a comprehensive free trade deal, quota free deal and I welcome the commentary in relation to a lack of a border north south. We also don't want to see borders developing east-west in relation to trade either."
Deputy First Minister Michelle O'Neill said after three-and-a-half years, it was good for both administrations to meet again.
She said: "I'm delighted that we have paved the way for more meetings to take place in the years ahead. I think that when we restored the Assembly and Executive back in January - I don't think any of us would have predicted that we would have been dealing with a global pandemic.
"We had a good wide ranging discussion on a variety of issues such as climate, greenways, infrastructure projects, Brexit and Covid-19.
"I think it is interesting that we meet in this format today where we have eight parties in government in some form or other.
"Our co-operation is more important than ever as we continue to respond to the biggest health emergency we have ever faced and when we reflect on the previous months, we must reflect on the fact that 2,320 people have died from Covid on this island alone."
"We are one island, and my own personal view is that we are one epidemiological unit and we should use that to our advantage", Northern Ireland's Deputy First Minister @moneillsf says | https://t.co/t5KQY5CXUe pic.twitter.com/bqgF7R5zjC

— RTÉ News (@rtenews) July 31, 2020
Ms O'Neill said the virus knows no borders and there needs to be a joined up approach as much as possible.
She said there was a concern about international visitors coming onto the island and this needs further discussion and they have asked for a meeting of the British-Irish council, which she said needs to happen as soon as possible.
Ms O'Neill also said there was discussion at the meeting around Brexit and she said they need to continue to work together to get the best outcome for citizens and for the economy.

A mechanism to facilitate regular meetings between the administrations in Dublin and Stormont is part of the 1998 Good Friday Agreement.
The collapse of power-sharing following a row between Sinn Féin and the DUP is the reason for the three-and-a-half year break in engagement.
The administration, led by Mrs Foster and Ms O'Neill, is in place since last January.
Separately, Northern Ireland is launching a coronavirus tracking and tracing app and the Department of Health has confirmed that it is compatible with the one used in the Republic.
"Ireland has achieved a world first all-island approach to contact tracing apps. Both the Irish Covid-19 tracker app and the Northern Ireland contact tracing app now interact to alert close contacts of a positive case," it said on Twitter.
Health Minister Stephen Donnelly said: "I am so proud of what Ireland has achieved here. We had one of the world's most successful app launches, with a huge uptake in the first 24 hours.
"As of today, over 1.46 million people have downloaded it. Now we have another world first, with cross-border interoperability."
Additional Reporting PA