If you ever wanted to visit the fjords of Norway, explore the Baltic States of Latvia, Lithuania, and Estonia, or have a little fun in Finland's capital Helsinki (without having to wear gloves!) then this could be the summer for you. 
Summertime is definitely the best time to visit these locations. But that is not why they should be on your holiday list this year. The main reason is that these are the countries that are likely to be very prominent on the so-called 'Green List' of safe destinations to be published by the Government early next week. 
The great attraction of a 'Green List' location for holidays is that a person who travels there will not need to go into self-isolation and quarantine for two weeks when they come back home.
If a summer holiday without sun tan lotion in those north European countries is totally out of the question, then there might only be three other options for you this year - Cyprus, Malta, and Hungary.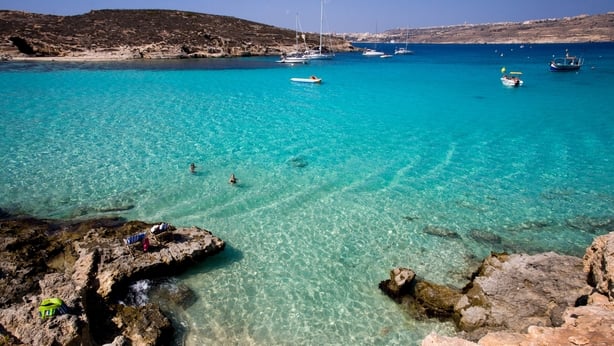 Those eight countries are the only countries in the European area with lower Covid-19 infection rates than Ireland right now.  
An Irish person on holidays there has a lower risk of picking up the coronavirus than if they holidayed at home - assuming of course they maintain social distancing, wear a face mask, wash hands regularly, continue to cough into their elbows, and are really careful in airports and on airplanes.
The National Public Health Emergency Team has repeatedly asked people not to travel abroad for holidays for fear of bringing back the virus. But many are likely to go anyway.
Some people had holidays booked before the pandemic struck, some have holiday homes abroad, some are determined to go a traditional Leaving Cert holiday (seriously!), and others are just fed up with the rain and prepared to take a chance regardless. In all cases the risk of picking up the virus and passing it on to others at home is a big worry.
We have seen how concerned the Government and NPHET are now that the reproduction rate of the virus has started rising.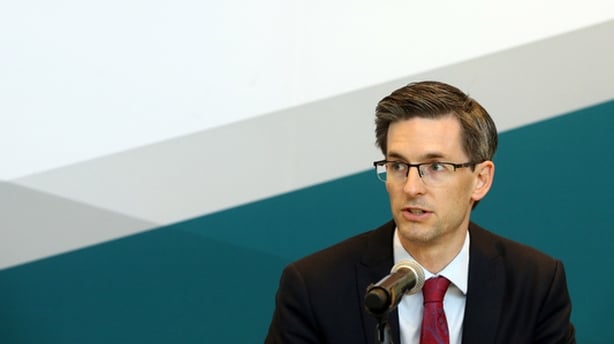 The decision not to proceed with the reopening of pubs, to impose new rules about house parties, and make face coverings mandatory in shops and supermarkets reflects a real concern. All the signs now suggest the 'Green List' of safe travel locations is going to be a small one.
The European Centre for Disease Control (ECDC) collates and publishes an enormous amount of data about the incidence of Covid-19 in different countries.
The number of confirmed cases of Covid-19 for every 100,000 people over the previous 14 days is a key indicator. The higher this number is for any country then the greater the risk a person has of becoming infected.
On that score Ireland has been doing well. Our 14-day incidence rate has risen over the past week but it is still among the lowest in Europe.
The ECDC data shows in the 14 days up to 17 July Ireland confirmed 4.3 cases of Covid-19 for every 100,000 people in the country. This is the ninth lowest incidence of Covid-19 in Europe.
It compares with an incidence rate of 61 in Sweden, 48.5 in Portugal, 17.7 in Spain, 13.2 in the UK, and 11.1 in France.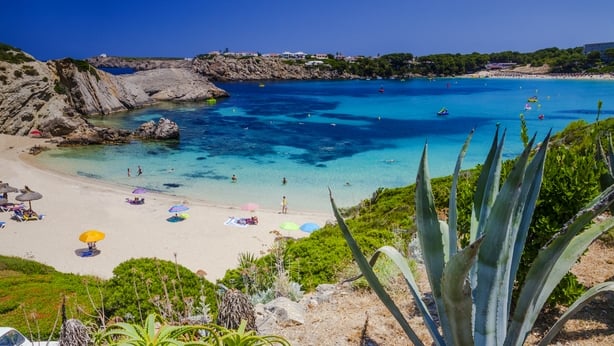 The implication is that the risk of contracting the virus while on holidays in any of those countries is very much higher than in Ireland. So Sweden, Portugal, Spain, the UK, or France will not be included on Ireland's 'Green List' next week.
But it is not just those countries. The risks of disease are higher in every European country except the eight mentioned above.  
Malta is safest (0.8 cases per hundred thousand people) followed by Finland (0.9), Hungary (1.2), Estonia (2.0), Norway (2.2), Lithuania (2.8), Latvia (3.0), and Cyprus (3.7). Ireland comes next (4.3).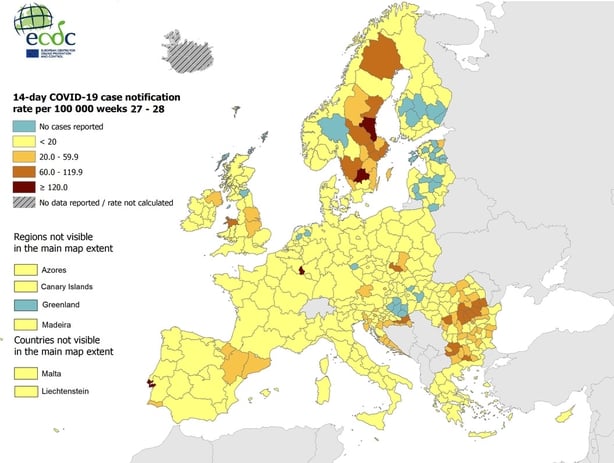 Exactly where the Government decides the cut-off line for safe travel will be, and precisely what criteria it will include apart from case incidence rates remains to be seen. It is possible, although unlikely, that there could be some wriggle room to include other countries. Italy for instance has an incidence rate of 4.6 (not much more than Ireland) and has been stable since June. Denmark at 5.3 and the Netherlands at 5.4 couldn't be ruled out either if Italy were allowed onto the list.  
However you can forget about the United States where the incidence of the disease per 100,000 people is above 250, Canada where it is 12, Egypt at 14.1, Morocco at 9.36, and Turkey at 17.3.
Anybody brave enough to travel to those locations will have to self isolate for two weeks when they come back.