An infectious disease specialist has told the Oireachtas Special Committee on Covid-19 Response that he believes it is inevitable Ireland will experience a resurgence of cases as restrictions are relaxed and more travel permitted.
Professor Paddy Mallon said that the stress test on the system will come in August with holidays and more travel, and then the onset of seasonal flu.
He said that ongoing community transmission, together with the resurgence of cases in Lisbon and the outbreaks reported in Germany highlight that Ireland is still very much within a geographical high risk zone for Covid-19.
"The first stress test to the system is going to be what happens in August as the Irish people decide whether they will travel overseas or not because we will inevitably have imported cases coming back into the country - that is going to stress the system," he said.
He also told politicians that the Health Service Executive test and trace turnaround time in the community is not good enough, especially with the current low rate of community transmission.
From referral to a test, to the completion of contact tracing it is currently 2.1 days in the community.
"At the moment I don't think the time is good enough at a low rate of community transmission with a turnaround time of two days. With a low rate we should be at one day."
Prof Mallon said that effective community control permits a more stable and meaningful economic recovery.
Prof Paddy Mallon says "I believe that the opening up that's happening at the moment is being undertaken generally responsibily because we have good data on community transmission." He says tourism increases the risks and careful monitoring is needed. | https://t.co/P0DZtQMW0K pic.twitter.com/9BIUuVGYIM

— RTÉ News (@rtenews) June 25, 2020
He said that as society opens up again, the Irish people are handing back some of the responsibility for controlling the virus to the State.
He said that if the programme fails to work effectively, the country risks losing the gains provided through the sacrifices of people.
Prof Mallon also told the committee that the importance of containing infections at the borders becomes higher as levels of community transmissions reduce.
He said this becomes the greatest threat when it comes to an increase in Covid-19 cases, and that it was important that there was robust screening methods at the point of entry into the country.
Fine Gael TD Colm Brophy asked the HSE why turnaround times for testing could not be reduced to a day.
Responding, the HSE's national lead in contact tracing and testing, Niamh O'Beirne, said: "In our current infrastructure and our process is it not always possible to achieve that.
"When we are building our new longer term operating and testing service we will look gain at our metrics and look again at our pathways."
In his opening statement, Prof Mallon said both infectious disease physicians and leading figures within the Royal College of Physicians in Ireland have called for a written, detailed, coherent plan dealing with control of the virus.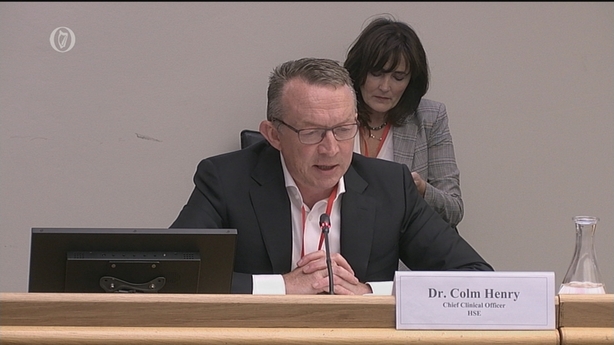 He told politicians that this should include a detailed end-to-end testing and contact tracing plan, embedded with rapid turnaround times.
He said greater investment during the coming weeks to rapidly upscale emergency department capacity and isolation room facilities in hospitals is also required.
HSE's Chief Clinical Officer Dr Colm Henry said that the number of Covid-19 testing centres was at 48.
However, with falling community testing, the demand for testing has reduced to 18,000 in the last week. 
HSE Chief Clinical Officer @CcoHse and Professor Paddy Mallon (@HIVTox) both say it is their belief flu vaccines should be mandatory for healthcare workers | https://t.co/yro2bXPnFk pic.twitter.com/awJVyHT0FQ

— RTÉ News (@rtenews) June 25, 2020
Dr Henry told the committee that there was testing capacity for upwards of 100,000 a week, but it has never had to deliver this.
He said demand for contact tracing has also reduced with a reduced number of contacts per case from a peak of 20 to about three now. 
Dr Henry said the HSE has retained the capability to ramp up testing at short notice should it see an increase in the R value.
The R number is the average number of people one person will infect and yesterday Minister for Health Simon Harris said that the R number has remained stable this week.
Dr Henry said a new model for a testing and tracing service that will operate for the next 18 months has commenced.
Professor Paddy Mallon (@HIVTox) says the importance of containing infections at borders increases as levels of #Covid19 community transmission drop off. He says risk assessments could be different for different countries | Live blog: https://t.co/P0DZtQMW0K pic.twitter.com/O5J7XKxSpE

— RTÉ News (@rtenews) June 25, 2020
He said the project will run over the summer months with a target implementation date in late August.
Dr Henry said it will focus on building a fit for purpose, sustainable testing service that will deliver short turnaround times, effective contact tracing and be flexible for any potential surges that may come.