The Cabinet has approved the move to Phase 3 of the roadmap to reopen the country, Taoiseach Leo Varadkar has said.
Speaking at Dublin Castle, Mr Varadkar said that following advice from the National Public Health Emergency Team and Government departments almost all remaining businesses and amenities can reopen from Monday 29 June.
He said some travel restrictions between Ireland and other countries will be eased from 9 July.
A "green list" of countries will be published prior to 9 July, with the 14-day quarantine that is currently in place not applicable to travel from these countries from that date.
The Taoiseach said this list of countries will be reviewed every two weeks and some countries could be added or removed depending on their infection rates.
Minister for Health Simon Harris said that the wearing of face coverings on public transport will be made mandatory. He said there will be a sanction for non-compliance.
Mr Harris said the move is necessary in order to allow capacity on public transport to increase.
He said there is clear public health advice that people should also wear face coverings in shops and other situations where they cannot practice social distancing measures.
Minister Simon Harris says the Government is moving to make face coverings mandatory on public transport. There will be a sanction for non-compliance, he says. | Follow live updates: https://t.co/FEymVrmgjn pic.twitter.com/bXlUoJ50pv

— RTÉ News (@rtenews) June 25, 2020
Cabinet also agreed that there would be an exception to the regulations for churches to allow more people to attend religious ceremonies.
A grant scheme to assist people who are self-employed or sole traders has also been approved by the Cabinet to help people to get back to work.
The School Meals Programme is being extended for summer 2020 to all schools and organisations currently in the programme for the next nine weeks.
Mr Varadkar offered his condolences to those who lost loved ones during the pandemic, saying he hopes to have a National Day of Commemoration in the coming months.
He said we must "now try to repair the damage that has been done, across all parts of our lives, and show the same solidarity in doing so".
Taoiseach Leo Varadkar thanks healthcare staff, 'who day after day put other people first', and other frontline workers for their roles during the pandemic. | Follow live updates: https://t.co/FEymVrmgjn pic.twitter.com/A9YcjBgAYc

— RTÉ News (@rtenews) June 25, 2020
Mr Varadkar said: "It is possible that this is my last press conference as your Taoiseach, and if so, I want to end by saying thank you to the men and women who kept our country protected and guided us through this emergency."
He also said he believes the country "owes a profound debt to the Chief Medical Officer, Dr Tony Holohan, who has become one of the most trusted figures in the country and made us all feel that we were in safe hands."
From Monday, bars that serve food can reopen with table service only, while hotels, hostels, caravan parks, galleries and museums can welcome visitors again.
Hairdressers and barbers can also reopen.
All restrictions on travel within the country will also be lifted, with Minister Harris saying this will allow people to reunite with "desperately missed" family members in other parts of the country.
Sporting activity, including close contact sports, will also resume from Monday.
Mr Harris said he informed the Cabinet that the HSE does not intend to extend the contract for the use of the Citywest Hotel complex in Dublin after October.
He said the board of the HSE took the decision not to seek to extend the contract beyond the existing deal.
The Cabinet also agreed to make exceptions for places of worship on the indoor limit of 50 people from Monday.
Mr Varadkar said "specific protocol is going to be worked out with the churches and religious bodies, to allow more people to attend religious ceremonies."
He said "that will be very much policed by them".
Mr Varadkar said it will acknowledge that there are some very large churches that can accommodate more than 50 people with social distancing and with the appropriate precautions, but he said the detail is still being worked out.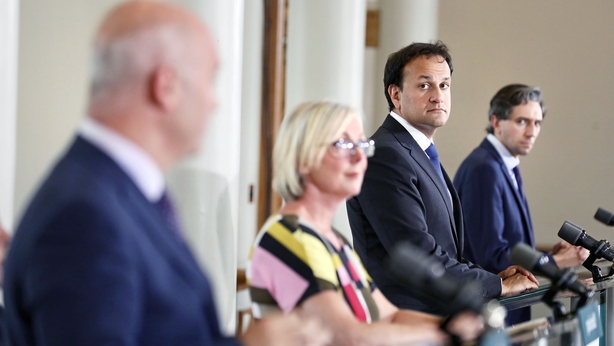 Speaking ahead of this afternoon's Cabinet meeting, Mr Harris said people "should all take responsibility to have our own face coverings. You can make your own face covering or purchase a face covering".
He said: "The Government can consider these things, but there aren't any plans to do that as of now."
Mr Harris also said he does not want anyone waiting for the Government to send them a face covering.
Earlier, Fianna Fáil's Marc MacSharry said he welcomed plans to make face coverings mandatory if it was clear what special arrangements would apply to young children or those unable to use coverings for health reasons.
However Sinn Féin's Louise O'Reilly has called for the Government to clarify how mandatory the policy would be policed on public transport. 
"We don't know where the masks are going to come from and we need an information campaign," she said.
Regarding the quarantine period for people returning from other countries, Ms O'Reilly she said: "A mandatory quarantine period would not be necessary if we had effective trace and test in place."
SF's @loreillysf says mandatory use of face coverings on public transport needs to be policed properly. She also says that Govt should introduce an information campaign. @rtenews pic.twitter.com/hMT2zY9rZJ

— David Murphy (@davidmurphyRTE) June 25, 2020
---
---
Meanwhile, a transport company executive has backed the proposal, saying he believes most people will comply with the measure once it becomes compulsory.
Speaking to RTÉ's Today with Sarah McInerney programme, JJ Kavanagh and Sons director JJ Kavanagh said he will not have inspectors on his buses and coaches to see if people keep their masks on because he believes, in the main, that the public will take the responsibility seriously.
He said drivers will check and see if someone who is not wearing a mask has a medical condition before refusing them entry.
However, Mr Kavanagh warned that despite the increase in capacity on buses, the rollout of commercial services will still be difficult because these services that need an occupancy rate of between 65 -70% to break even.
Private school transport operators have also said consideration should be given to children wearing masks while travelling to school to increase capacity on school buses.
A report for the Couch Tourism and Transport Council of Ireland also said private coach operators, who provide 87% of the fleet used for school transport, urgently need clarity on what social distancing and health protocols will apply in September.
It says the private owners of an estimated 4,500 vehicles that provide the service have "huge concerns" about whether children or teachers will be allowed use private coaches for services like trips to swimming and matches, day trips and other school excursions.
The report, by economist Jim Power, suggests that in order to increase capacity on school buses, the Department of Education could consider a recommendation on the wearing of face masks.
Additional reporting: Samantha Libreri, Fergal Bowers, Mícheál Lehane, Paul Cunningham