It is 103 days since the first case of Covid-19 was recorded in Ireland on 29 February this year. There have been some very dark days in the intervening period, particularly during the first half.
But key trends and statistics for the second half show enormous progress has been made and we now have plenty of reason to hope.
A total of 25,238 people in Ireland have tested positive for the virus. Many of them have been terribly sick with more than 3,300 hospitalised and over 411 admitted to intensive care units (ICU).
So far, 8% of all men with confirmed infections have sadly died and 6% of women - this is known as the case fatality rate.
The grim Irish death toll currently stands at over 1,700 people. Out of that, 95% never even got into an ICU, so hopeless were their chances. In fact, almost 60% of the people killed by Covid-19 died outside of a hospital setting, mostly (but not all) in long-term residential care facilities including nursing homes.
This lethal virus is still in circulation so we have got to remain extremely vigilant. There is no room whatsoever for complacency.
However, there is no doubt that we now have it on the run. Our collective efforts through hand hygiene, cough etiquette, social distancing, and lockdown have saved thousands of lives and prevented an incredible amount of sickness and misery.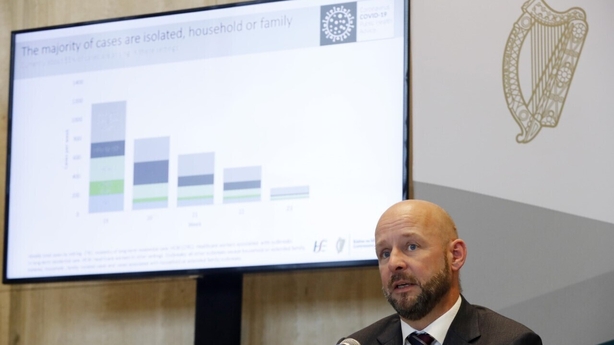 The chair of the National Public Health Emergency Team (NPHET) pandemic modelling team Professor Philip Nolan presented a set of figures at the most recent Department of Health Covid-19 media briefing that was nothing short of stunning.
He showed a set of results that everyone in the country who has lived with the restrictions deserves to savour, a reflection what the power of the people has achieved.
Professor Nolan focused on the five-day average of newly confirmed cases, hospital patients, ICU admissions, as well as the percentage of people testing positive for the virus.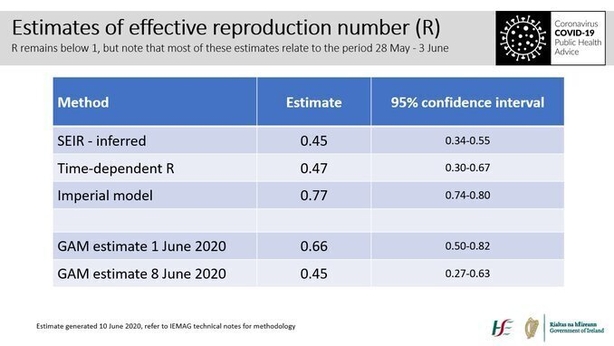 To say all these trends indicate the severity of the pandemic is stable or declining - as his graph title suggested - is arguably a huge understatement of what has been achieved since the peak of the pandemic in the middle of April.
The data shows the number of confirmed cases which was running as high as 559 per day on 16 April has now fallen by 97.5%. Also the percentage of Covid-19 tests showing up positive has fallen by 96.5%.
There has been plenty of controversy surrounding our testing regime, particularly during the first two months of the pandemic, with delays and backlogs undermining confidence in the system.
But we have now tested 367,780 people, proportionately far more than most of our European partners. The Taoiseach said 20,000 tests have been completed in the past week yet only 185 were positive for the virus.
Back in the middle of April, one out of every five people swabbed actually tested positive for Covid-19. By 10 June, the number testing positive was down to just 7 out of every 1,000 people swabbed, an incredible improvement.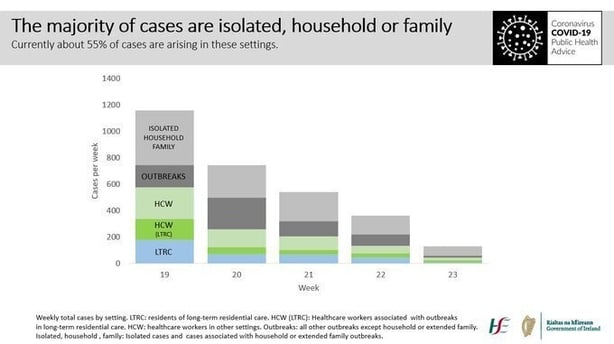 The number of confirmed Covid-19 patients in general hospital beds has also been falling very sharply and consistently. It is down almost 87% from 865 people in the middle of April to 116 on average for the five days ending on 10 June.
We know, too, that this number has fallen significantly further since then with the actual number of Covid-19 patients in hospital beds down to just 75 people on 10 June.
The numbers being admitted to hospital has also been falling like a stone. It is down to an average of three new patients per day this week from 54 in April, a reduction of 94.5%.
Intensive care numbers tend to be stickier than those related to general hospital beds because patients admitted to ICU generally need to remain there for longer.
Still, the number in ICU beds has fallen steadily from 144 patients in April to a five-day average of 34 in recent days. That is a reduction of more than 76%. That strong downward trend is continuing with the actual number in ICU down as low as 29 patients on 10 June.
Perhaps best of all is what has happened to the number of confirmed Covid-19 patients being admitted to ICU. That has gone from an average of eight admissions per day in mid-April to zero admissions per day over the past week.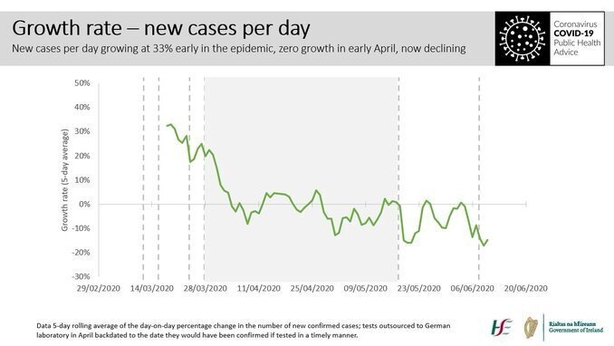 When one considers how much panic there was at the beginning of the crisis about ICU capacity, the shortage of respirators and the fears that our health system would collapse as a result, then those figures for ICU admissions signify a truly enormous achievement by our society as a whole.
The trend in the number of deaths per day tends to lag the number of cases, sometimes by up to two weeks. That is because it can take that long (and even longer) for the disease to exact its grim toll.
Nevertheless the daily death toll trend is also striking and hopeful. Covid-19 deaths were averaging 33 per day in the middle of April. That is now down by 85% to an average of just five fatalities in recent days.