A framework document for Catholic dioceses and parishes to reopen churches for the celebration of mass and the sacraments has been published.
The guidelines have been developed following extensive consultation across the dioceses of Ireland, according to the Irish Catholic Bishops' Conference.
Public worship in churches is due to resume at the end of the month.
Parishes and communities have been advised that the framework may need to be adapted, depending on factors such as the capacity and layout of churches, and the number of worshippers.
The guidelines say that no church should be opened for public prayer or worship until satisfactory arrangements have been put in place.
While a dispensation from the Sunday and Holy Day obligation continues for now, the document recommends that people who are vulnerable or unwell, and especially those with any symptoms that might suggest Covid-19 infection, should stay at home and if possible, participate, as now, via webcam, social media, television, or radio.
In order to maintain a two-metre physical distance, the framework notes that the maximum number of people who can be accommodated for any communal prayer or liturgy will be much reduced.
It says the optional exchange of the sign of peace can be omitted, or offered in a manner that avoids any physical contact.
Priests and ministers have been asked to wear a face-covering while distributing Holy Communion and are being advised to visibly sanitise their hands both before and after the distribution of communion.
It is also recommended that communion be received in the hand.
We need your consent to load this rte-player contentWe use rte-player to manage extra content that can set cookies on your device and collect data about your activity. Please review their details and accept them to load the content.Manage Preferences
On the sacrament of baptism it says the celebrant will sign the child with the cross without touching and that a jug of fresh water will be blessed for the baptism.
Anointing with holy oils will be administered by the use of cotton buds.
For the sacrament of reconciliation, it says provision should be made in the body of the church for a confessional area but consideration to the privacy of the sacrament as well as the requirements of physical distancing and hygiene are required.
Catholic bishops have acknowledged the demands that the transition will place upon priests, many of whom may still need to remain shielded from the virus.
"Together with Pastoral Councils and the support of laity, priests have risen to the challenges presented by the recent restrictions, often in innovative and creative ways, and with great generosity of spirit together with enduring commitment to the faith communities they serve".
The bishops have expressed hope that the return of communal worship will give new heart to priests and parishes and that, in spite of the inevitable limitations to celebrations, "we may all be confirmed in faith and in our ministry".
Measures being put into place in Church of Ireland churches
The Church of Ireland framework document on returning to services was published yesterday.
The Archbishop of Dublin and Bishop of Glenalough Reverend Michael Jackson said people who haven't been to church for a number of months, want to know that it's safe.
He said sanitising and social distancing measures are being put in place and there will be one way traffic in and out of the churches.
"If in this phase we ask 15 or 17 people to gather, we settle for that," he said, "it's a church response to a national need".
Like the Catholic church, baptisms and communions in the Church of Ireland have required specific work, which he says is "in hand".
Archbishop Jackson has also pointed out that people of other faiths will welcome the reduction in restrictions.
"While Christians are conscious that they didn't celebrate Easter and Penticost, I'd be conscious that people in the Jewish tradition didn't have a chance to come together for Passover, people in the Islamic tradition didn't have a chance to come together for Ramadan and Eid. For all of these people being able to pray in the inherited ways that they have in the contemporary world, is very important," he said.
He said it is equally important that people from a range of world faiths who are now part of the citizenry of Ireland, have that opportunity as well.
Online booking for mass could be considered
Archbishop of Dublin Diarmuid Martin said online booking for masses is something that may be looked at to address the issue of social distancing in churches, but it depends on the community.
Speaking on RTÉ's Today with Sarah McInerney, Archbishop Martin said this is currently in operation in the United States.
He said Sunday obligation will be dispensed with until things return to normal after Covid-19.
Archbishop Martin said churchgoers will be urged to attend mass during the week - not just on Sunday - and said he would be "very, very cautious about bringing children to church at the beginning".
He sent a letter to parishioners of his archdiocese this morning to help them to prepare for the planned reopening of churches on 29 June.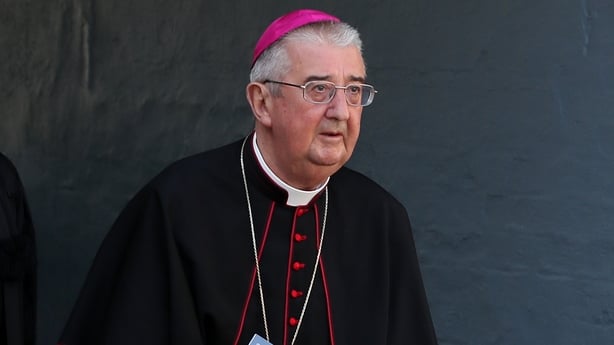 Dr Martin said parishes will have to take a role in the organisation and planning of confirmations and First Holy Communions over the next few months, as schools will be closed.
The archbishop said there has been a huge interest and demand from families who want their children to mark these events.
He said there will have to be numerous smaller ceremonies, which will be spread over time.
Dr Martin said he welcomed the increase in the number of people being allowed to attend funerals, saying it is one of the things that saddened him initially, that people have not been able to grieve "it's a very, very hard thing".
He said there have been "very, very few weddings" but emergency ceremonies have been held for people who wanted to get married before dying.