Northern Ireland's power-sharing administration may copy what is happening south of the border and sanction the reopening of its retail sector when it meets tomorrow.
The deputy first minister in the power-sharing Executive, Sinn Féin's leader in Northern Ireland Michelle O'Neill, told RTÉ News this evening: "I note with interest what the Taoiseach announced in Dublin on Friday. We have an inbuilt flexibility to respond to the conditions on any given day and I am hopeful that at our Executive meeting tomorrow, we will able to make more progress for our retail sector."
She said that she is supportive of all retail businesses reopening and the scientific evidence indicates the five party power-sharing administration now has some headroom to make another step forward on the road to the recovery of the economy.
She has in mind the likes of clothes shops, shoe shops and such in towns and villages, which she says "should not be left at a competitive disadvantage compared to the bigger stores that have already been given permission to reopen".
On Friday, immediately before holding a news conference on Phase 2 of the road map, the Taoiseach phoned both Michelle O'Neill and Northern Ireland's First Minister, Arlene Foster, to update them on the agreed easing of restrictions south of the border.
With hotels, bed and breakfasts and caravan parks preparing to reopen in the neighbouring jurisdiction, both Ms Foster and Ms O'Neill don't want their tourism sector to be at a competitive disadvantage.
According to Ms O'Neill, "we have a provisional reopening date of 20 July for hotels, but if the science allows us to move before that, we will do so. We all want to get to the stage when we have our tourism sector flourishing again because it has been badly affected by the pandemic".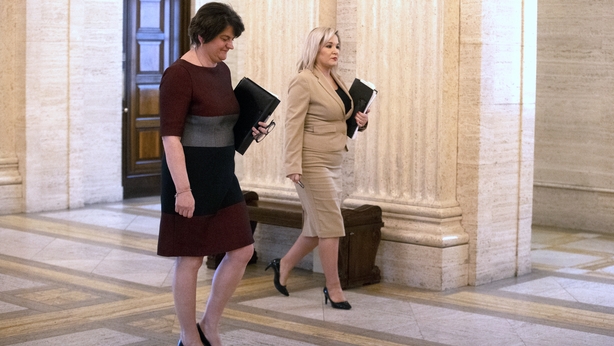 Relations among the five parties in the mandatory power-sharing administration got off to a rocky start when it was formed in January after a three-year absence of devolved government. But the two women leading the Executive acknowledged over the weekend that the crisis management demanded by the pandemic emergency has required the government to work in a cohesive way.
Arlene Foster acknowledged that she accepts part of her role is to seek consensus in what are often difficult circumstances. Michelle O'Neill said "there has been a unity of purpose to help us get through this pandemic, certainly there is no rule book in how to successfully get through this crisis but I think we have all worked well".
One potential area of friction is how the administration responds to the handling of demonstrations linked to the Black Lives Matter campaign.
Yesterday, the PSNI handed out fine notices to a number of the participants in a gathering in Belfast city centre. Naomi Long, the Alliance party leader who is justice minister in the Executive, said she supports the actions of the PSNI as they were caught between a rock and a hard place as they attempted to protect the public from the potential spread of the coronavirus.
Michelle O'Neill also backed the police action. She said: "We are all very vexed about the issue, I understand why people want to protest and they have a right to protest, but I would encourage everybody to please protest in a very safe way, because we are all living with the threat of the pandemic and we need to be mindful of that."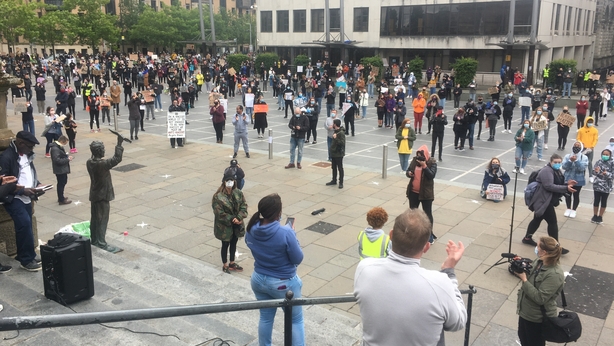 She said: "The police have a job to do to enforce the regulations so handing out fines is, I suppose, consistent with them doing their jobs. But I understand people's right to protest, this is a very serious issue and we all must be very clear in our determination to end racism in our society."
A number of leading politicians in Northern Ireland have spoken privately about their fears that other organisations may feel they are entitled to participate in mass gatherings if an exception is made for any event. Earlier this year, the Orange Order took the unprecedented step to call off its programme of events for this year's marching season, including the 12 July parades.
It was expected that the often contentious 'eve of the 12th' series of huge bonfires in loyalist areas of Northern Ireland would also be cancelled this year.
If the authorities signal there is now some flexibility about the holding of large public gatherings, it could have significant consequences.