Eight more people have died from Covid-19 in Ireland bringing the overall death toll to 1,658.
Ten more cases of the coronavirus have also been diagnosed in the Republic, bringing the total number of confirmed cases to 25,066.
Chief Medical Officer Dr Tony Holohan this evening said that health officials believe "they're in a good position" to lift further restrictions in Phase Two from next Monday but they cannot make any conclusion until the end of this week.
But he said this week will be "important".
In the effort to prevent a second wave of Covid-19, Dr Holohan added, officials are trying to ensure they step their way through the restrictions "carefully and cautiously" while emphasising that the public need to maintain compliance and to stay away from crowded situations.
Dr Tony Holohan said they would continue to emphasise this while the virus remains in the community.
He said that while they do not anticipate that they will see a spread in the level of the disease beyond what they can control, they have to remain open to the possibility and that would mean stepping back and reintroducing some of the restrictions that have been eased.
This evening, Taoiseach Leo Varadkar told his Fine Gael TDs and Senators that he is confident the country will be able to move into Phase Two next Monday.
However, he cautioned that a final decision will be made by Cabinet this Friday.
He also indicated that a decision regarding how long to extend the pandemic payments will be made towards the end of this week.
Meanwhile, the National Transport Authority has said it believes there is a large percentage of non-essential travel being made on public transport which is using up the capacity that had been planned for Phase Two.
Anne Graham, CEO of the NTA, told the Special Oireachtas Committee on the Covid-19 Response that there needs to be a number of supporting measures to enable social distancing on public transport such as organisations continuing to encourage working from home, discouraging peak time travel except for public transport and staggered start times and longer opening hours.
The committee also heard more about the approximately 1,000 Irish citizens who are still abroad and trying to get home.
Niall Burgess, Secretary General at the Department of Foreign Affairs and Trade, said there are groups of Irish citizens in Latin America, particularly in Brazil and Argentina.
He also said there is a "significant" number of people in the Canary Islands, many of them elderly who are looking to come back in order to have health checks.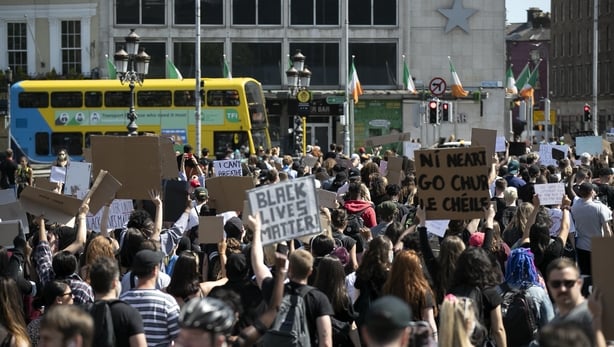 Meanwhile, gardaí are investigating a potential breach of Covid-19 regulations during an anti-racism demonstration which took place in Dublin city centre yesterday afternoon.
Concerns had been raised about social distancing following the rally in which thousands of people marched from the GPO on O'Connell Street to the US Embassy in Ballsbridge in solidarity with the Black Lives Matter movement in the United States.
Under current restrictions, large gatherings are not allowed and social distancing should be maintained at all times.
Dr Holohan said in general terms the advice is that mass gatherings should not take place indoors or outdoors.
In relation to yesterday's protest march, he said that attending such events "is a risk to life".
People urged to stay the course ahead of Phase Two easing
Earlier, speaking at a Government briefing on the Covid-19 emergency, Assistant Secretary at the Department of the Taoiseach Liz Canavan appealed to the public to "keep it up for a few more days".
She said the recent good weather was an "understandable opportunity" for people to get out and about, but while there were a number of "small incidents", she said gardaí have reported that there was good compliance to social distancing guidelines.
She said it is clear that many people did not travel outside their own locality over the Bank Holiday weekend.
The National Public Health Emergency Team will meet on Thursday to review the overall figures and will give a recommendation to Government on whether Ireland should move to Phase Two.
Any negative impact of the lifting of restrictions under Phase One will be seen in the figures this week. The Government is expected to announce on Friday if Phase Two can go ahead.
Under Phase Two, the advice is still to avoid any unnecessary journeys but people will be allowed travel up to 20km from their homes.
Up to four people will also be allowed to visit another household for a short time, but must maintain social distance.
---
---
With more businesses expected to reopen if Phase Two goes ahead, the issue of childcare was also mentioned at this morning's briefing.
Last Friday, it was announced that all childcare facilities will be open to all parents who need childcare in order to return to work from 29 June, subject to capacity.
In the Government's road map for reopening the country, this was originally limited to essential workers.
But the Department of Children and Youth Affairs said this has been expanded to all those in need of childcare.
Ms Canavan said this morning that childcare services should be encouraged for the children of health and social care workers, childcare practitioners, and all parents who need childcare in order to return to work.
However, she said, if capacity issues occur, priority should be given to the children of frontline or essential workers.
People with symptoms urged to self-isolate
This evening, the Chief Medical Officer said the median age of incident cases is about 48 years of age, up from mid-40s.
Dr Tony Holohan said 54% of the confirmed cases over the past week are people aged between 24 and 55.
The median age of people in ICU is in the early 60s, and the median age of deaths overall is 84.
Dr Holohan said that of the 500 or so cases that have occurred in the past week, about half would have been cases that have arisen in the past week.
He said that half of those again would be cases that are not linked to known clusters in settings such as residential care or meat factories.
Dr Holohan said this means that about a quarter of the cases reported in the past week would have occurred in the community without a link to a known cluster.
Dr Cillian De Gascun, Director of the National Virus Reference Laboratory, said the number of tests being carried out has reduced.
He said of a total of 348,416 tests, only 22,621 of those were done in the last week.
He said the positive number is 389, a positivity rate of 1.7%.
He said the "good news is the positivity rate is still going down" and a decline is also being seen in the number of referrals through GPs and those who have symptoms are being encouraged to contact their GP.
Dr De Gascun said that approximately 40-45% of the tests carried out were as a result of GP referrals, with the remainder in hospital settings.
The Deputy Chief Medical Officer said those with Covid-19 symptoms should isolate, contact their GP and be tested if necessary.
Dr Ronan Glynn said that for almost 50% of people, it is taking four days from when they first develop symptoms until they are tested and "we need to reduce that down as much as possible".
In Northern Ireland, there has been a further two deaths due to the coronavirus, bringing the total number of recorded hospital deaths to 526.
Four new cases of Covid-19 have been diagnosed, taking the total number of confirmed cases in the region to 4,732.