Thousands of people have taken part in a rally in Dublin city centre in solidarity with the Black Lives Matter movement in the United States.
People gathered at the GPO on O'Connell Street and marched to the United States Embassy in Ballsbridge protesting over the death of George Floyd in Minneapolis last week.
The 46-year-old died after a white police officer was seen kneeling on his neck for nearly nine minutes.
Derek Chauvin, the police officer involved in the incident who has since been fired, has been charged with third-degree murder.
The marchers chanted 'black lives matter' and called for justice for Mr Floyd's family.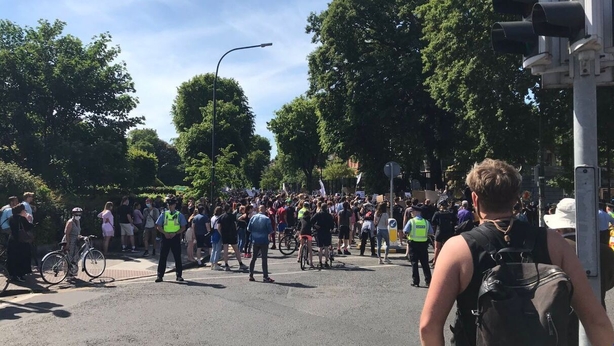 A minute's silence was then observed when they arrived at the US Embassy.
June 1, 2020
It comes after two protests took place in Dublin yesterday - one at the US Embassy and another at the US Ambassador's Residence in the Phoenix Park.
Similar protests have taken place around the world, including in New Zealand, Australia and the Netherlands.
In the US, the White House has called for "law and order", and has blamed agitators for a sixth straight night of violent protests across the country.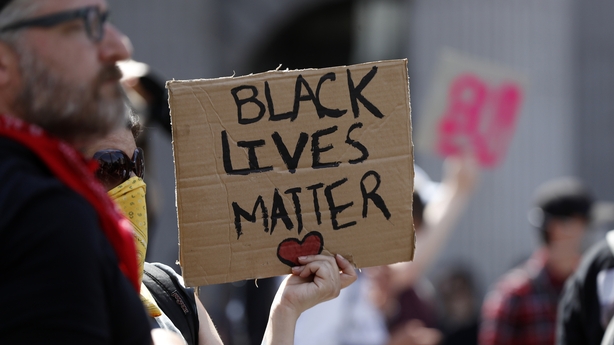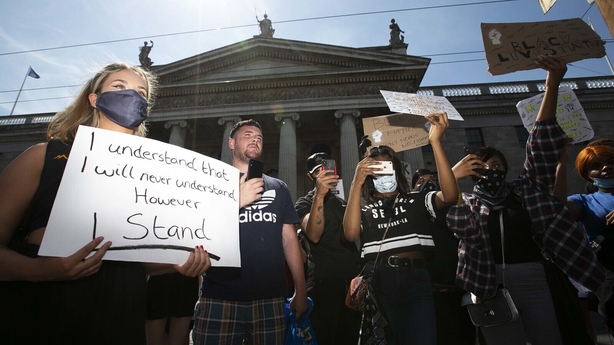 Dozens of cities across the United States remain under curfews at a level not seen since riots following the 1968 assassination of civil rights activist Martin Luther King Jr.
Irish woman Erica Cody, who said she was taking part in the protest, told RTÉ's News at One that she has experienced racism since the day she was born.
Ms Cody, a singer from Baldoyle, said she was taking part in the protest to stand in solidarity with her black brothers and sisters around the world.  
She said the sad thing is that it always takes something so tragic, such as the death of Mr Floyd, to realise racism is not exclusive to the United States but that it exists everywhere.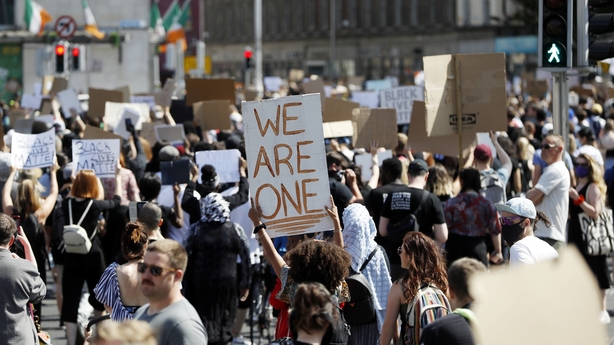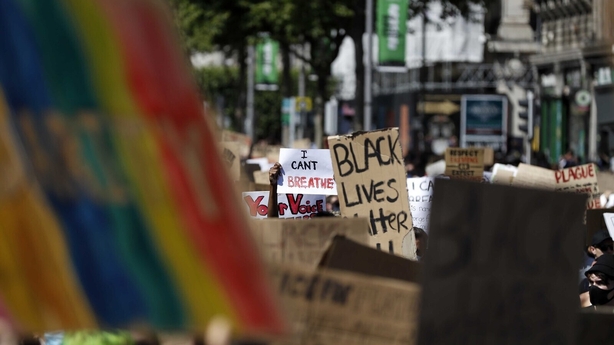 She said the protest is about standing in solidarity with the Black Lives Matter movement because it does not just exist in the US, but everywhere.
Ms Cody said that we must have uncomfortable conversations in order to bring about change and sitting on the fence just adds to the problem.