Thermal imaging cameras, self-sanitising door handles and doorway-flow sensors are the kind of health and safety technology likely to be used in the workplaces of the near future, as businesses and organisations get back up-and-running in the Covid era.
Colm Kavanagh from the Dublin-based Kavanagh Security has been selling and installing thermal imaging cameras for some time.
He said that "enquiries have gone up from two in the last two weeks to 10-15 a day" as companies scramble to get new measures in place so that they can safely reopen.
He sells different cameras designed to be placed either indoors or outdoors.
The indoor model can read multiple temperatures at any one time, with a green square and your current temperature appearing on a monitor over your face if it is normal.
If the temperature is too high then it is a red square and an audible alarm sounds.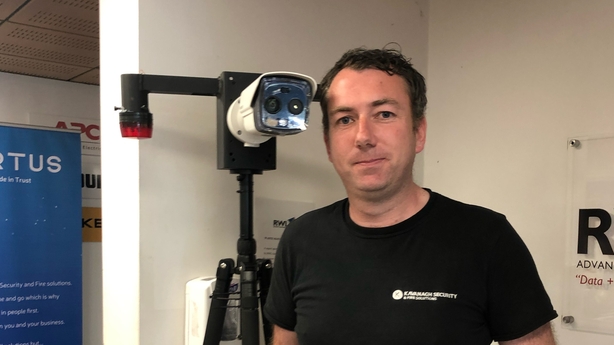 As Mr Kavanagh explains, in this scenario the technology linked to the camera notifies a manager or other person with responsibility who can then take appropriate action.
He says there is huge demand at the moment particularly among pharmaceutical firms, factories, as well as smaller retailers.
Getting our temperatures checked by thermal cameras though is not likely to be the only significant change we will encounter as offices and other businesses being to reopen.
Brian Cunningham and Maurice McDonagh own Clever Hygiene Solutions in Ranelagh in Dublin and have developed a self-sanitising door handle.
"We wanted to design a system that operated on all doors... doors that open from the left, the right, outwards and inwards," Mr Cunningham says.
The sanitising device, which is about the size of a VHS tape, is positioned on the door about six inches above the handle.
A little trigger sits out to the side of the unit that clips off the doorframe when it closes, thereby spraying sanitiser from the unit onto the handle as the door closes.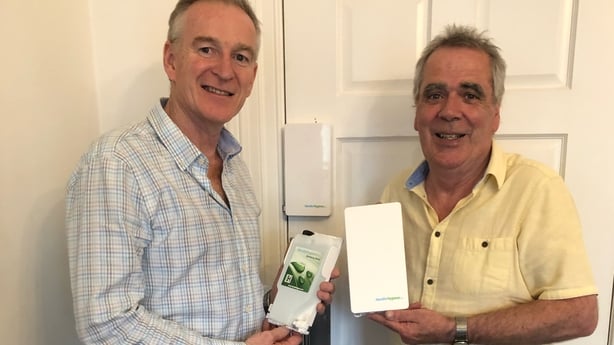 Not surprisingly the company, which started in 2007 with its first patent, says interest in the device has spiked in recent times and the client list includes some big names both here and abroad, including Bank of Ireland, Johnson & Johnson and Manchester United.
But how long can customers expect their sanitiser to last?
"It's a one-use cartridge that delivers about 4,000 sprays," according to Mr McDonagh.
He adds: "Of course it depends on the use of the door how long you get... but typical would be that you'd get about a month out of one refill cartridge."
Outside of hygiene, managing social distancing in the workplace is also likely to be a challenge.
Conall Laverty is founder and Chief Executive of Wia - an Irish tech company developing products that help firms monitor and practise social distancing in the workplace.
One of its main products at the moment is a doorway-flow sensor - or DFS1 - which is especially popular among businesses looking to safeguard them against the spread of Covid-19.
"The device itself is like a small cube that sits above the door," Mr Laverty explains. "It's quite discreet and is designed to blend in with the environment."
The DFS1 is being used a lot by clients who are placing them above the entrances to restrooms.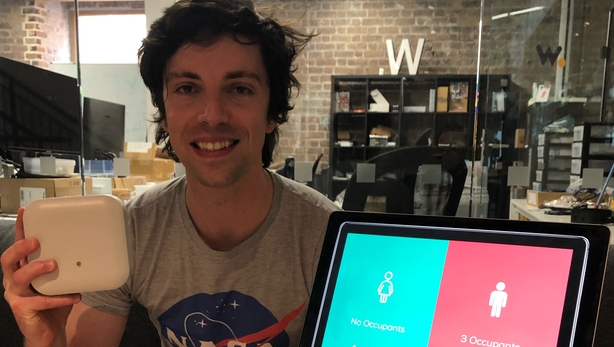 Mr Laverty says "this allows you to count how many people are coming in and out of the restroom. Because the number of cubicles that are in that restroom are no longer the count... it's the square feet of the restroom.
"What we've also done is produced an app that goes alongside the sensor that sits beside the door and then tells you how many people are in that room and whether you can go in or not."
The Wia CEO says the company, which has been operating for four years, is the busiest it has ever been.
The recent demand since the onset of Covid-19 has been "mostly from people in offices, in retail and warehouses" Mr Laverty says, adding "we've even had a bunch of the major tech companies come along to us as well".
There is a nine-strong team working on designs in Dublin and Mr Laverty is keen to point out that with every product privacy comes first and any data recorded are fully anonymous.
As Wia begins trials of its products in public spaces from next week, Mr Laverty says he is expecting a further rise in demand for Wia's products.