Childcare centres could be forced to reduce the number of items brought in by children to prevent Covid-19 infection when they reopen, according to a representative body for childcare providers.
This may include a ban on items brought from home to settle young children, such as blankets and soothers, CEO of Early Childhood Ireland, Teresa Heeney said.
Speaking to RTÉ's Prime Time, she said: "The reality of life in early year centres is going to be very altered.
"The different ways that children play safely in a centre might have to be explored.
"Children may no longer be able to bring in their favourite blanket or soother from home. That may have to be provided by the centre."
It is understood that toys that cannot be washed easily, such as books and dress-up costumes, could also be removed from crèches under strict new hygiene protocols.
Childcare is scheduled to open on a phased basis for essential workers on 29 June, while the facilities will be extended to all workers, also on a phased basis, from 20 July, according to the Government's roadmap.
A childcare scheme that would have seen temporary childcare for healthcare workers in their homes was cancelled last night.
Current public health advice is that when creches open they must operate with social distancing, although the roadmap document acknowledges that Covid-19 is "less frequently observed in children and that child-to-adult transmission appears to be uncommon".
Childcare in other countries has resumed not by imposing strict distancing measures, which are impractical for small children, but by organising smaller groups and reducing the chances of cross-contamination.
A working group has been established by the Department of Children and Youth Affairs to navigate a return of the sector in Ireland.
Prime Time understands the department is undertaking a survey to establish the square footage of childcare providers that will guide how many children can return on a phased basis.
Daragh O'Connor of SIPTU warned that reducing the capacity of childcare providers without additional funding would threaten the future of the sector.
He said: "If there's a reduced capacity, which there will be, how do you allocate how can people apply to avail of it?
"The financial model that creches and pre-schools have goes out the window. It's completely unsustainable financially."
Mr O'Connor added the sector's staffing crisis will have implications for infection control.
He said: "We have a staff turnover rate of 40% on average in full day services.
"It's over 90% for some other services as well. So that presents a huge challenge."
"We need to have effective hygiene and infection control processes in place. It is going to be really important to keep everybody safe."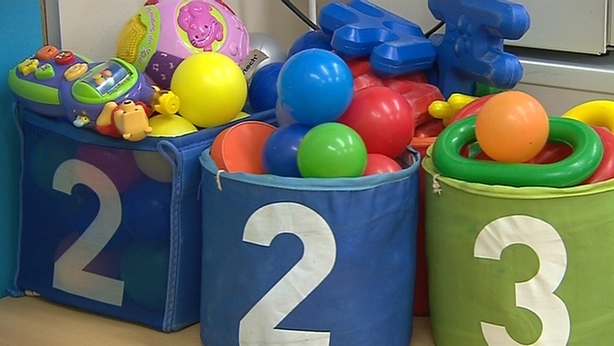 Dr Mary Maloney of the University of Limerick said social distancing in childcare settings was "a contradiction in terms".
However, she added: "Social distancing and the nurturing that children need are not mutually exclusive."
"At the beginning children were almost blamed for the virus. They were the vectors.
"But science isn't holding up. I think children need an awful lot of reassurance that they are in a very, very safe place.
"Incorporating handwashing into activities with the children will make it into a fun experience for them and take away some of that tension."
Dr Maloney described how parents may have to arrive in a staggered way and that a staff members could collect children outside the centre.
"If we are looking at clusters and bubbles the sector is very, very used to managing a key worker system.
"I think we're looking at an extension of that system where there is one person with responsibility for maybe five or six children," Dr Maloney explained.
More than 200,000 children attend some form of childcare and its closure on 12 March has upended the delicate work-life balance in households across the country.
Fiona Morley Clarke, and husband Jason Clarke, from Celbridge in Co Kildare, are among those performing an exhausting juggling act while childcare remains closed.
Five-year-old twins Isaac and Sarah ordinarily attend a crèche, but for the past two months Fiona has been attempting to work full-time from home and look after the children while Jason goes out to work.
"It is impossible to have the same level of productivity that you would have had before this situation arose because there are two full-time roles and there aren't enough hours in the day," Fiona said.
She uses a headset to remain hands free while on work video or phone calls.
"That was very handy last Friday, for example, when my son unlocked the front door and made a bolt for freedom. I had to follow him while still on a work call."
The couple are struggling to see any light at the end of the tunnel.
"It's a challenge to any working parents' mental and physical health right now. All of the parents returning to work are so burnt out," she said.
Jason added: "It's all well and good to say sector will open up again. But I can't see how if there are children at home. There is nobody there to look after them."