The Taoiseach has said it is a matter of "great regret" that a scheme offering childcare for healthcare workers is not going ahead on Monday.
It was announced last night that the scheme, which would have seen temporary childcare for healthcare workers in their homes, was cancelled due to low take-up.
Sinn Féin leader Mary Lou McDonald said the insurance industry was not prepared to cover incidence of Covid-19.
She told the Dáil that healthcare workers found out through the media that childcare for them was not going ahead on Monday and that they had a "legitimate expectation" that the scheme was to proceed. 
Mr Varadkar said that insurance was not the only issue which prevented the plans for proceeding.
He said there were also concerns about garda vetting and childcare staff working in the homes of other people. 
He said the focus would be on trying to get childcare facilities operational in general by the end of June.
He also questioned the extent to which insurance had prevented the scheme proceeding, saying he was not sure that it was possible to indemnify against the virus or that anyone would be able to sue of they became infected. 
Earlier, Ms McDonald said the Government will have to indemnify childcare providers to ensure that access to childcare is guaranteed and provided to workers on the frontline during the Covid-19 crisis.
Speaking on RTÉ's Today with Sarah McInerney, she said no one can give a figure of how much this will cost, if insurance is called on, but the first proposal to provide childcare solutions has "fallen flat on its face" and something needs to be done about the issue.
This, she said, is the only responsible thing to do.
Sinn Féin leader @MaryLouMcDonald says the Government promised workers on the frontline they would have the support of childcare, and the Government has to act now, adding it has already happened in Northern Ireland | https://t.co/yro2bXPnFk pic.twitter.com/VEKMGZyJUA

— RTÉ News (@rtenews) May 14, 2020
Ms McDonald said this is not the first time there have been issues with insurance and childcare providers and it is worrying that it is "rearing its head again".
She pointed out that schools in Northern Ireland have remained open for children of frontline workers.
She said she was alarmed that Eamonn Donnelly of the Fórsa union first heard the scheme was to be cancelled on the news and this, she said, demonstrates a real problem in communication. 
Ms McDonald said a huge amount of work needs to be done before children can return to childcare facilities and schools, but her party is anxious for this to happen.
The work involved in this being possible, she said, includes practical considerations, such as classroom layout and drop-off and pick-up.
This work should be under way now, she said.
Fine Gael TD and member of the Dáil Committee on Covid-19 Jennifer Carroll McNeil said she is extremely concerned by Sinn Féin's proposal of a blanket guarantee, as the State faces a fiscal deficit of potentially tens of billions of euro.
This suggestion by Ms McDonald, she said, "borders on populist" and is "ill considered".
She said the Government is attempting to balance the public health needs and the need to support workers of every kind, particularly frontline workers.
She said the Health Service Executive has been asked to provide every flexibility to help workers with childcare needs.
Ms Carroll McNeill said the Government has provided a range of supports to every sector and every effort is now being made to ensure that créches will re-open for key workers on 29 June.
There are parents all over the country, she said, who are struggling at home every day in the context of an unprecedented pandemic and no one wants to be making the kind of decisions that are currently being made.
Speaking on the same programme, she said it is very clear that emerging evidence in relation to children and Covid-19 is a stepping stone approach but it is not definitive.
She said she hoped schools would re-open in September and, as the mother of a 4½-year-old child, she understood parents' concerns about children and their ability to social distance, but said we must also consider child development.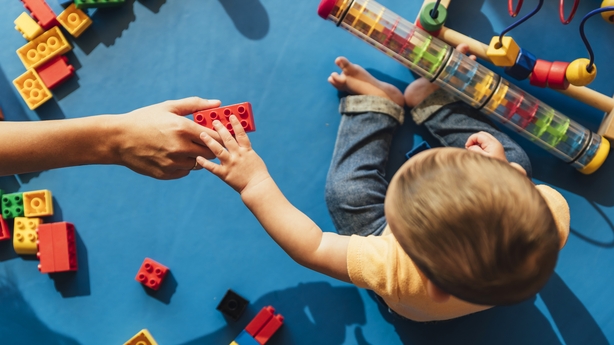 Fórsa has said the State must contribute to the cost of childcare for essential workers after the scheme to support healthcare workers was scrapped.
Head of the health and welfare division of the union Eamonn Donnelly said given the phenomenal efforts being made by essential workers to go to work, surely it would be simpler to help them with costs to cover ad-hoc arrangements they have made for childcare, which have included them using annual leave or paying for private childcare.
Mr Donnelly said "it is quite clear at this stage that the provision of childcare is a model that hasn't been thought through to the point that it is going to be successful".
He said Forsa believes a proposal to contribute to costs is the only solution and has been on the table for six weeks.

INMO 'not surprised' by childcare scheme cancellation
The General Secretary of the Irish Nurses and Midwives Organisation said she was not surprised by the cancellation of a proposed childcare scheme for frontline healthcare workers.
Speaking on RTÉ's Morning Ireland, Phil Ní Sheaghdha said the INMO raised a number of concerns and put questions to the Department of Children and Youth Affairs when the plan was announced.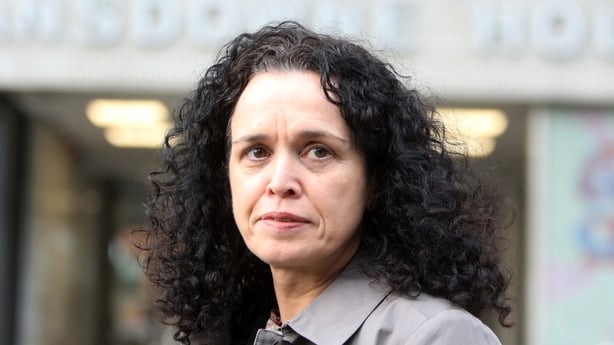 Minister for Children and Youth Affairs Katherine Zappone said just six childcare providers had signed up to be part of the service.
Ms Ní Sheaghdha said it was "obvious" that providers and healthcare workers had not been consulted.
"I suppose it is a bit of a lesson – you have to engage in consultations with those that will be using the service, but also those who you expect to provide it".
She added that a solution urgently needs to be found so essential healthcare workers can return to work without carrying the burden of childcare, and that this solution should come after consultation with the INMO, childcare providers and other trade unions that represent frontline healthcare workers.
Ms Ní Sheaghda added that there are other worrying issues to consider.
"We still have a lot of absence due to infection of our members from Covid-19", she said.
"So we are really concerned about the staffing levels and our ability to provide a service. We see trolley figures that should not be happening. We should in no way have overcrowding in any department".
Labour Senator Marie Sherlock described the cancellation of the scheme as an "extremely frustrating" situation.
Speaking on the same programme, she said that while there were always going to be issues with garda vetting and insurance, it's "disappointing" that those issues were not dealt with.
One of the reasons put forward for the low take-up is the availability of insurance cover, which Senator Sherlock described as a "significant issue".
She said she has spoken to healthcare workers who have had to take annual leave in order to go to work, and suggested that the date of 29 June for the reopening of crèches may need to be re-examined and possibly brought forward.
"On the other hand, there are no details to spark confidence that these facilities can be reopened safely on that date", Senator Sherlock said.
---
Read more:
NPHET to discuss possible easing of Covid-19 restrictions
UN warns of global mental health crisis due to Covid-19 pandemic
---
The Chief Executive of Tigers Childcare said staff had a number of concerns about going into the homes of healthcare workers to care for children.
Karen Clince said just eight of the 183 staff employed by Tigers signed up for the proposed scheme.
She said the Government should have consulted with childcare providers to see how they can reopen facilities instead of sending workers into peoples' homes.
The Government needs to "think outside the box", she said, and work with providers to see a return to childcare sooner.
Ms Clince added that she does not see a reduction in the number of children attending facilities being a viable option, but that sanitation and cleaning are important for the safe management of crèches and other childcare settings.
The Chief Executive of the National Parents Council said the sooner children can return to school, the better, but it must be done in line with best public health practice.
Áine Lynch said she has not been involved in any discussions about schools re-opening during the summer months, but added that if it is an option, sixth class students and vulnerable students should be proritised.
Ms Lynch said that while many parents are anxious for their children to return to school, some are apprehensive about the idea.
The President of the Infectious Disease Society of Ireland, Karina Butler, said that while adults will need to social distance when schools and crèches reopen, it's not practical to expect young children to do so.
However, she queried whether the stresses currently being placed on children who are forced to stay away from family and friends outweigh these risks.
Whatever happens, she added, reopening schools and crèches will be a slow process.