Another ten people with Covid-19 have died in Ireland, bringing the total to 1,506.
The Department of Health said that 426 more cases of the virus have been confirmed, bringing that total to 23,827.
It said that 58 people remain in intensive care.
Tonight's briefing heard two more healthcare workers have died from Covid-19, bringing the total to seven.
Chief Medical Officer Dr Tony Holohan said the 426 cases announced today looked like a significant increase on recent trends.
However, he said a large number of the cases were from one hospital, occurred over a period of time and were reported in one group today.
Dr Holohan said: "There has been a reporting of one large number of cases that accumulated over a period of time diagnosed in respect of one specific hospital and reported by the occupational health department of that hospital."
He said the cases involved go back to the middle of March.
"They were accumulated, we weren't aware of them, and they were reported in one group today to add to the number we would have diagnosed over the course of the day," he added.
Dr Holohan said the number that health officials watch is still in line with what would have been anticipated based on the reproductive number and the patterns seen in recent days.
Professor Philip Nolan, chair of the National Public Health Emergency Team (NPHET) Irish Epidemiological Modelling Advisory Group, said: "All indicators of the spread of Covid-19 are decreasing, including the average number of cases per day, number of people in hospital and ICU, admissions to ICU and number of reported deaths per day.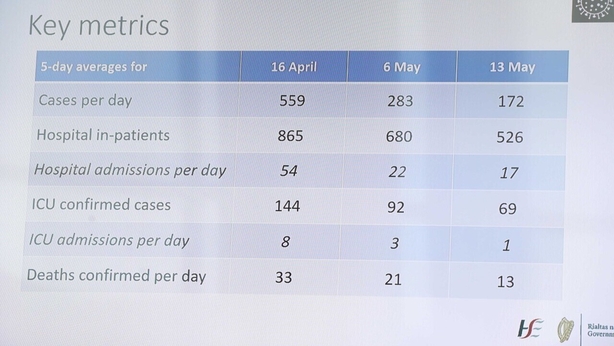 "This is reinforced by our estimate reproduction number, which is currently stable between 0.4 and 0.6.
"We will be monitoring this figure and the overall number of infections in the population very closely over the coming weeks."
Dr Holohan added: "We still want to see progress over the coming days. We need to continue our physical distancing and hygiene measures if we are to continue to suppress the spread of the disease."
Dr Tony Holohan says that there has not been a significant jump in recent cases. Today's figure of 426 is the result of a large number of accumulated cases from one hospital which were reported today. #Covid19 pic.twitter.com/dl0IYfyHIE

— RTÉ (@rte) May 14, 2020
Prof Nolan said that the number of new cases had declined since mid April and added that what you might call the "true" new cases today remains in line with that.
Similarly, for the number of people in hospital, he said it dropped from around 865 to 680 last week. The number today is 459.
The number of people admitted to hospital per day in mid April was high, between 50 and 60 people. That was down to 22 last week and on average the number of hospital admissions over the last week has been 17.
The number of people in ICU due to the virus in mid April was on average 140, which went down to 100 last week, then down to 69 on average this week. As of this morning, the number of people in ICU is 58.
The number of people being admitted to ICU per day was between eight and ten in mid April, and this was then down to an average of three last week and stands between one and two now.
The number of deaths in mid April (on average over the previous five days) was 33, this was then 21 last week and there was an average of 13 deaths over the five days up to yesterday.
NPHET met today and has given further advice to Government on the possible relaxation of some Covid-19 restrictions next week.
The first of five phases of the easing of disease control measures is due to occur on Monday.
We need your consent to load this rte-player contentWe use rte-player to manage extra content that can set cookies on your device and collect data about your activity. Please review their details and accept them to load the content.Manage Preferences
Earlier, the Taoiseach told the Dáil the Government is confident that Phase One can proceed.
Leo Varadkar confirmed that he believes NPHET will make a recommendation advising people to wear "face coverings" not face masks in certain circumstances.
Minister for Health Simon Harris said the coronavirus reproduction number is between 0.4 to 0.6, which he called a "remarkably stable number".
He said that 12,300 lives could have been lost by last week if the infection rate had continued.
Meanwhile, it has emerged that HSE Chief Executive Paul Reid raised concern over NPHET's commitment to increase the number of Covid-19 tests per week to 100,000.
The concern was expressed in a letter to the Secretary General at the Department of Health on Sunday 19 April.
The correspondence has been published following several requests from Labour leader Alan Kelly, who described it as "explosive" in the Dáil this afternoon.
During the daily press briefing this evening, Dr Holohan said that there was no tension between NPHET and the HSE.
He said there were some challenges as it was a collaborative process and added that it is "a pressurised situation for all of us".
"It's one in which we are working at pace, we're working under pressure and of course tensions arise from time to time," he said.
Dr Holohan said that if there was no tension then maybe they would not be pushing themselves hard enough to try to do the job that they are trying to do.
Dr Colm Henry, Chief Clinical Officer at the HSE, added: "We are completely united in our intent and our strategy to fight this virus. It has been very fast moving."
He said there had been some tension around the testing strategy, but that they have a completely united testing strategy now.
Dr Henry said: "We are already delivering over 15,000 tests a day. We'll also be focusing on turnaround times. We're aiming for a metric of 90% complete end to end for positive tests within three days."
---
Read more:
Latest coronavirus stories
Explained: How long it takes a Covid-19 case to be completed now
---
The latest data from the Health Protection Surveillance Centre, as of midnight on Tuesday and involving 23,259 cases, shows that 57% are female and 42% are male.
The median age of confirmed cases is 48.
The figures show 3,053 cases (13%) have been hospitalised and, of those hospitalised, 387 cases have been admitted to intensive care units.
There are 7,123 cases associated with healthcare workers.
Dublin has the highest number of cases at 11,308 (49% of all cases) followed by Kildare with 1,348 cases (6%) and Cork with 1,249 cases (5%).
Of those for whom transmission status is known: community transmission accounts for 60%, close contact for 37%, travel abroad accounts for 3%.