Twenty-four more people with Covid-19 have died in Ireland, bringing the overall death toll to 1,488.
107 more cases of the coronavirus have also been diagnosed in the Republic, bringing the number of confirmed cases to 23,242.
Chief Medical Officer Dr Tony Holohan said: "We are continuing to examine the progress of the disease and though we are still making progress, which is giving us real encouragement, we need to keep going.
"We still have 70 people in ICU and over 500 people in hospital. We have more work to do."
Dr Holohan also said there will be a role in community settings for face coverings that are not of a medical grade.
He said they did not want a "competition" for access to essential personal protective equipment that is designed for healthcare use, in healthcare settings by healthcare professionals.
He said these would be of a different grade and they will be doing practical communication where in some cases people can make these for themselves.
While public health officials do see a role for face coverings in community settings, @CMOIreland warns that improperly worn masks can actually increase #coronavirus transmission. Further guidance will be issued later this week | | Live #Covid19 blog: https://t.co/ADPS5noEri pic.twitter.com/TCwRC4dEpA

— RTÉ News (@rtenews) May 12, 2020
But he said more importantly, there would be guidance in how to use them because the evidence is clear that if face masks are not used properly they can increase the risk of transmission and the face mask becomes contaminated.
If it is touched, it can spread the infection to the hands.
He said face coverings do not protect you fully against the virus and it is important to continue the other measures of hand-washing and social distancing.
Dr Holohan said there will be guidance on where best to use face coverings, perhaps, in the retail sector or transportation but that guidance will be set off during the week.
He also said good progress is being made in suppressing the disease - the reproduction number is where they want it to be and the level of infection that they are detecting in the community now, in and around 3%, is giving them a sense of encouragement and their willingness to move on.
However, he said a decision on the easing of restrictions will be made based on an assessment they will formally do towards the end of this week.
Dr Holohan said he did not want to comment in particular on Ryanair's plans to operate 40% of its normal flight schedule in July.
However, he said that the National Public Health Emergency Team's position is advising against all non-essential travel. He said he does not envisage that that position will have changed in that time-frame.
Dr Holohan said: "We recommend against non-essential travel outside of the island. We don't want to see Irish people planning to head abroad on holidays and then have to come back into the country where we're in a position where we might be contemplating some additional restrictions that might have to apply to those people."
"We don't want to see Irish people planning to head abroad on holidays and then have to come back into the country where we're in a position where we might be contemplating some additional restrictions that might have to apply to those people." | https://t.co/66o8URcIAq pic.twitter.com/A0qcWcEkTp

— RTÉ News (@rtenews) May 12, 2020
People with symptoms urged to present early
Dr Colm Henry, Chief Clinical Officer of the HSE, urged people to contact their GP as soon as they show symptoms of Covid-19 so they can get swabbed and tested.
He said they are learning more about the virus and the importance of pre-symptomatic transmission so they are urging people that rather than wait and wonder about their symptoms, they should present early with their symptoms.
He said they know now that before you get symptoms, you are potentially infectious but when you are aware of your symptoms, that is another day that you could be potentially infecting other people.
Today's data from the Health Protection Surveillance Centre, as of midnight Sunday 10 May (23,089 cases), shows that 57% of all cases are female and 42% are male.
The median age of confirmed cases is 49 years.
Of the overall total, 3,031 cases (13%) have been hospitalised. Of those hospitalised, 386 cases have been admitted to intensive care.
Of all confirmed cases, 6,906 cases are associated with healthcare workers.
Dublin has the highest number of cases at 11,235 (49% of all cases) followed by Kildare with 1,337 cases (6%) and then Cork with 1,234 cases (5%).
There are 12 clusters in meat processing plants and 500 cases there, 12 of whom have been hospitalised.
Dr Tony Holohan, @CMOIreland, gives some details on #coronavirus clusters in prisons, Direct Provision centres, Roma and Traveller communities, and meat-processing plants | Live blog: https://t.co/ADPS5noEri pic.twitter.com/GwfCTzfQ26

— RTÉ News (@rtenews) May 12, 2020
---
Read more:
Ibec calls for €15bn in extra support in Covid-19 recovery plan
Some McDonald's outlets to reopen in Dublin next week
Clare blacksmith forging ahead with protective screens
---
Meanwhile, the Northern Ireland Executive has published a five-point plan to relax Covid-19 restrictions.
A further nine people have died from Covid-19 in the North. The total number of hospital-based deaths is now 447.
There has also been 44 new cases of the coronavirus confirmed in the region, bringing the total number of cases to 4,193.
The five-point plan notes that as of 10 May, 33,440 individuals in Northern Ireland had been tested for Covid-19, with 4,149 laboratory-confirmed cases and 438 reported deaths.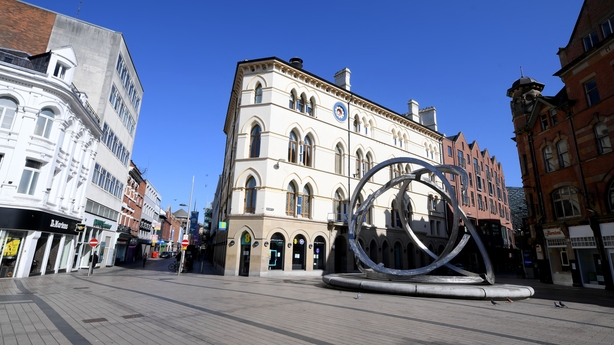 It said that although overall case numbers are continuing to rise, it is at a slower rate than before.
It also notes a "gradual decline" in both hospital admissions and intensive care unit occupancy, "reflecting a reduction in transmission of the virus here and progression of the epidemic".
However, the document says it is "currently unclear" how long those who have recovered from Covid-19 will retain immunity.
"Furthermore, at present, best estimates suggest that less than 5% of our population are likely to have had the infection and recovered, which is not a sufficiently high level of population immunity to confer protection from further spread of the virus," the document reads.
New figures show a further reduction in the number of patients in hospitals with confirmed or suspected Covid-19.
According to the statistics, from the Health Service Executive, there are now 826 patients in these categories - 529 confirmed and 297 suspected cases.
The hospitals with the most confirmed cases are in Dublin. They are the Mater with 79 patients, Tallaght with 69 and St James's with 62.
69 patients with confirmed or suspected Covid-19 are in intensive care units.
There are 155 vacant critical care beds.
The number of vacant general hospital beds has been reducing and now stands at 1,181.
The latest HSE operational figures are up to last night.
Around 80% of cases of Covid-19 will be a mild to moderate illness, close to 14% have severe disease and around 6% are critical.
Generally, you need to be 15 minutes or more in the vicinity of an infected person and within two metres of them, to be considered at-risk, or a close contact.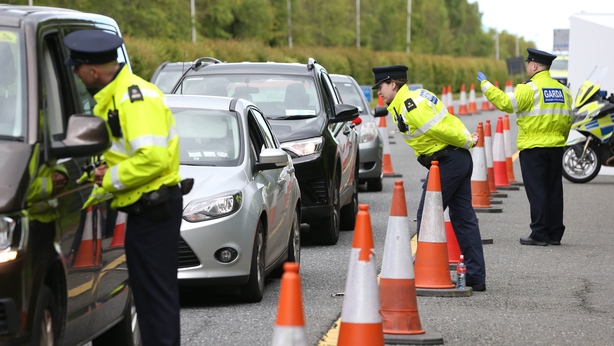 Meanwhile, gardaí say the Covid-19 regulations continue to account for a tiny proportion of engagements with the public.
The measures have been invoked just 192 times out of the hundreds of thousands of interactions with people.
In a statement, An Garda Síochána said that pre-existing enforcement powers were used in 1,432 cases.
64 incidents involved spitting and/or coughing against members of the force.
The statement said there is a high level of compliance with the public health guidelines at checkpoints and high visibility patrols it is conducting at tourist locations, natural beauty spots, parks and beaches.