McDonald's has confirmed it is to reopen some of its outlets in Ireland from next week.
The fast food chain said that drive through locations in Dublin would be the first to open, before other locations nationwide follow.
The chain is one of the largest purchasers of Irish beef, it spends €163 million alone on beef for export to its restaurants in the UK and Europe.
Its 95 restaurants contribute close to €200 million to the Irish economy, according to the company.
In a note this afternoon, the CEO of McDonald's UK and Ireland, Paul Pomroy, said the company will "cap spend in drive thrus at €30 per car".
"We will pilot reopening six Drive Thru restaurants in the Dublin area on Wednesday, May 20 and we will confirm the locations next week," Mr Pomroy said.
"Moving in step with government guidelines, we plan to reopen all our Drive-Thrus by early June across the UK and Ireland," he added.
The Minister for Agriculture said the news from McDonald's was a welcome development.
"McDonald's is a valued key purchaser of Irish produce and an employer of a large number of people throughout Ireland," Michael Creed said.
"I therefore welcome today's announcement that McDonald's restaurants will begin a cautious reopening in Ireland from May 20 with a small number of restaurants opening as Drive Thru only at first.
"The last couple of months have been undoubtedly tough, both economically and socially, but the recent announcement from Government on the phased reopening of the country, offers reassurance and hope for brighter days ahead," the minister said.
Welcoming the news, the President of the Irish Farmers' Association also said it was good news for Irish farmers.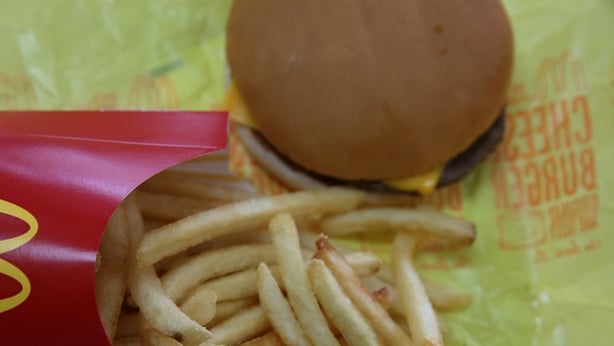 Tim Cullinan said that one in every five burgers sold across Europe is Irish. "Beef farmers will be glad to see it re-opening," he added.
"We had a conference call with McDonald's yesterday where they briefed us on their plans. McDonald's is an iconic global brand and the fact they buy so much [Irish produce] is recognition of the quality beef produced from our grass-based production system."
Whilst the news of re-opening is good for the beef sector, it is positive news for the dairy sector too. McDonald's spends close to €100 million on Irish dairy produce, including milk, cheese, butter and ice-cream.
From tomorrow, 15 McDonald's restaurants in the southeast of England will offer delivery only as the company seeks to slowly and safely reopen its restaurants.
The re-opened outlets will have a £25 order cap as McDonald's adjust to smaller teams and social distancing in its kitchens.