Ryanair is to resume operating up to 40% of its normal flight schedule from July 1.
The move is subject to restrictions on flights between EU countries being lifted and public health measures being put in place in airports.
In total the airline says it will run nearly 1,000 flights across 90% of the network it was operating prior to the Covid-19 crisis beginning.
The operations will take place from most of the company's 80 bases across Europe, although frequencies will be lower than previously on main routes.
This is to allow the airline get services back up and running on the largest possible number of routes, rather than high frequency on a smaller number.
"After four months, it is time to get Europe flying again so we can reunite friends and families, allow people to return to work, and restart Europe's tourism industry, which provides so many millions of jobs," said Ryanair CEO Eddie Wilson.
"Ryanair will work closely with public health authorities to ensure that these flights comply, where possible, with effective measures to limit the spread of Covid-19."
"As already shown in Asia, temperature checks and face masks/coverings are the most effective way to achieve this on short haul (1 hour) within Europe's single market."
Since mid-March the airline has been running just 30 flights a day between Ireland, the UK and Europe – just a tiny fraction of its normal schedule.
We need your consent to load this rte-player contentWe use rte-player to manage extra content that can set cookies on your device and collect data about your activity. Please review their details and accept them to load the content.Manage Preferences
The airline has also outlined details of the measures and procedures that customers will have to comply with before, during and after flights as well as the steps it will be taking to reduce the public health risk.
The company has set this information out in a video it has released on social media channels and on its website.
Among the changes are that people will be encouraged to have fewer checked bags, to check in online and download boarding passes to their phones.
We need your consent to load this rte-player contentWe use rte-player to manage extra content that can set cookies on your device and collect data about your activity. Please review their details and accept them to load the content.Manage Preferences
Ryanair said that temperature checks will have to take place at airport entrances, passengers will also have to wear face masks or a face-coverings at all times in the terminal and on board aircraft and social distancing will be encouraged at every step of the journey.
Cabin crew will also wear face masks and a limited inflight service will be offered, with payment by card only.
Passengers will also not be allowed queue for toilet access and instead will only be able to use the toilet on request.
The airline says all its aircraft are fitted with hospital grade air filters and surfaces inside its aircraft will be disinfected every night.
Passengers using Ryanair services in July and August will have to fill in details at check in of how long their planned visit will be and also their address while visiting another EU country.
This data will be given to EU governments to help them to monitor isolation regulations they require of visitors on intra-EU flights.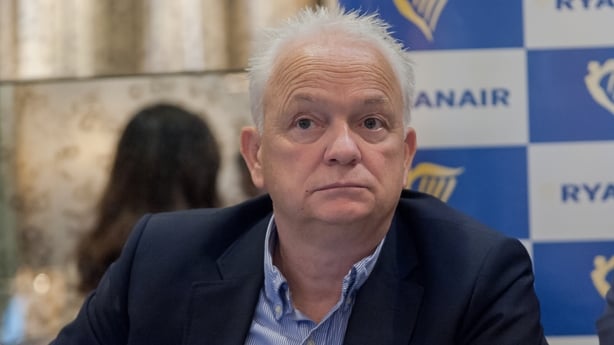 However, aviation sources said Ryanair's plans raise more questions than answers.
They pointed out that airlines set policies in relation to what happens at their check-in desks or self-service, manage their boarding process at the gates and set their baggage rules.
But they said carriers such as Ryanair are not in a position to set rules in any other area of the airport journey.
They also asked that if there are to be temperature checks at airports, who is going to carry out and fund them and pointed out that national governments, not airlines or airports, set policies around COVID-19 and flying.
Sources also suggested that there will have to be a co-ordinated European-wide response to many of the issues.
Speaking on Morning Ireland, Eddie Wilson said that while some people will be reticent to fly at first, "at some stage we have to come out of this and there has already been an easing in many European countries to find a way out of this crisis. 
Mr Wilson said we all need to start planning about how to get back to normal as best we can and this will involve people being sensible and responsible in their behaviour.
He also said he understood the frustration of people who were waiting for refunds due to cancelled flights but said there were around 25 to 30 million passengers to get through - which he described as "a colossal job".
Eddie Wilson said passengers who take the option of vouchers, but do not use them within 12 months, would be entitled to a refund. 
He added that every airline is experiencing these difficulties and it is not just a Ryanair issue.
Speaking on Morning Ireland, he said that more job cuts among support staff and pilots and crew were likely.
We need your consent to load this rte-player contentWe use rte-player to manage extra content that can set cookies on your device and collect data about your activity. Please review their details and accept them to load the content.Manage Preferences
O'Leary says UK quarantine plan is "idiotic, unenforceable"
Meanwhile, Ryanair Group CEO Michael O'Leary said Britain's plan to have arriving passengers self-isolate in their accommodation for 14 days upon arrival was "idiotic" and effectively unenforceable. 
"It's unimplementable and unenforceable anyway, so I think people will largely ignore it, which is not good," Michael O'Leary told BBC television.
Mr O'Leary predicted that the measures would "disappear pretty quickly". 
He said, however, that the 14-day quarantine would not necessarily discourage British holidaymakers travelling to southern Europe, as they could quarantine for two weeks at home upon their return before schools reopen at the end of the summer.
Ryanair plans to move back towards an all-Boeing fleet by cancelling leases for Airbus A320s for its Lauda subsidiary and likely replacing 30 Airbus jets at the Austrian airline with Boeing 737s, group chief executive Michael O'Leary told Reuters. 
Ryanair's purchase in 2018 of Airbus operator Lauda was pitched as a way to diversify the fleet of the budget airline group, which had until then exclusively flown Boeing jets and currently has over 450 737s. 
Michael O'Leary, whose expansion plans have been curtailed by the grounding of Boeing's 737 MAX, said in March last year he was in early talks with Airbus about an order for 100 A321s and that Ryanair wanted to have a dual Boeing-Airbus fleet. 
But today Michael O'Leary said he currently viewed talking with Airbus as a waste of his time. 
"We would not initiate talks with Airbus until such time as Airbus wants to initiate talks with us," he said in an interview. 
"Until they need an order from the Ryanair Group, frankly we are wasting our time talking to Airbus," he added, without elaborating. 
Instead, Ryanair planned to "significantly reduce the scale of the Lauda fleet," the Ryanair CEO said. He is known for his brinkmanship in negotiations. 
"We have (Airbus) aircraft that are due to be delivered over the next 12 months and we will cancel almost all of those deliveries," which are from leasing companies, he said. 
Assuming talks with Boeing about compensation for delays in the delivery of 210 737 MAX jets - and on a possible new aircraft order - go to plan, then Ryanair will probably replace Lauda's 30 Airbus jets with Boeing, he added. 
"As long as we can reach an acceptable outcome with Boeing, the Boeing orders we have in place would readily replace - I think Lauda will have a fleet of about 30 Airbus aircraft - we would probably replace those Airbus with Boeing over the next couple of years," he stated. 
In February, Ryanair said it was planning to increase Lauda's fleet from 23 to 38 Airbus A320s by the summer of 2020.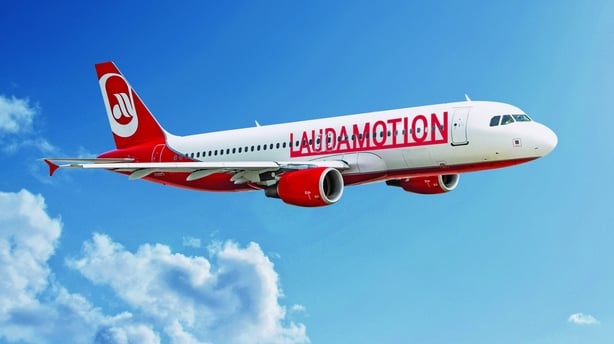 Ryanair is also in talks with unions at Lauda about pay cuts and a new labour agreement. 
Michael O'Leary said the Austrian union was refusing to engage and if this did not change by the end of May, Lauda's home base in Vienna would close, with Ryanair Boeing jets replacing the Lauda Airbus planes. 
Mr O'Leary said the talks with Boeing on compensation and a possible new order had accelerated, but would likely not be concluded by a deadline of May 18-19 and may not conclude until the MAX returns to service, which he said was likely to happen in August or September. 
He said the MAX grounding could delay Ryanair's plan to fly 200 million passengers by 2020 "by a year or two."