The Department of Health has announced that a further 12 people who had been diagnosed with Covid-19 here have died.
It brings the overall death toll here to 1,458.
The Department has also confirmed an additional 236 confirmed cases of the virus, bringing the overall number of people infected here to 22,996.
More than 700 patients remain in the country's acute hospitals with confirmed or suspected cases of Covid-19.
The latest data from the department as of midnight on Friday shows that 2,986 cases – or 13% of all cases – have required hospitalisation.
Of those, 383 cases were admitted to ICU.
Healthcare workers account for 29.8% of confirmed cases so far, with 6,771 confirmed cases.
The median age of cases so far is 49, with a split of 57% female, and 43% male.
Dublin has the highest number of cases at 11,068 (49% of all cases) followed by Kildare with 1,324 cases (6%) and then Cork with 1,207 cases (5%).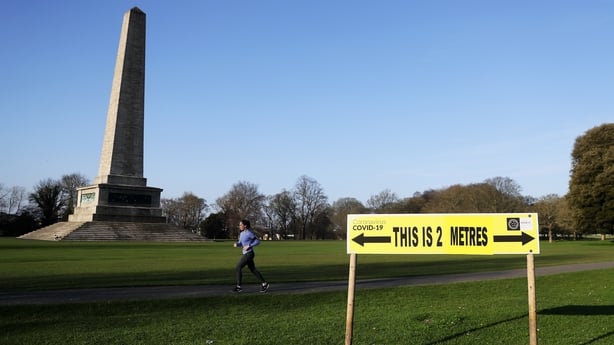 Community transmission accounts for 61% of all cases, while close contact with a confirmed case accounts for 36%
Travel abroad accounts for 3% of confirmed cases so far.
As of last night, there were 72 patients in intensive care with confirmed cases of the virus - the same number as on Friday night. 
The highest number of confirmed cases is in the Mater hospital in Dublin, which has 75 confirmed cases.
Limerick has the highest number of confirmed cases outside Dublin with 48.
Hospital admissions are continuing to fall, with the number of confirmed cases admitted yesterday down almost 8% on the previous day. 
There are 161 intensive care beds available across the hospital system.
HSE Chief Operations Officer Anne O'Connor said the number of vacant general beds was down significantly on last week, falling from 1,680 available beds to 1,242 available beds as activity in hospitals has increased. 
Ms O'Connor also said there were a growing number of people who were waiting to be discharged from hospital.  
More than 310 people were ready to be discharged but they were being delayed mainly by issues relating to being discharged to long-term residential care.
---
Read more:
Number of Covid-19 cases worldwide tops four million 
Latest coronavirus stories
---
The figures come as HSE Chief Executive Paul Reid earlier said there is uncertainty about what will happen next with Covid-19, and that is a challenge for the HSE and for the country. 
Speaking at the HSE's weekly Covid-19 briefing, Mr Reid said the HSE had to make sure the capacity of the Irish health care system was not "maxed out" and there needed to be focus on vulnerable groups in particular. 
He warned that the cost of setting up a long-term testing and tracing system would be very significant and on a scale nobody could have foreseen a few months ago. 
He said testing and tracing was a key part of helping to unlock restrictions in society. 
He said the cost of supplying personal protective equipment for the Irish healthcare system would be €1 billion per year. However, he said the cost of not investing in testing, tracing and PPE could be much higher. 
Elsewhere, Minister for Education Joe McHugh has said he expects schools will be able to re-open in September, and that work is under way to ensure this can be done in a safe way.
Speaking on RTÉ's The Week in Politics, he said those issues are already being discussed with a number of stakeholders.