Chief Executive of the HSE Paul Reid has said there is uncertainty about what will happen next with Covid-19, and that is a challenge for the HSE and for the country. 
Speaking at the HSE's weekly Covid-19 briefing, Mr Reid said the HSE had to make sure the capacity of the Irish health care system was not "maxed out" and there needed to be focus on vulnerable groups in particular. 
He warned that the cost of setting up a long-term testing and tracing system would be very significant and on a scale nobody could have foreseen a few months ago. 
He said testing and tracing was a key part of helping to unlock restrictions in society. 
He said the cost of supplying personal protective equipment for the Irish healthcare system would be €1 billion per year. However, he said the cost of not investing in testing, tracing and PPE could be much higher. 
 
In terms of cost projections, HSE CEO Paul Reid says that the cost of PPE over a year will likely be €1 billion pic.twitter.com/uQ46w98ly3

— RTÉ News (@rtenews) May 10, 2020
Mr Reid said the trends were all going downwards in terms of the numbers in ICU and the number of confirmed cases in hospitals.  But he said nobody could predict what would happen next. 
Mr Reid said the HSE was still in a position to have a capacity for 100,000 tests a week beginning on 18 May.
But he said he was beginning a scoping exercise to develop a future model for testing and tracing which he said would complete its recommendations in the autumn. 
HSE CEO Paul Reid says that 120 million masks will be delivered from South Korea to Ireland in the coming weeks pic.twitter.com/11RQjUaHcV

— RTÉ News (@rtenews) May 10, 2020
Mr Reid said the HSE now needed to start commencing non-Covid services in a safe manner, but he said this wouldn't be easy and the services would not be the same as they were before.
He said they could not put unmanageable pressure on the acute public hospitals and would have to use the private and public systems.  
Three priorities had been set out - cancer services, time dependent surgery - such as cardiovascular surgery, neurosurgery and transplants and using the National Treatment Purchase Fund to maximise the use of private hospitals.
He said it was also essential to get community services back, such mental health and disability services.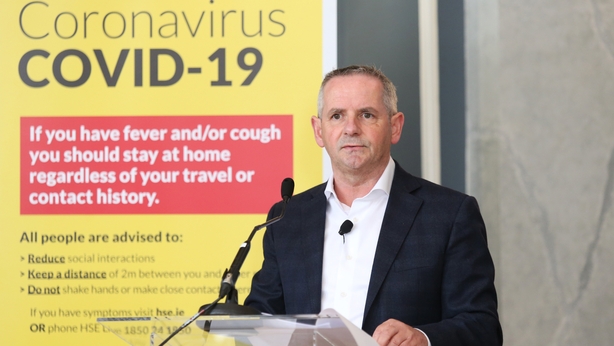 Testing of all 30,000 staff and 28,000 residents in nursing homes had now been completed and the focus was now moving to disability and mental health facilities.  
The number of nursing homes causing most concern to health authorities has reduced to 56 and the HSE said they were seeing signs of stabilisation in this sector.
Testing in nursing homes had revealed a much lower than expected positivity rate and would provide useful lessons about testing in congregated settings in the future, the HSE's Chief Clinical Officer, Dr Colm Henry said. 
Mr Reid said 120 staff were involved in contact tracing for routine cases referred through GPs and 300 public health teams were working on some of the more complex cases from long-term residential care. 
There are 12 outbreaks in Direct Provision Centres, involving 149 cases and a very low number of cases in prisons - five outbreaks, involving 17 cases. The Irish Prison Service has said there are no confirmed cases among the prisoner population.
Mr Reid said the average turnaround time to get results of a test was 2.4 days. However, he admitted some people were waiting longer and said there was still more work to do over the next fortnight on turnaround times. 
Work was under way with the Irish College of General Practitioners to set up a helpline for people concerned about their test results.
---
Read more:
Number of Covid-19 cases worldwide tops four million
Latest coronavirus stories
Work under way to re-open schools early
---
Mr Reid said the demand for masks had gone from 200,000 a day to 1.2 million masks a day.  
The HSE now needed nine million masks a week.
He said contact had been made with South Korea, including a phone call from the Taoiseach to the South Korean President, and a supply line from there had been unlocked with 120 million masks to be delivered over the coming weeks.  
The HSE expected to have to spend €1bn a year on PPE and hundreds of millions of euro on a testing and tracing system.
The HSE's Chief Operations Officer Anne O'Connor said attendances at emergency departments were going up but still lower than this time last year.
There was also an increase in the number of people waiting to be discharged.  Over 300 people who could be discharged had their discharge delayed, mainly relating to their discharge to residential care.
As of last night she said there were 543 patients in hospital with confirmed cases of Covid-19 and 196 suspected cases. 
There were 72 confirmed cases in intensive care and 161 intensive care beds still available. 
Ms O'Connor said the number of general hospital beds available had reduced significantly since last week from 1,680 to 1,242 as activity in hospitals increased.